A beautiful fish tank adds the essential mood of peace and tranquility to your home, and building a DIY fish tank allows you to shape and decorate it as you wish.
DIY fish tanks are easy to build and are much more affordable than those you will get at the store. If you wish to build one for your home or office, then you should check out these 27 cool DIY fish tank ideas with tutorials we have gathered for you to consider.
Our other Related articles: DIY aquarium stand, DIY koi fish pond and DIY pond filter.
DIY Fish Tank Ideas
1. Drink Dispenser Aquarium
The firs idea we are going to discuss with you is a aquarium plan by instructables that involves converting a 7L-Glass drink dispenser into a nano aquarium. To make this diy fish tank,  you will need plywood and Glass drink dispenser with lid. Cut round the plywood and use it as the aquarium base. You will also need other supplies like air pumps, thermometer etc. After building according to the plan,  you can then decorate the aquarium with lava rocks,  live plants, spider woods etc.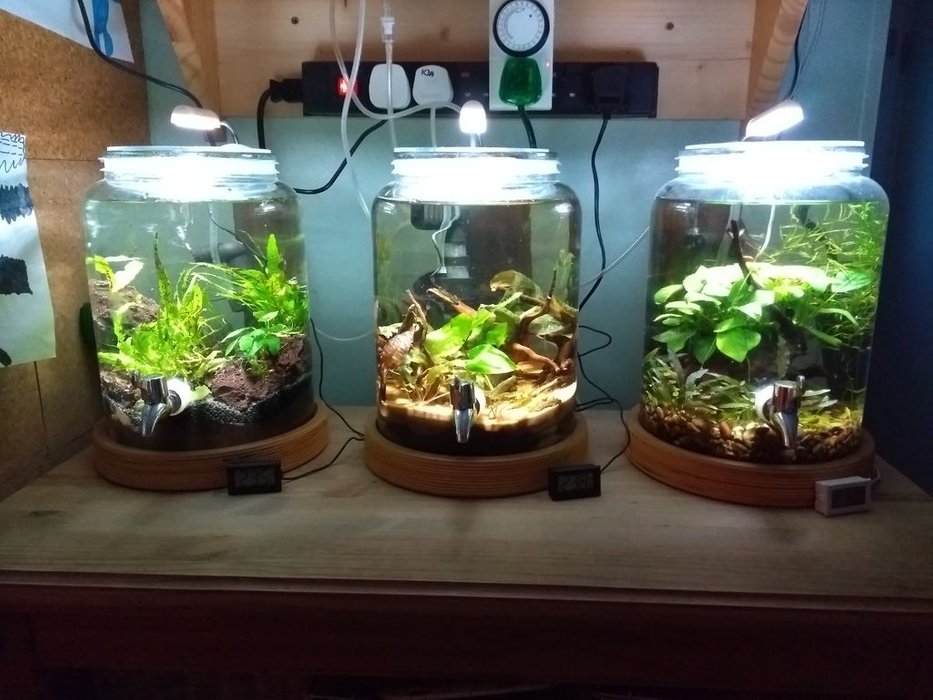 2. Dead PC Into an Aquarium
Do you have a dead desktop PC laying around? Then you can use it to build a beautiful DIY Aquarium by instructables following this plan. You will need a small glass block that can fit into the CPU. The plan will guide you on how to build a fish tank, lighten up the PC-aquarium and get it to work. You will also need to attach a lid into the PC cover from which the aquarium can be seen.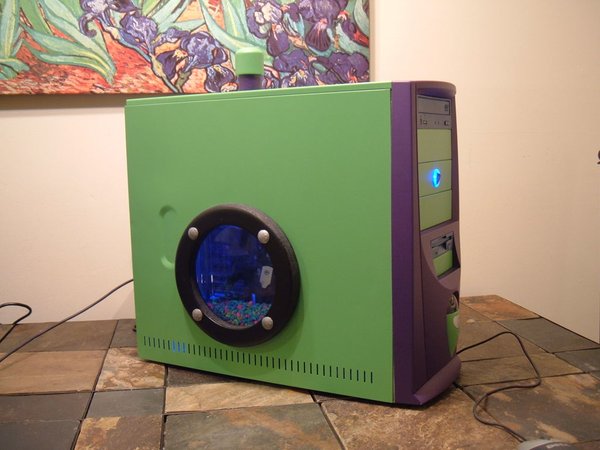 3. Super Mario Brothers DIY Aquarium
If you love the Super Mario game, then you will love to build this super Mario inspired aquarium. The DIY aquarium by thewiredlife is 55 gallon long, and it's designed like the game, it has the castle, level specs, flag, the staircase and several other features from the game. The plan requires some graphic works; you will also need PVC pipes and a few other materials.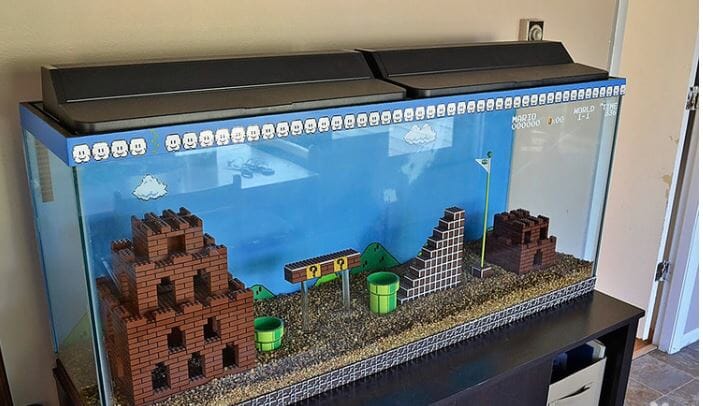 4. DIY Fish Tank Coffee Table 
This diy fish tank idea is one of the best ideas ,we love its design. Unlike the previous ones, involves building afish tank by wonderfuldiy which is also used as a coffee table. It will undoubtedly thrill your visitors. To build this diy aquarium stand you will need a 20-gallon tank, glass table top, wood board and some other materials to start. You will also need lightening items and a few tools. The design is such that the tank is held in between the wooden table and the glass table top above.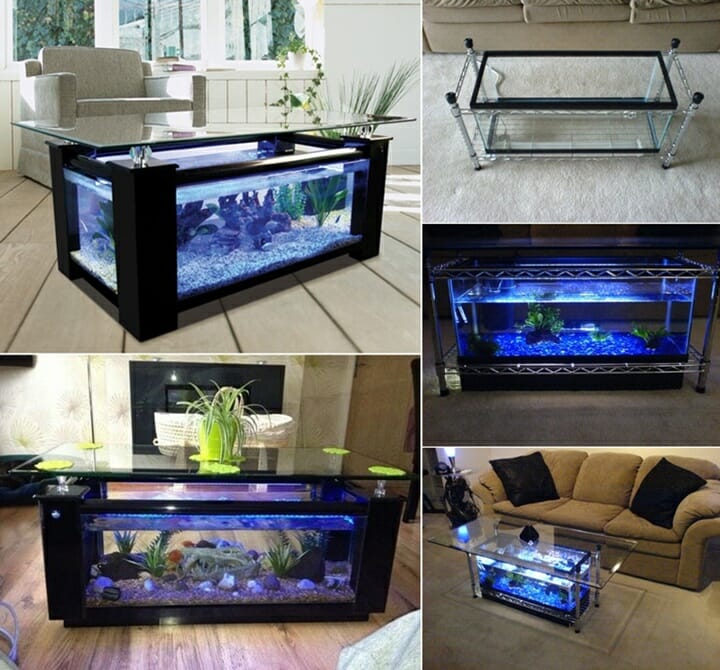 5. Mason Jar DIY Fish Tank
This project we bring for you is straightforward and has a fascinating result. It involves using a Mason jar to create a lovely DIY fish tank by littlethings.You will need a litter-sized mason jar, aquarium gravel and a few other materials to get started. The project requires no particular skill or tools; it's the perfect budget sized DIY fish tank. You can add some items to decorate the tank and make it more pleasing to watch.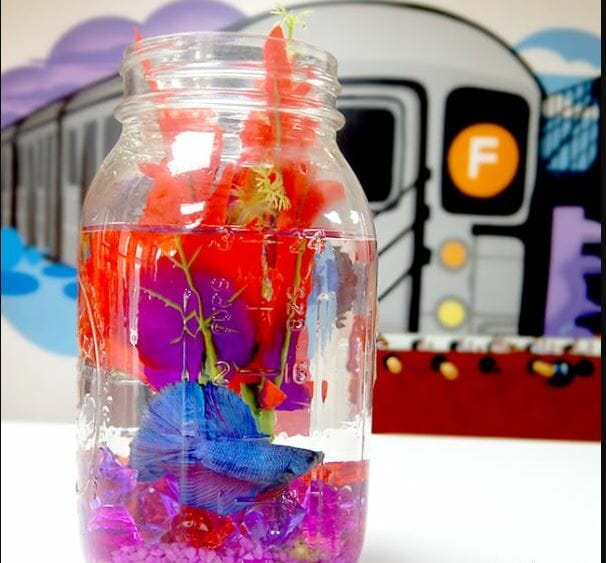 6. Mini DIY Aquarium
The ideal way to provide a comfy home for your fish pet is to build a mini aquarium, like this one we have in this plan by littlethings. This project involves building one from recycled jars. A jar aquarium is easy to make and maintain, it also cost very little and requires no special tool. You will need a recycled jar with a lid, a few aquarium stones and live plants to create oxygen inside the aquarium.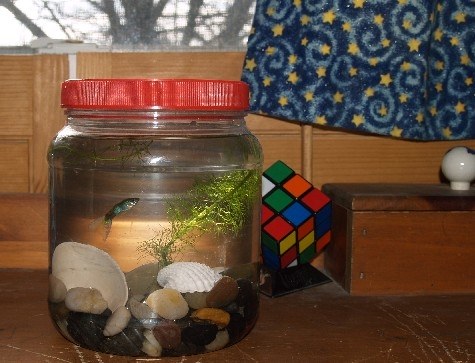 7. DIY Fish Tank
Fishes make some of the best pets, and you can build this affordable DIY fish tank by By interestingengineering to keep these underwater friends. You will need a watertight and transparent basin, a bubbler to regulate the oxygen level and some plants, stone and other decorations to make it an alluring sight and pleasurable for the fish to swim.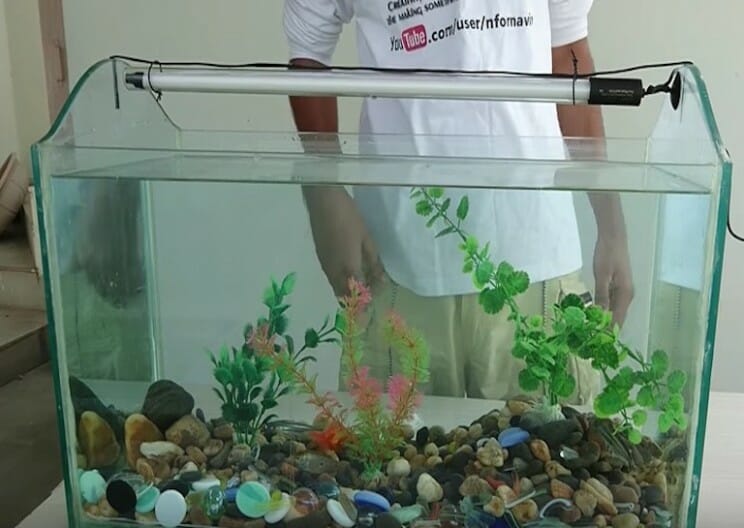 8. Pac Man DIY Fish Tank
Build a Pac man theme diy fish tank by instructables with this plan. You will need some pieces of wood, mm glass, glue and other materials. You should have the glass and wood cut into the specified sizes where you purchased them. You will use the adhesive glue to hold the pieces together. The plan has a PDF version which you can easily download, and follow to build the project.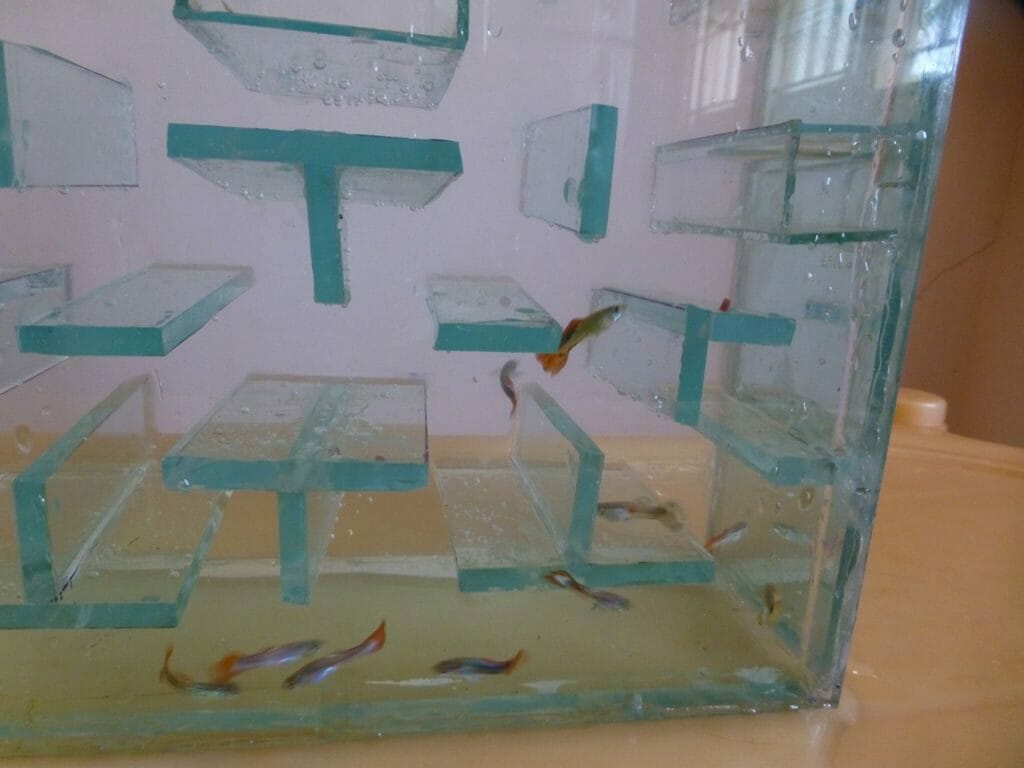 9. Wall Aquarium
If you need something unique, then this diy wall aquarium by instructables will be a perfect fit. The project is built with aluminum panels on the sides and glass covering it. The original plan was designed with a broad blue sea background and other items. Aside from the glass and aluminum panels, you will need electrical devices to lighten it up, filter, bubbler to and thermostat to regulate the water temperature.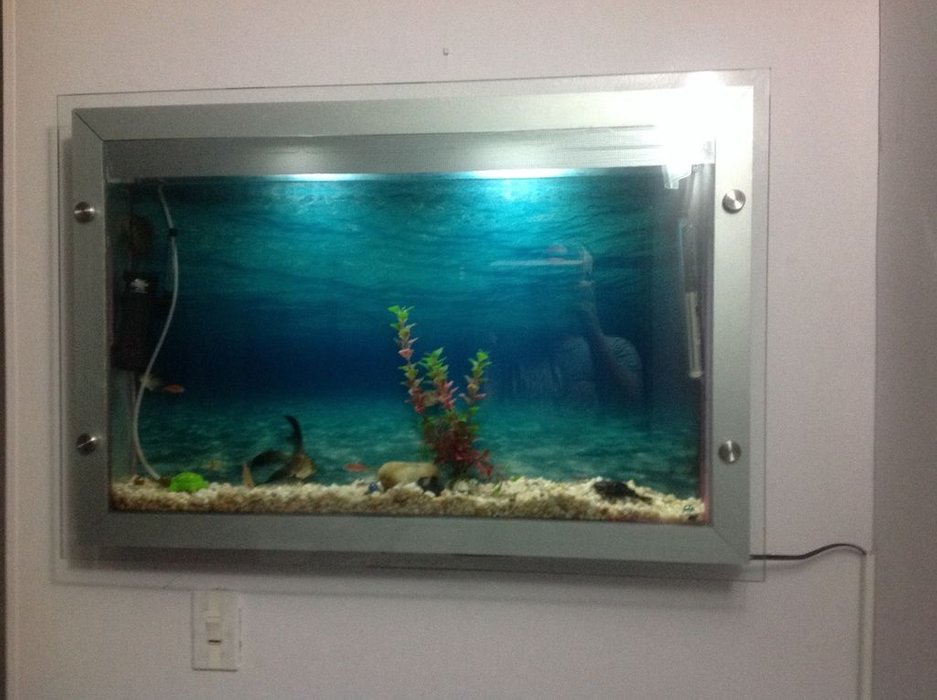 10. Hexagonal Acrylic Aquarium
This project involves building a hexagon shaped aquarium by instructables. The design is a wooden frame holding the transparent fish tank in-between. You will have to make the acrylic tank and wooden frame separately before coupling. You can get the acrylic cut into appropriate sized and built before building the wooden frame following the same measurement. You will also need to add lighting and other decorations to beautify the aquarium.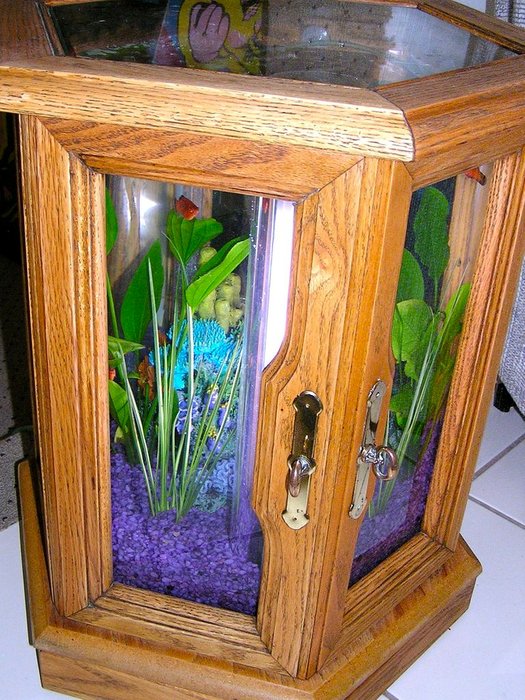 11. Coffee Pot Fish Tank
These fish tank ideas were inspired by the search for the right home for warm water for a fish. It involves converting a coffee pot to a DIY fish tank by robotsandcomputers. Asides the coffee pot, you will need a switch, LED display  and a few other materials to get started. The whole electrical components are required to heat the water to the perfect warm temperature.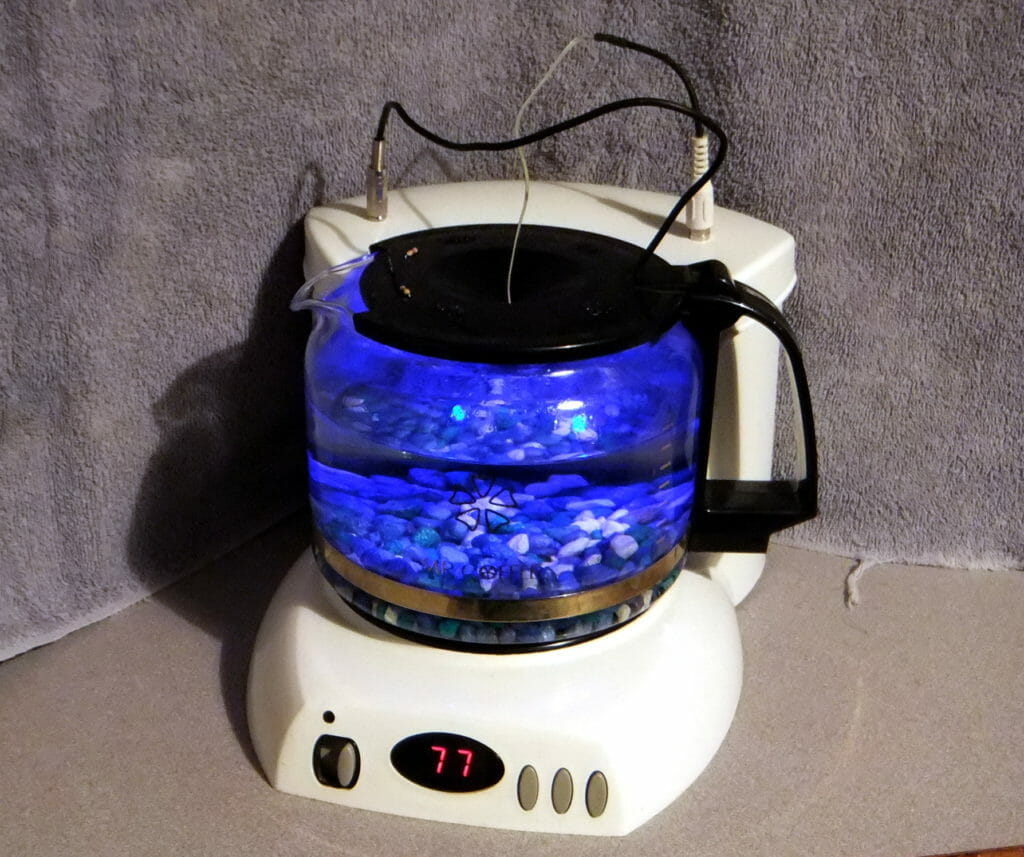 12. Rock Ledges DIY Aquarium
This plan involves making a fish tank by dramaticaquascapes with layered sedimentary rock settings. This is intended to provide a natural environment for the fishes to hide and play. You will need to create rock formations with polystyrene and then arrange them inside the aquarium. The original plan was built with a 90-gallon aquarium, which provided ample space to arrange the artificial rockscape.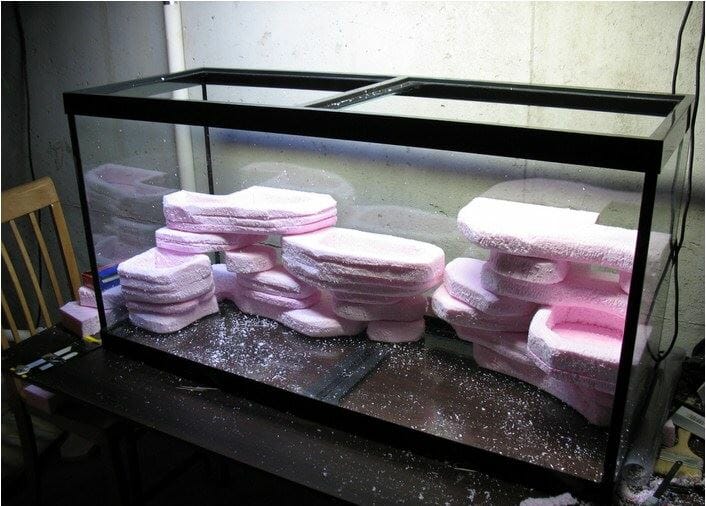 13. TV Fish Tank \ Aquarium
This project by instructables involves making a DIY aquarium from a vintage TV. To begin, you will need to get an old TV, either on eBay or anywhere. You will also need necessary carpentry tools like hammers, pliers etc. you will first have to dismantle the TV, leaving the essential buttons and the CRT tube which will be used as the aquarium. You can also get a tank rank with the same dimensions which can be used.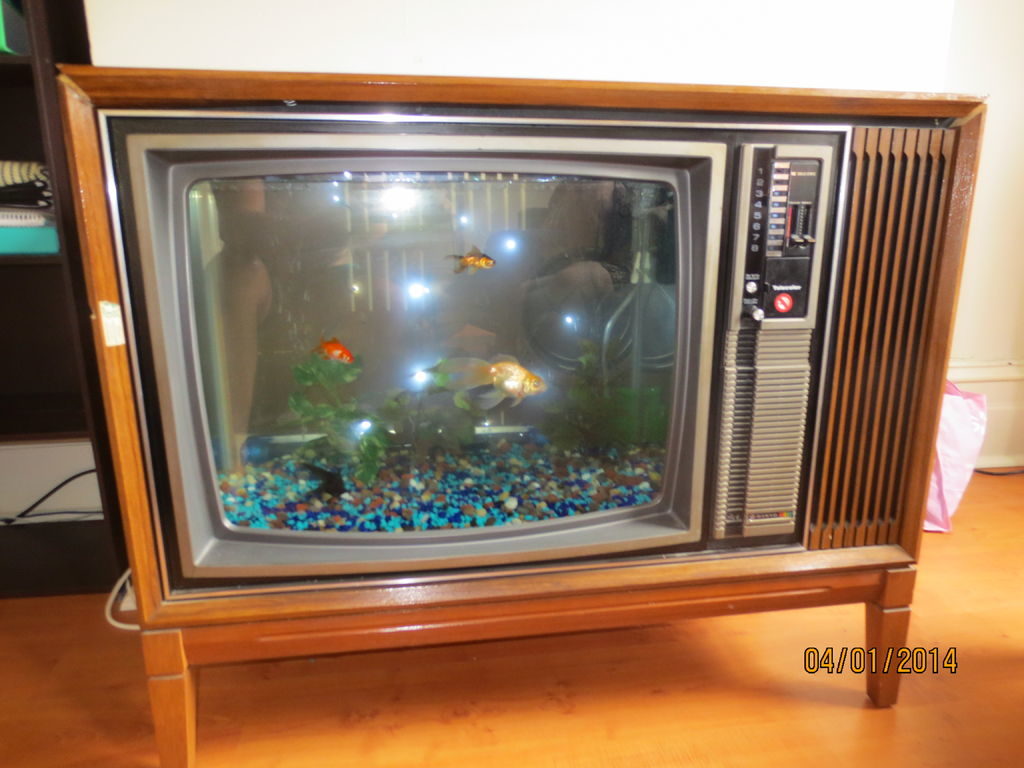 14. 3D Aquarium Background
If you want to create real rock background for your DIY aquarium like this one by instructables, then this is the ideal project. The solid background weighs less than a few pounds.  You will need a pink foam board, silicone and cement overlay to get started. The plan contains a step by step guide on how to build an aquarium and make the aquarium background from scratch.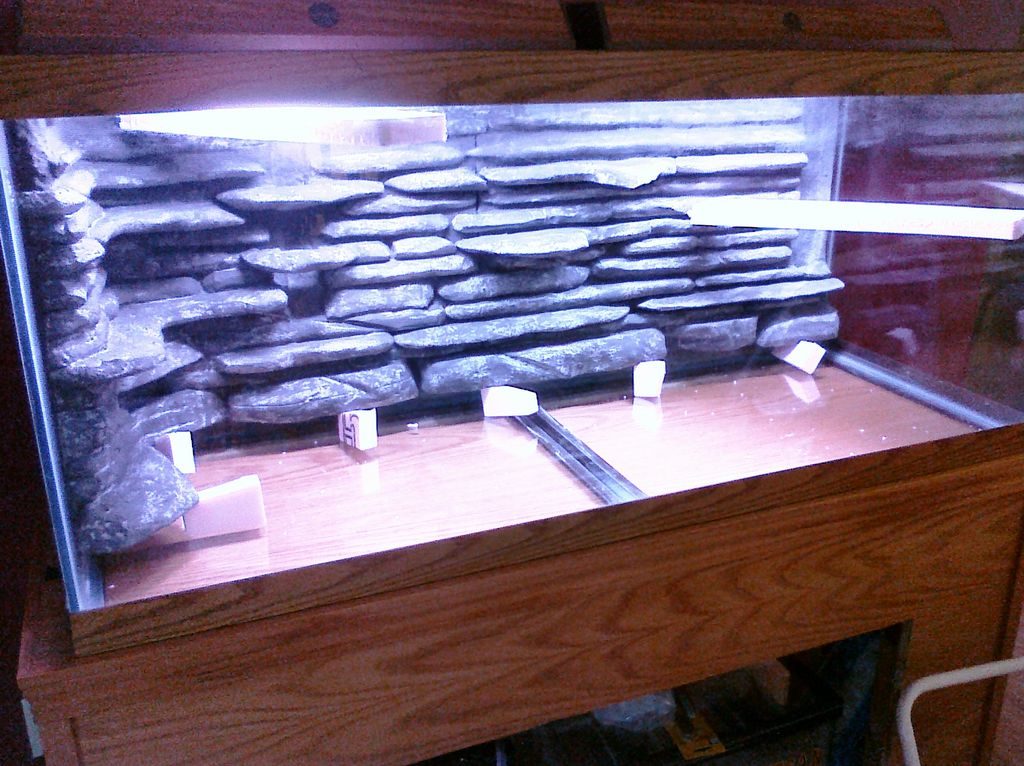 15. Plywood DIY Aquarium
This plan involves building a 240-gallon plywood fish tank by advancedaquarist. You will need oak plywood sheets, pane non-tempered glass and a few other materials. The DIY plan is placed at an advanced experience level and requires some tools and ample workspace. You can change the dimensions of the project to make it bigger or smaller.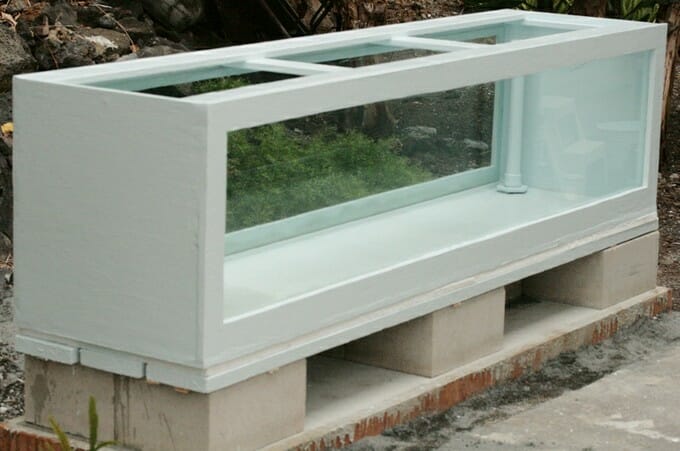 16. Computer Monitor DIY Fish Tank
Have you kept that old, clunky CRT computer monitor because you didn't know what to do with it? Here is a cool idea that will show you how to build an aquarium with the old monitor and just a few other components,
Create a unique 'screen saver' by transforming an old monitor into a new DIY fish tank by instructables.  The small aquarium will hold a couple of goldfish and is a perfect size for an apartment or child's bedroom.
This free tutorial will take you through the creative process so you can create a unique and functional fish tank from an old CRT monitor.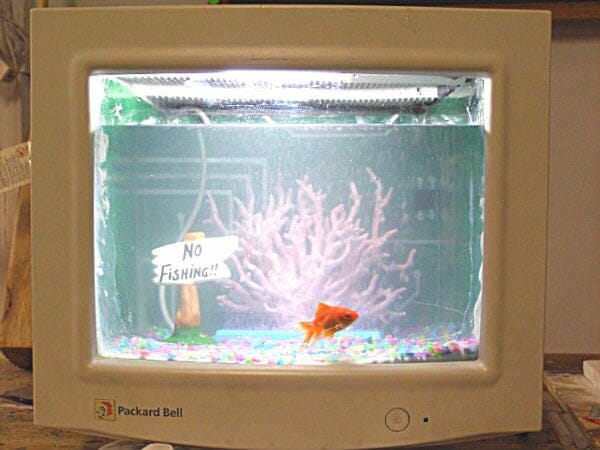 17. DIY River Aquarium Fish Tank
This tutorial will show you how to make an aquarium by instructables that looks like it cost a small fortune. This river aquarium idea also features a custom 3D background for the tank that is made from concrete.
This river-style aquarium has water that runs like a river and allows the owner to keep and breed tropical fish species to make the tank even more interesting. The three components of a large DIY tank with moving water, 3D background, and tropical fish make this a WOW factor in when placed in any room of your home.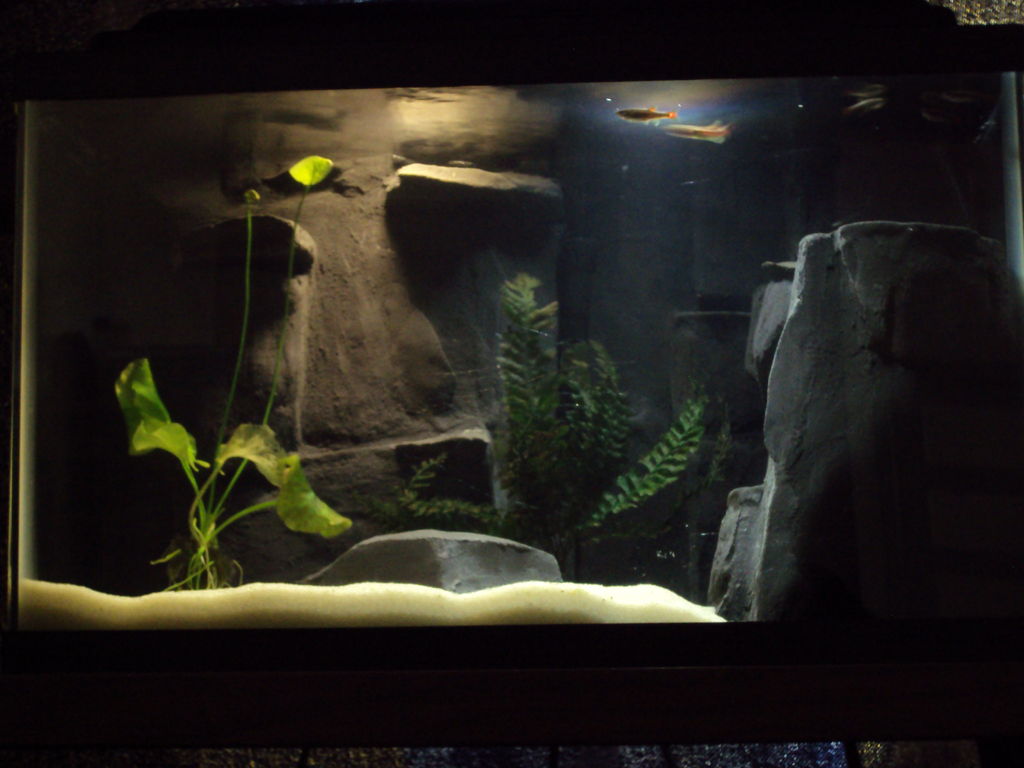 18. Plywood Fish Tank
Plywood is not the first material that comes to mind when you are considering building an aquarium but it works very well.
This YouTube tutorial will take you through the entire building process so you can build a custom DIY fish tank of your own with plywood. The DIY aquarium on youtube is large and ideal for holding several smaller fish or a few larger fish.
This plywood fish tank is sure to become the focal point of any room.
19. Styrofoam DIY Fish Tank
Here is a cool and inexpensive idea for making a large fish tank on youtube for outdoors, we love it. This YouTube tutorial will show you how to transform a large styrofoam box into a unique and attractive fish tank.
The exterior is coated and shaped to look like stacked brick with a base of white stone glued to the outside edges. A front panel of plexiglass allows you to view fish while sitting down and the open top provides an unobstructed view of the fish when standing up.
20. Multi-Level DIY Fish Tank
Follow this free YouTube tutorial to discover how to make a fish tank with more than one level. This DIY aquarium on youtube will capture your interest with its multi-level design. This simple DIY project starts with a store-bought fish tank and adds a second level on top that is created from plexiglass.
The second level makes the fish look as though they are swimming in the air.
21. Gumball Fish Tank
Recycle an old gumball machine into a cool DIY fish tank by instructables with this clever idea that we love it. The gumball machine has a clear glass top so you can see the fish and the size is just right for a tabletop. A couple of goldfish can live comfortably in the attractive and nostalgic fish tank.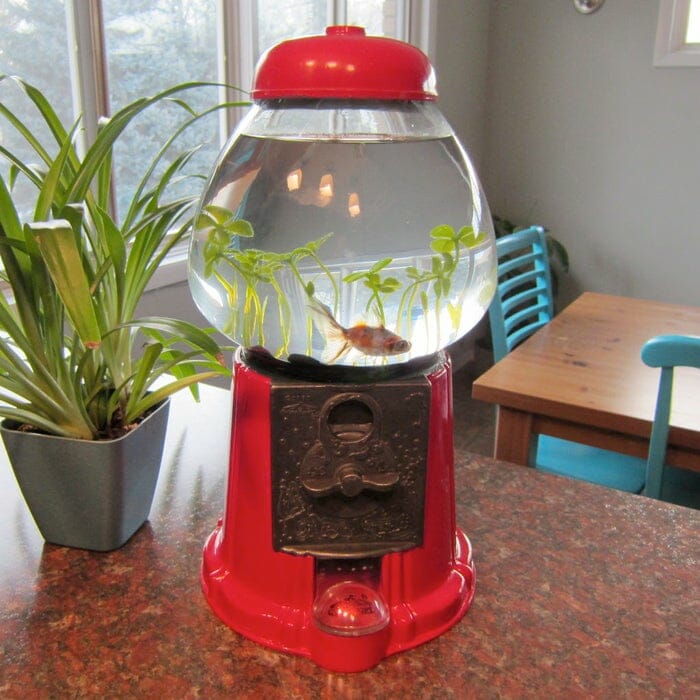 22. Cheese Ball Fish Tank
Those large plastic containers that hold around 35 ounces of cheese balls are easy to recycle into a cool DIY fish tank like this one by instructables.
Enjoy your favorite economy-sized snack, then save the empty container and use this free tutorial to create a tabletop aquarium. Clean the container, add some aquarium gravel and other accessories, then introduce a beta fish to its new home. Easy, cheap, unique, and so cool.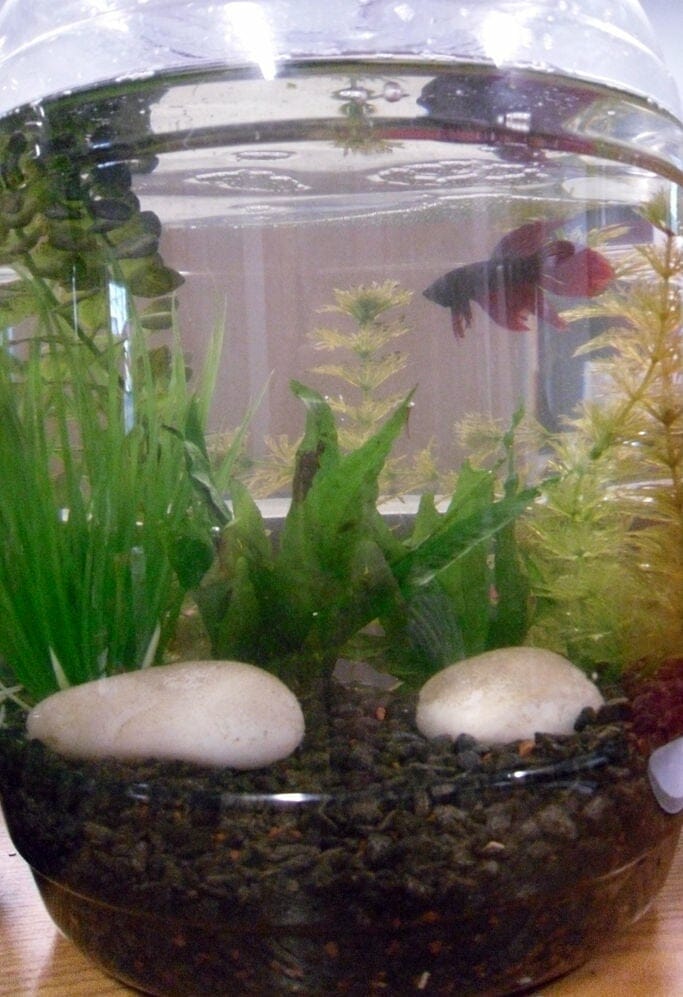 23. Glass Fish Tank
A DIY fish tank made from glass is easy to create when you follow this YouTube video tutorial. Use these easy to follow directions to create a custom size and shaped aquarium that will fit into your space perfectly.
You will save a lot of money when you build your own glass fish tank.
24. Light Bulb DIY Fish Tank
This is a cool design and perfect size to use for a desktop aquarium. A used globe light bulb is easy to recycle and transform into a fish tank by instructables for shrimp.
This DIY aquarium is unique and so are the occupants – a couple of shrimp. great decorative element and conversation starter. This desktop tank is cheap, quick, and easy to create with this free tutorial.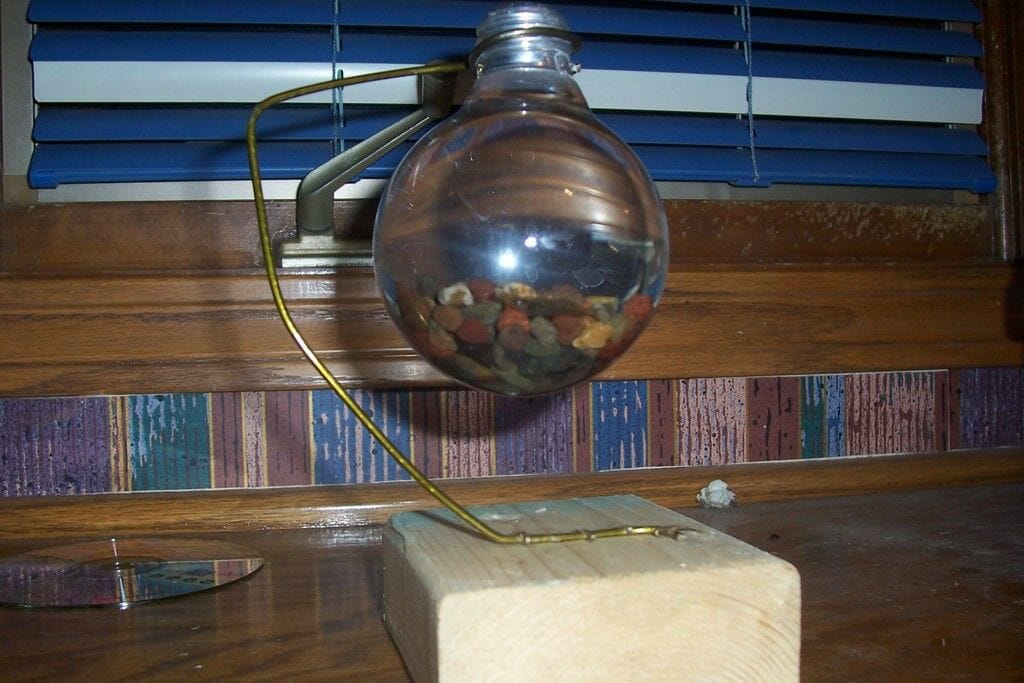 25. Large Fish Tank
This large DIY fish tank will need its own room but it will allow you to interact with your fish by getting in the water with them.
This huge DIY aquarium on youtube can hold large fish and a human or two, making it a great set-up for one-on-one interaction between the two species. If you love fish and have an extra room, then this DIY project is for you.
26. DIY Fish Tank With 3D Background
This tutorial will show you how to create a realistic-looking 3D rock wall for the back of your aquarium.
The background looks like heavy stacked rocks but it's lightweight Styrofoam. It's easy to create, long-lasting, and inexpensive. This is a great way to make your DIY aquarium by instructables look like an expensive store-bought tank.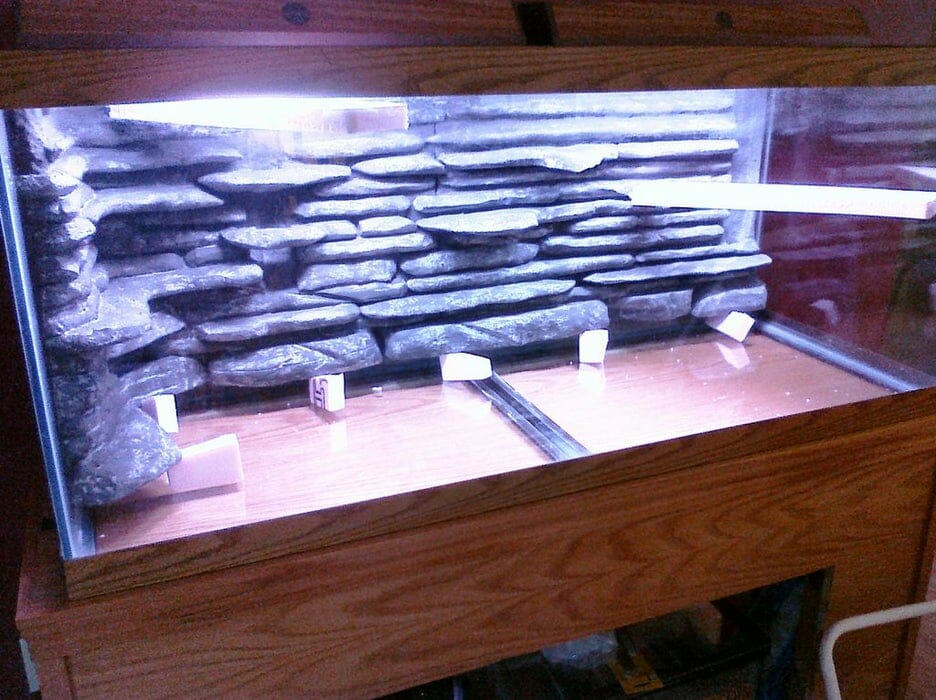 27. PVC Pipes Fish Tank Table
This cool idea creates a functional table that is also a DIY fish tank. Large PVC pipes are fashioned into a design with four legs that are filled with water and fish. Tops of some of the PVC pipes are partially removed to allow viewing access to the fish and the tank table is topped off with clear plexiglass.
This one of kind DIY aquarium on youtube will keep you mesmerized while you watch the happy fish swimming in and out of the table legs.
https://www.youtube.com/watch?v=O7Ujow9kA
Conclusion
Conclusively, the costs of purchasing a new aquarium from the store are incredibly exorbitant. However, you can follow any of the listed plans we have shared with you to make an affordable aquarium of your choosing.