Stylish bathroom floor tiles can transform an old, outdated bathroom into a modern and beautiful space. Floor tile patterns can be customized and arranged in so many unique ways that the same tiles used in five different bathrooms will look entirely different. The cost of new tiles varies greatly depending on the type you select, and that price span makes tiles affordable and practical for everyone planning to update their bathroom. Check out these 22 bathroom flooring ideas and start envisioning your new and stylish bathroom decor.
Onic Slate Bathroom Flooring Tiles
Large tiles with a breath-taking natural pattern make even the smallest bathroom look more spacious and luxurious.

Basket Weave

Bathroom Floor Tiles
This basket weave pattern can stand alone or be used as a tile flooring idea to replace some areas of damage tile flooring.

Wood Grain
If tile is your bathroom flooring option, but you want the look of a wood grain floor pattern, consider this stylish solution.

Reflective

Bathroom Flooring Tiles
Shiny and reflective, this bathroom floor idea enhances the natural light of the room to make it brighter.

Wood or Not?
Your guests won't be able to tell if this bathroom tile design is wood or tile. Perfect for a small bathroom.

Glass Bathroom Floor Tiles
One of the easiest to customize bathroom tile ideas. Colorful glass floor tiles can be incorporated throughout the flooring design to create your own unique space.

Bold Pattern Bathroom Floor Tiles
Use a mixture of small and large tiles to create this bold floor tile design that will make a large, open bathroom feel warm and cozy.

Traditional Mosaic Bathroom Floor Tiles
When you want to stick with the tried and true bathroom tile floor pattern, consider this traditional mosaic tile pattern.

Bold and Beautiful Bathroom Tiles
Here's a bathroom floor tile idea for those who want to break away from the traditional and neutral color designs. Go bold and beautiful with this tile flooring idea.

Black and White Bathroom Tiles
Sometimes the design idea is as simple and elegant as black and white. Consider this idea if that sums up your home decor.

Modern and Masculine
Streamlined, modern and masculine are just a few of the words that can used to describe the tile flooring design in this bathroom.

Classic
This classic tile color and design will fit into any bathroom and make it look modern and updated for many years to come.

Unique Shape Bathroom Floor Tiles
The color is crisp and clean and the unique tile shape blend well to make this ordinary bathroom and stylish room in the home.

Different Bathroom Tiles Pattern
For the WOW factor bathroom, consider this design idea that uses different tiles sizes and patterns in the same room. The color-coordinated tiles vary in size and pattern, but blend beautifully for one cohesive look.

Stylish Squiggles
When straight lines just won't satisfy your design taste, consider these floor tile with stylish squiggles.

Floor to Ceiling
Tiles start on the floor, but end at the ceiling with this updated bathroom idea.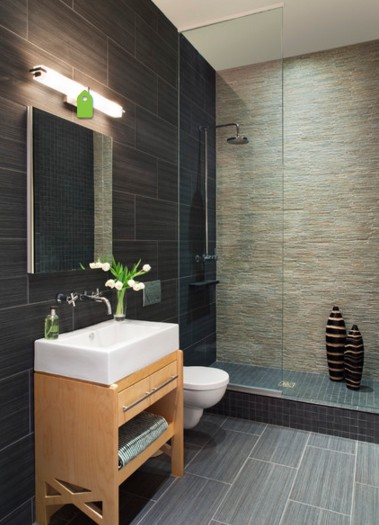 Combo Floor Tiles Ideas
Can't decide on which flooring tiles you want? Get both and use this idea to stylishly incorporate both of them into one cohesive-looking floor design.

Colorful
Express your own unique personality with the use of colorful flooring tiles in the bathroom.

Modern and Electronic
The small random squares of this tile pattern give this bathroom a modern and electronic look from floor to ceiling, just like an app waiting to be scanned by a Smartphone.

River Rocks Bathroom Floor Tiles
If natural rock is the look you want for the bathroom, you can get it with these river rock floor tiles.

Can't Be Tile
It doesn't look like floor tiles, but it is. Unique, stylish and classic enough to go with any decor, this flooring doesn't even look like tile.

Brown and Modern
These stylishly long tiles provide clean lines and makes a small bathroom look larger.