A homemade fire pit will extend the amount of time each year that you can enjoy your backyard. The cost is minimal and the rewards are many: extended outdoor usage, backyard beauty and increased property value.
A homemade fire pit can be created from several different materials and built to tie with existing backyard decor. An outdoor fire pit can be a central focal point that anchors an outdoor seating area or it can be built as a portable unit so it can be moved as desired.
Whatever type of heat and ambiance you want for your outdoor living space, one of these 43 free plans will show you how to build a fire pit of your dreams.
You may also like to see: diy propane fire pit, outdoor fireplace plans, brick fireplace makeover and diy fireplace mantels 
1- 
Build a Round Stone Homemade Fire Pit
Use these detailed plans to build a round stone fire pit from stack-able concrete stones. These plans show you how to build a low-to-the-ground pit, but more stack-able concrete stones can be used to create higher walls around the pit if desired.

2- Homemade Fire Pit Ring
A ring kit can be purchased to help make this DIY project a cinch for the novice builder. The ring kit is given a stone facade to make it look like a completely homemade fire pit. No one but you and the home improvement center will know the difference.

3- Construct a Masonry Homemade Fire Pit
This easy build provides the look of stacked stones, but without the use of concrete and mortar.
Here are short steps to build a homemade fire pit
Measure a mark off a circle that is larger than the pit size
Measure and mark off size of pit ring
Prepare the base with gravel, digging down 4 inches below ground level
Use wedge shaped concrete blocks to create base around the outer perimeter of the line marked off for the pit ring
Stack stones as high as desired
Put ring in place. Fill in gaps with crushed stone
Get complete instructions at popularmechanics.com

4- Building a Fire Pit
Use this video and pictorial instructions for building a DIY fire pit. This double style of instructions ensure that all the work will go smoothly and the finished product will look like a professional built it.

5- Making a Backyard Patio Fire Pit
An easy build for a valuable backyard item that will provide years of enjoyment.
Step to build this diy fire pit are:
Start by measuring and leveling the desired spot
Remove 10 inches of soil from the marked off spot
Add crushed stone, then top off with sand and level
Add pavers to create the patio, leaving a center hole open for the fire pit
Brush more sand on top of paver to fill in gaps
Build up center fire pit with concrete wedge-shaped wall stones
Get complete tutorial at  countryfarm-lifestyles.com

6- Build a Fire Pit With Cooking Grill
Build your own fire pit and grill combination with these free plans. Great idea for those who have small backyards. These plans can be downloaded and printed out for easy use.

7- Cover Homemade Fire Pit Metal Bowl
So simple, yet so good looking and functional diy fire pit.
To build this homemade fire pit all you need to do is:
Purchase a metal  bowl with cover. Measure the bowl
Use wedge-shaped stack-able stones to crate a round base that will hold the metal bowl
Place metal bowl in the center to be used as the fire pit. Cover when not in use.
Check out detail Instructions at theinspiredroom.net

8- DIY Burning Bowl Fire Pit
These easy to follow instructions will show you how to transform any size bowl and a bag of concrete into a trendy fire bowl.

9- 50 $ Homemade Fire Pit With
Tree 
Concrete 
Rings
This is also one of the most convenient outdoor fire pit ideas to have up your sleeves. There are many neighborhoods where campfires need to be confined to some sort of containment systems, leaving room for only small and controlled fires that are easy to extinguish with minimal embers and sparks left behind.
This DIY tutorial by instructables will look Godsend to you under such circumstances and the good news is that it won't cost you much more than $50 to $60.
Here are brief instructions to build this fire pit.
Step one– Find out fine level area in your yard and create a circle of three inch diameter.
Step two– Construct the inner ring of 14″.
Step three– Adding an outer ring of 24″ diameter.
Step four– Fill the space between out and inner ring with small stones.
Step five– Install the Weber grill into the inner pit.
Step six– Now light up and enjoy your fire pit.

10- Buy Fire Pit Kit With Grill And Install It Your Own
Do you mind listening to a readhead? Well, you need to listen to this one at least, who is ready to help you build your own outdoor fire place even if you have little money or little experience in doing this sort of stuff.

11- Landscape Pavers DIY Fire Pit 
Here is yet another fine idea with all DIY details if you were looking to spare only a little of your time and money (perhaps!). Don't worry if you don't like much to read. You won't have to, because this backyard fire pit tutorial by diynetwork also hosts videos to help you better in your endeavor.

12- Build A Gas Fire Pit Table In 5 Basic Steps
Here is another DIY fire pit idea for you, but a slightly different one, because this one burns on propane. The best part is that it is much more portable than some of the more conventional types of fire pits. WcWelding is where you will find how to get one like this in your backyard.

13- Patio Fire Pit Under 125$
How to nest for less are here with another wonderful DIY Fire Pit Idea that not only costs you very low, but also takes no more than 30 minutes of your time.

14- Personal Fire Pit
If you are wondering about its name, you will get to know exactly why it is named so once you get it finished; homemade, personal and really cheap ….. nothing more to ask for. The art of doing stuff bring this fabulous idea to you.
Here are short instructions to build this patio fire pit.
Step one– To get started, bought Living Accents 35 inch round fire pit.
Step two– Open the box and take cover from it. Now start laying your retaining wall blocks tightly around it.
Step three– For a 35″ bowl you will need 15 stones.
Step four– Now remove the cover and start laying the second row on the first one.
Step five– Now add third layer of retaining wall stone again staggering.
Step six– Remove the brackets underneath the lip of bowl. This will help to fit the bowl well above the third layer of stones.
Step seven– Insert the fire pit bowl inside the ring of stones.
Step Eight– Place fire pit cover on the top.
Step nine– Fill the gap between natural retaining wall rock.

15- Just Another Backyard Fire Pit
So, here it is …….. just another one of those super awesome DIY Fire Pit Ideas. This time around, it is THE BRICK HOUSE that shares the idea with you, so three cheers to them!

16- Create A Ultra-retro Garden Fire Pit
You better not raise your eyebrows on its name, because this thing will really turn your garden into a retro space to have fun time with your friends and families. Everyone needs to thank This Old House to share this with us.

17- Follow Simple Steps To Make Your Own Fire Pit
Instructables are here again to help you build and boast of your own homemade fire pit. Just follow the tutorial well and invite your family and friends for a pleasant surprise.

18- Build it Like a Pro
It's quite simple, if you want to build it like a pro, you need to put some serious time and money of yours (around $500 tops!). And for pro assistance, you have got none other than The Family Handyman.

19- Stacked Stone DIY Fire Pit
Surely, it's not an easy thing to build for yourself, but see how wonderful it looks in your garden when done, especially with that old beer barrel serving as firewood storage. And you get such cool homemade fire pit ideas by no one other than houzz.

20- Washing Machine Homemade Fire Pit
Who would imagine that the inside drum of a washing machine could become an artistic and functional portable homemade fire pit. Lightweight enough to take along with you camping or to the beach.

21- Simple DIY Fire Pit
This simple and cheap DIY fire pit will improve the looks of your landscape, making it more inviting to family and guests. The increased curb appeal will also increase the value of the property.

22- Pour a Concrete Homemade Fire Pit
Use these free plans to pour a concrete fire pit in your backyard. Built to last, this DIY project is inexpensive, easy and will provide years of enjoyment.

23- Devise
a Gas Fire Pit from a Flower Pot
A large flower pot can be transformed into a gas fire pit with these free plans. Recycle an old flower pot into a new use with this ingenious idea.

24- Fire Up The Ship
Fun for all ages, this design creates a pirate ship fire pit that doubles as a large outdoor grill. Download the PDF file that will give you all the details for building this unique backyard fire pit and grill combination.

25- Easy And Cheap DIY Fire Pit Idea
And if you were looking for an easy fire pit idea, natalme are more than ready to share one with you here.

26- Simplest DIY Fire Pit Idea
This diy fire pit idea will just amaze you with its simplicity and you will repent not finding so simple way of having a fire pit earlier in your life. You will need nothing more than bricks, stone pavers or some other non-flammable brick-like structure.
Here are step by step instructions to build this cheap diy fire pit.
Step one– Choose the place and specify the dimensions of fire pit. But it should be 25 feet away from structures or overhanging trees.
Step two– Mark the center of fire pit with a stake and then tie one end of string with it and other one with spray paint.
Step three– Outline the circle of fire pit with spray paint.
Step four– Dig out the hole few inch deep and place some stones at the border of circle.
Step five– Insert some sand and gravel to make a layer of several inch to prevent fire embers from burning into the ground.
Step six– Now the fire pit is ready. Bring some chairs and roasting sticks and invite your friends for a warm evening.

27- Real Backyard Fire Pit Idea
Tools 2 Tiaras is the place to look forward to a serious backyard project for your DIY fire pit.

28- Eco-friendly Outdoor Fire Place
If you were concerned with eco-friendliness of all the DIY ideas mentioned previously, fine Craft Guild are eager to help you with environment friendly version of fire pits here.

29- Square Homemade Fire Pit Idea
If round is not your preferred way to go around and you are strictly looking to have a square one for your outdoor space, Goods Home Design have got exactly what you need as a DIY project for your backyard.

30- DIY Concrete Fire Pit Bowl
If you have ample time and space, you might also try this concrete version by ehow. It will surely turn into an outdoor centerpiece for your garden.

31- An Ingenious Outdoor Fire Pit
Do you have an old washing machine drum rotting down your garage? Can you spare around $10 and an hour of your time? Well, you would consider yourself lucky if you did so. Apartment Therapy just bring forth an ingenious pocket and time friendly fire pit idea for your backyard. This is how convenient you can make your life with a little bit of creativity and willingness to work!

32- Homemade Fire Pit with a Seating Area
This one might require some serious effort and time from you, but you will be amazed with joy on how it turns your backyard into a place of fun and admiration not only among your family and friends, but across the whole neighborhood. Earth bag Building deserve applause for sharing this with us.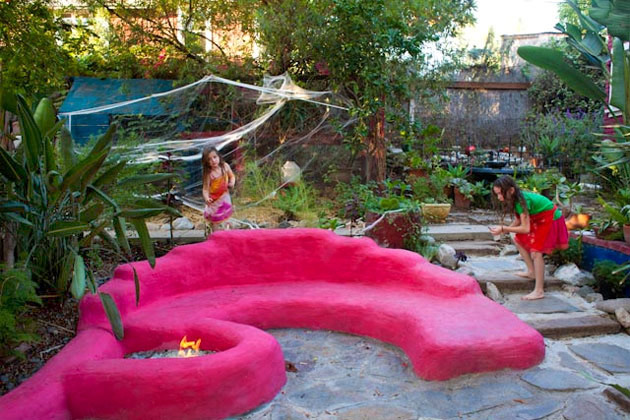 33- Some more DIY Fire Pit Ideas
Before closing, we thought to present you with some more DIY ideas to turn your backyards into cozy places where your family and friends would love to spend some quality time together. Moderustic is the place to get your hands on these wonderful DIY ideas also including a DIY Gas Fire Pit idea.

34- Fabricate a Fashionable Homemade Fire Pit
So easy to build, yet so fashionable. This chic fire pit is a quick DIY project that will increase the fun and style of your backyard.

35- Customize a Steel DIY Fire Pit
This particular design is for the Star Wars fan in your home, but it is also an idea launching pad for what you can create from steel. Customize a steel diy fire pit that will showcase your personal passion.

36- Design
a Whiskey Barrel Homemade Fire Pit
This easy to follow tutorial will show you how to transform an old whiskey barrel into a stylish and functional homemade fire pit.

37- Originate a Mosaic
Here is a great idea for putting your own personal touch on a typical round DIY Backyard Mosaic Fire Pit
– create an original mosaic on it. Showcase your DIY building skills and crafting skills in one outdoor project.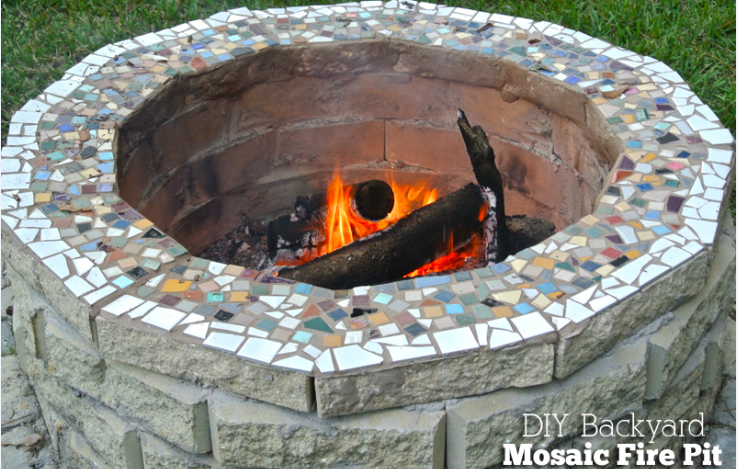 38- Homemade Fire Pit With Bench
Warmth, seating, style and storage all in one DIY project. Create a center homemade fire pit, surrounded with a stone patio. Build a comfortable semi-circular bench around half of the patio and store fire wood under the bench. Comfort and convenience right in your own backyard.

39- DIY Adirondack Fire Bowl Table
This fashionable creation fits with the outdoor Adirondack style of furniture and creates a fire pit table. To make it even better, this style has wheels to make it easily portable.

40- Inexpensive Homemade Fire Pit 
This design is a budget-keeper and shows you how to build a DIY fire pit for much less than you expect. High-end finished look with a low-end cost.

41- Make
a Gas Bottle Fire Pit
Transform an old gas bottle into a safe and functional homemade fire pit with these plans. Modern design that is ideal for small backyard spaces.

42- Build a fire Pit Table
An outdoor table is always in-demand when relaxing with a cold beverage. Use these plans to create a fire pit table that helps keep you warm while it holds your cold beverage, and it's made from a recycled wood pallet.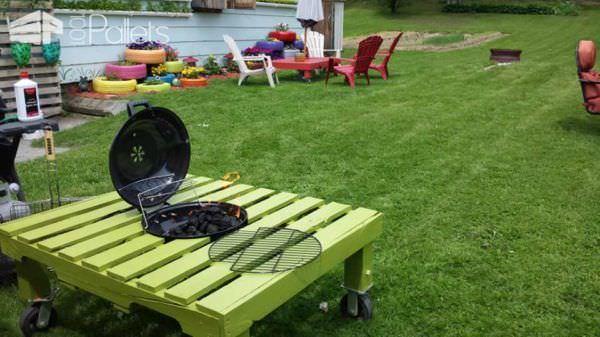 43- Generate
Heat Cheaply
This easy and inexpensive fire pit will generate enough heat to keep you warm and roast marshmallows, which are two of the most popular uses for a backyard fire pit.

Wraping Up!
Hope every single one of you finds the inspiration and motivation to add to the beauty and convenience of your homes with the lovely ideas that we have presented here. And show no hesitation in sharing some of your own ideas and experiences with us as well.