The style of kitchen cabinet doors can make or break the look of a kitchen. That's why it's important to make this a DIY project so you can get the exact look you want when updating your kitchen. Making cabinet doors will also enable you to cut the cost of the kitchen remodel tremendously, leaving you more money for the 'jewelry' items, like faucets and lighting. Look through these 10 great DIY cabinet door ideas and get ready to update your kitchen for less money.
You may also like to see: diy kitchen cabinets, diy kitchen island, diy barn doors, diy kitchen back splash, kitchen design software and outdoor kitchen plans.
Shaker Cabinet Doors
Clean lines and classic style, Shaker style has been around for decades and is still a popular look. Follow these easy instructions for DIY cabinet doors that will never go out of style.

Tongue and Groove DIY Cabinet Doors
Tongue and groove style with a center panel in the door provides decorative versatility when building DIY kitchen cabinets. These detailed instructions will walk you through the DIY building process and you'll end up with an updated kitchen you're proud of.

Raised Panel DIY Cabinet Doors
Kitchen cabinet refacing is an inexpensive way to give your kitchen a face-lift. Just use the existing cabinet boxes and create new raised panel doors for them with these detailed instructions.

Inexpensive DIY Cabinet Doors
To replace old, worn out cabinet doors cheaply, check out this idea. Replace the cabinet doors with painted plywood and use painted, wooden yardsticks as door trim to create very stylish and inexpensive cabinets doors.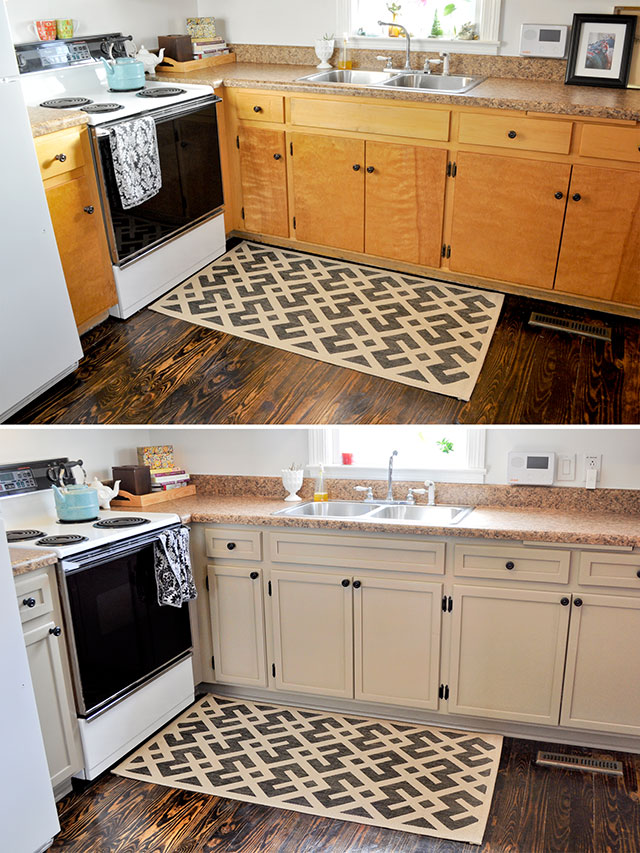 Shaker Style Kitchen Cabinet Doors
Use this innovative DIY idea to transform flat doors into Shaker style doors for your kitchen cabinets. This is a simple DIY build when you follow these building plans. This idea can also be used for DIY cabinet refacing and transform existing plain, flat cabinet doors into stylish Shaker doors.

Glass DIY Cabinet Door
It's possible, even simple, to make your own glass-front cabinet doors. The glass panel allows the cabinet contents to be viewed as a decorative element, plus you can quickly see where everything is.  Build your own with these easy to follow instructions.

$4 DIY Cabinet Door
Now there's a price that's hard to beat – just $4 per door will update the look of any home kitchen. That low price will allow you to replace cabinet doors throughout the house for a unified look.

Frame and Panel DIY Cabinet Doors
Use this classic frame and panel design for kitchen cabinet refinishing and for creating free-standing cabinetry pieces, like a sideboard or base for a kitchen island. Free-standing cabinetry pieces using the frame and panel style also fit in well in the bathroom or entry way to create stylish storage.

Custom Size DIY Kitchen Cabinet Doors
Build custom sized, attractive cabinet doors with these step-by-step pictorial instructions. Those odd-shaped kitchen cabinets are almost impossible to purchase new doors for, but so simple to build new doors for with these instructions.

Basic DIY Cabinet Door
One basic DIY cabinet door with two options. Use these instructions to build a basic flat panel door, then leave it as-is or add a decorative element with trim around the perimeter.  Either choice will give you a DIY cabinet door that will update the look of your kitchen in style.