A DIY cutting board is economical, easy to create and can be built to your own specifications. Get the right size, width, length, thickness and your preferred wood choice when you build a custom cutting board. A handmade cutting board is a beautiful addition and conversation starter at any party, plus they make perfect gifts for the Holidays. Get started on your Christmas shopping early by creating some of the best cutting boards available with these ideas. And don't forget to build a couple for your own kitchen uses at home.
Appetizer Boards
These DIY cutting boards designs are the perfect size and shape for serving appetizers. Trace the design onto the wood, cut the shape out with a jigsaw, sand the wood smooth and apply a food safe mineral oil. Now it's ready to serve crackers and cheese on at your next party.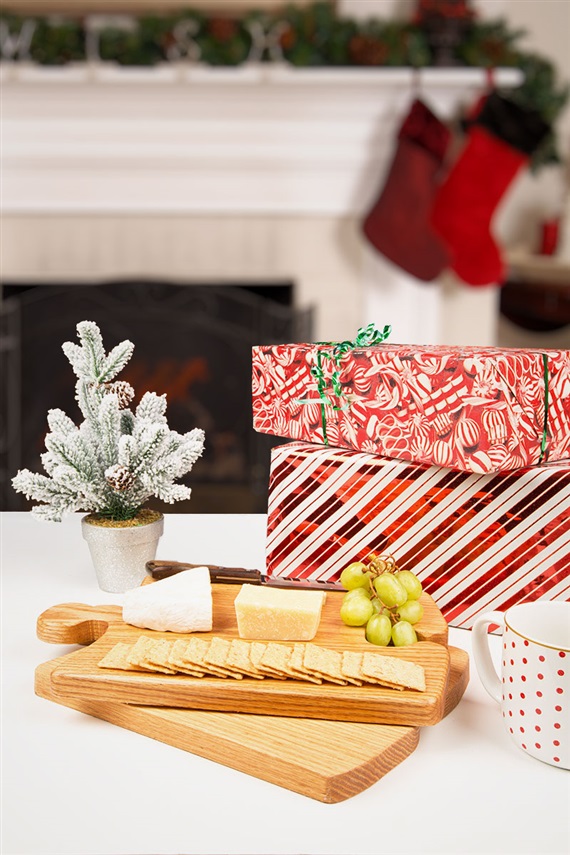 Scrap Wood
Scrap wood can be used for making a cutting board with these detailed instructions. Beautiful high-end designer look is achieved when using several different type of wood in one cutting board.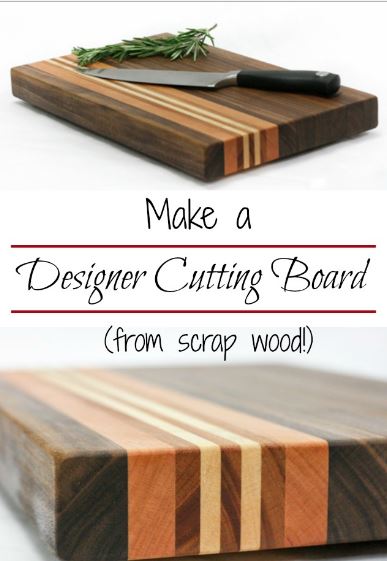 Reclaimed Wood
Leftover pieces of wood flooring or reclaimed wood strips can easily be transformed in a functional and attractive DIY carving board. Cut the reclaimed wood into uniform strips, use food-safe glue to attach them together, place in a vise until glue dries, then sand wood smooth and apply a coat of food safe mineral oil.
Large Wood Cutting Board
This large design creates a wood cutting board that can handle large meal and chopping tasks. Great for cutting and serving food on one surface or when breaking down large pieces of meat.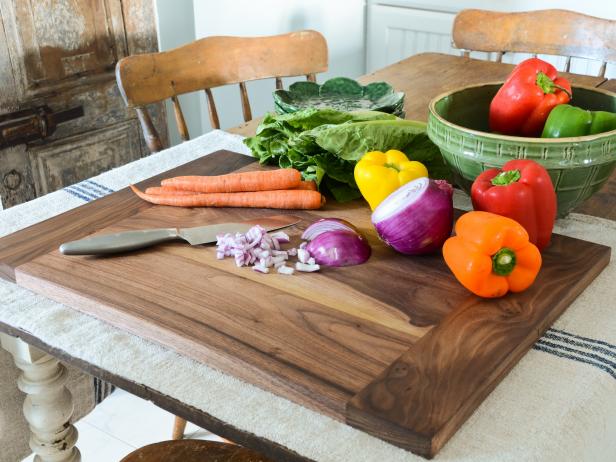 End Grain Cutting Board
Attractive checker board design is created by using the end grain cut of wood. The process does take several steps, but the detailed plans make the DIY project simple.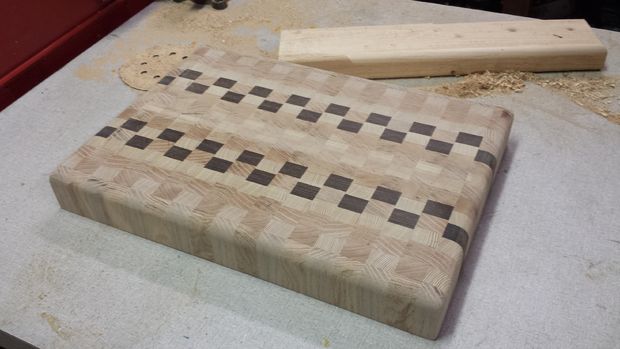 Edge Grain Board
Let the beauty of the wood shine through when creating this edge grain chopping board. Fast and inexpensive to create, making the style great chopping boards to give as gifts.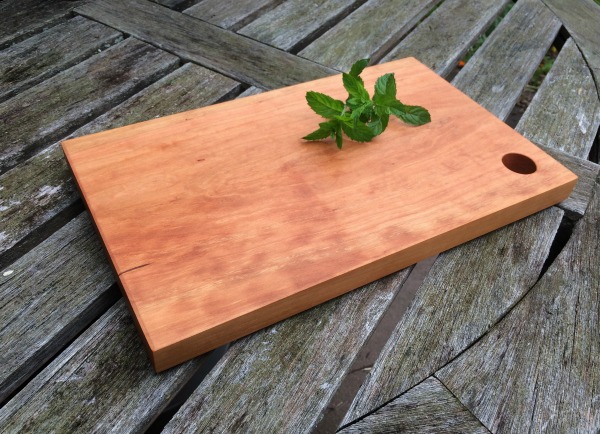 Butcher Block
Create this simple DIY butcher block cutting board to protect your kitchen surfaces from knife scratches, cuts and food stains.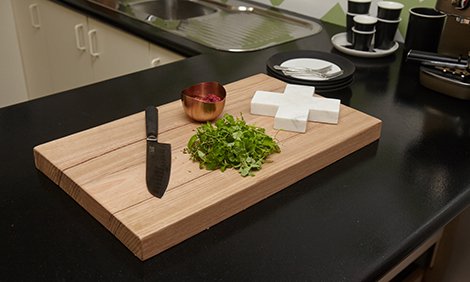 Color Coded Boards
A great idea for the busy cook that cuts and chops a variety of foods. This easy to build cutting board idea is quick to create, so building several is a snap. Use different colors of food-safe paint to color code the board edges and write on the boards. Have a board for meat, one for fruits, one for fish and another one for vegetables. No chance of cross-contamination.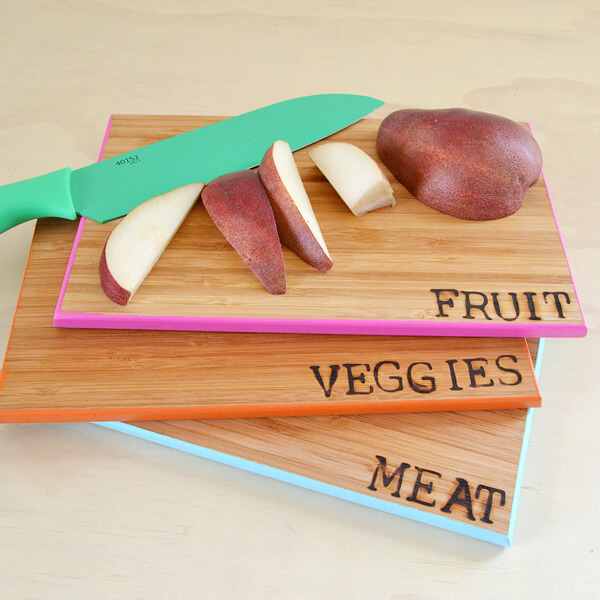 Simple and Easy
One long board can make two attractive cutting boards with this design idea. Straight line edges make this design simple and easy to cut out. A little sanding and food grade mineral oil, and the boards are ready to use.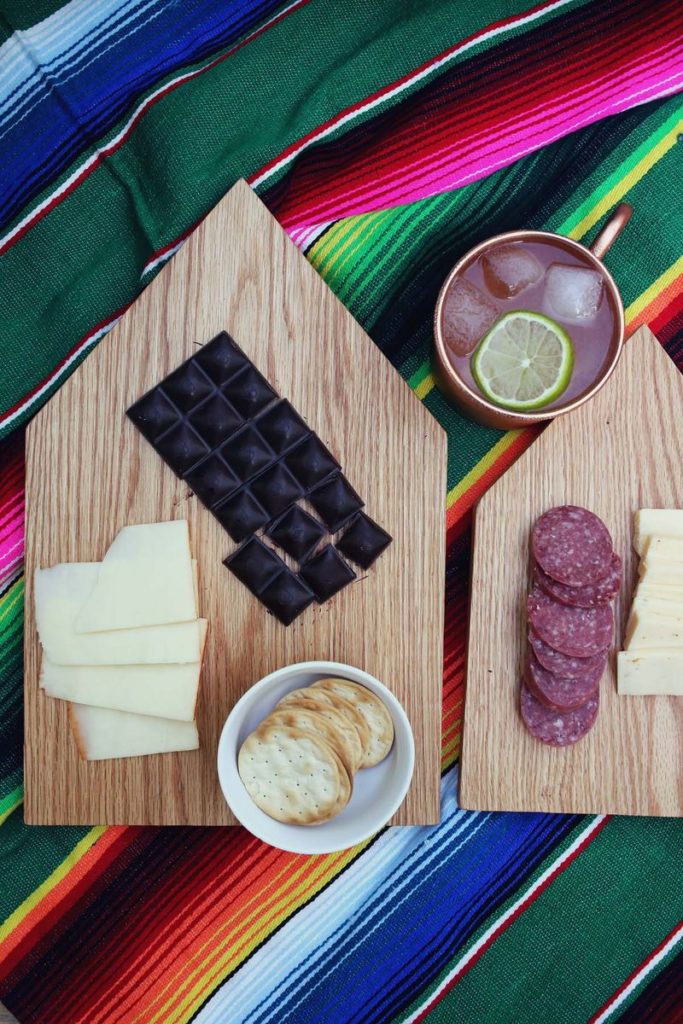 Roof Top Cutting Board
Simple design makes a very attractive and functional cutting board. The upside down V shape on one end of the board gives it a roof top look when the board is standing upright.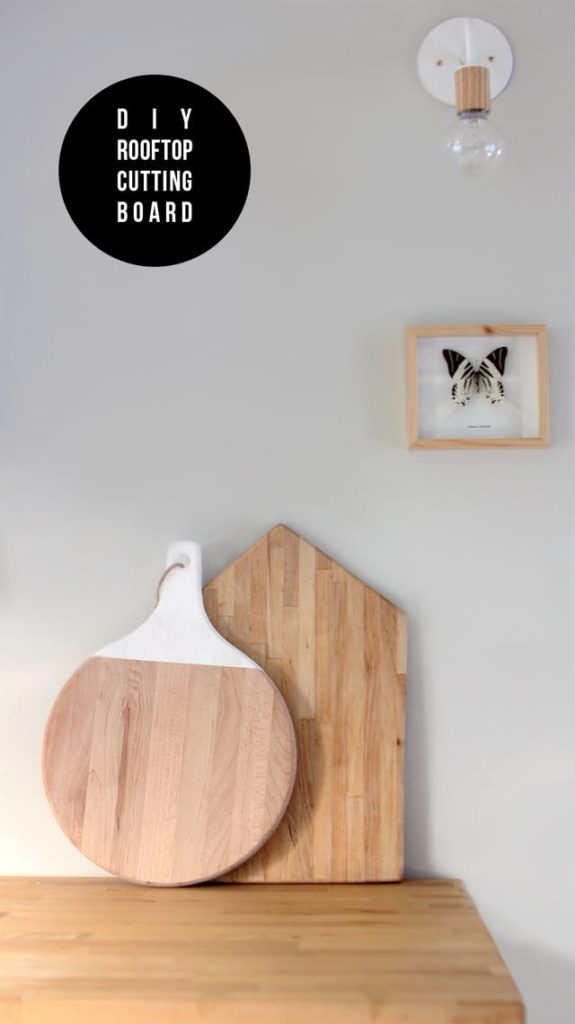 Serving Board
This attractive style makes cutting and serving on the same board desirable. The unique shape is attractive and the board size is perfect for carrying from kitchen to table. See the tutorial for this cutting board.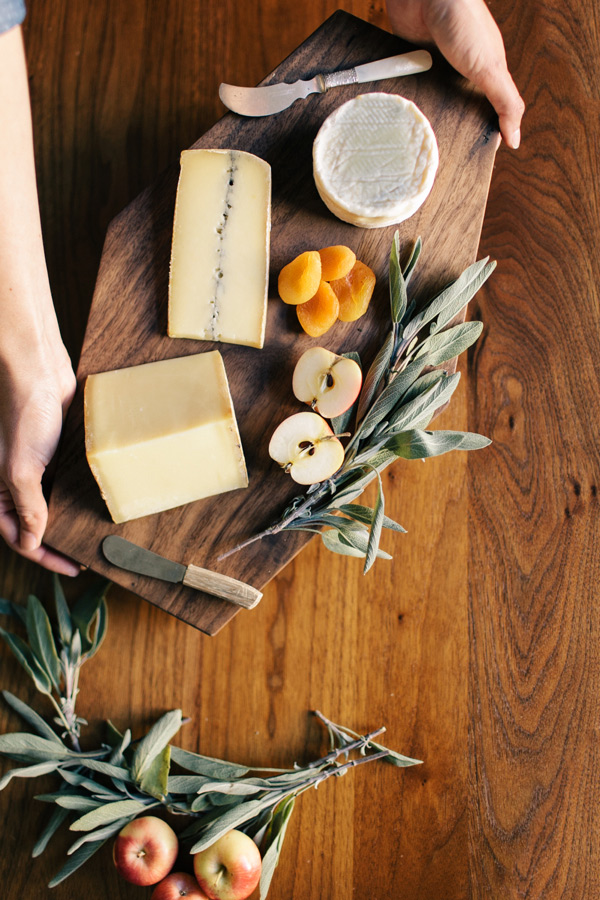 House Shaped
Create this unique house shaped cutting board and WOW your party guests with your DIY ability. Easy to follow instructions will enable you to craft this attractive style for you and to give as gifts.
Scrappy Cutting Board
Take wood scraps and create an attractive cutting board with them. Detailed pictorial instructions walk you through the process of turning several wood scraps into one cohesive cutting board.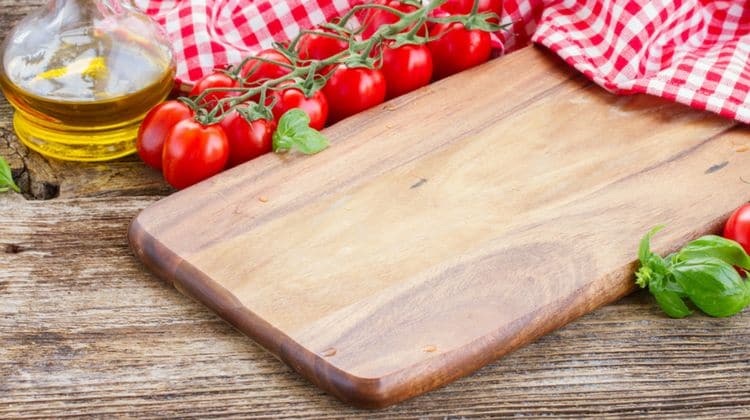 Work of Art
Cutting boards don't have to be bland and unattractive, they can become a work of art like this one. If you can image it, you can build it. This video will show you how.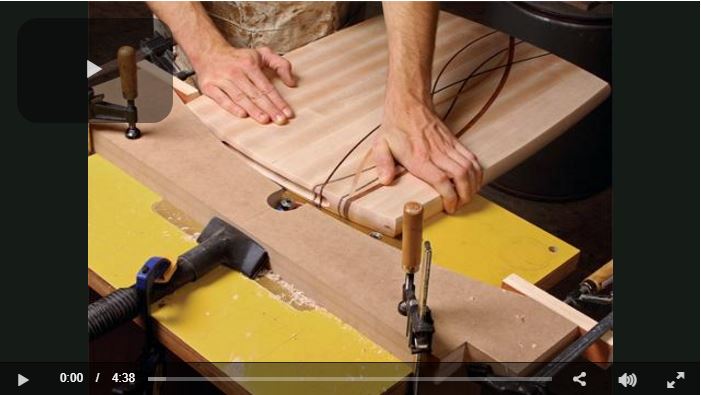 Cutting Board Tablet Stand
Reading a recipe from your tablet or other electronic device is not easy, unless you have a stand to up the tablet upright. This clever idea holds the tablet at the perfect reading angle so your recipes turn out perfect. Get the detail for this diy stand made from cutting board.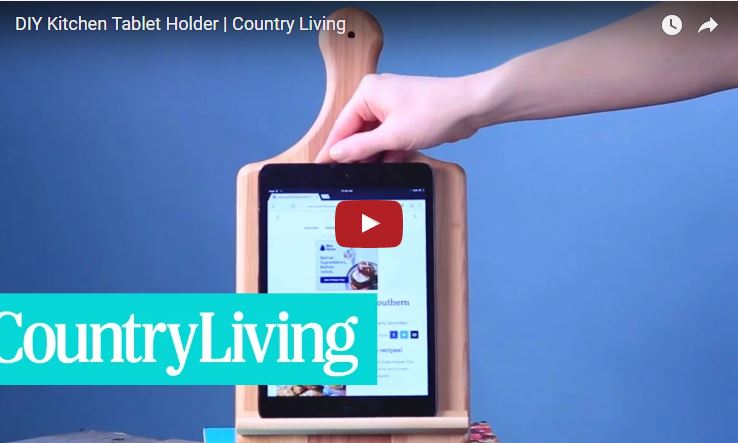 Personalized Chopping Board
Use these instructions to create a personalized chopping board that doubles as a serving board. Attractive,  unique and easy to create.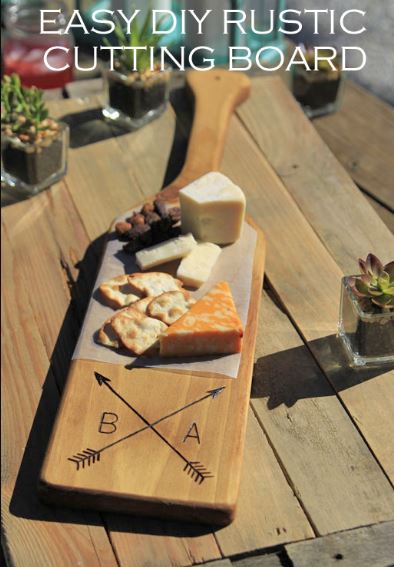 Cutting Board Cocktail Plates
Create these unique small cutting boards that have a cut-in slot to hold a wine glass. Unique style allows guests to hold their food and drink in one hand.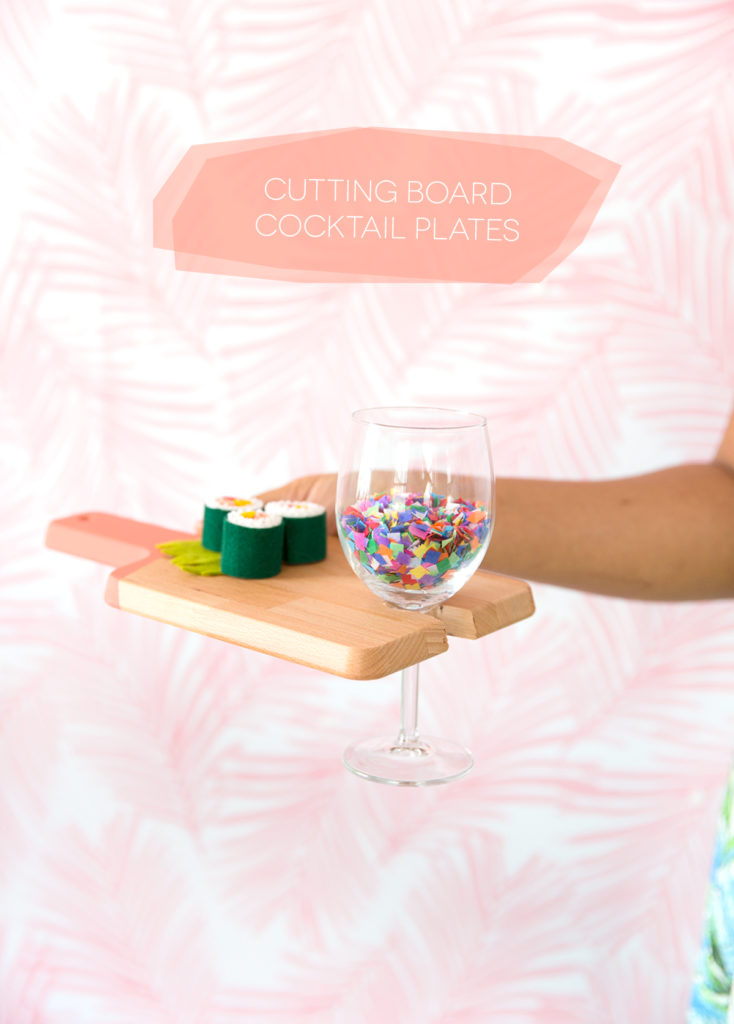 Cutting Board Trio
Three sizes, same style. Attractive, functional, easy to build and durable. The same shape cutting board in different sizes makes storage a breeze.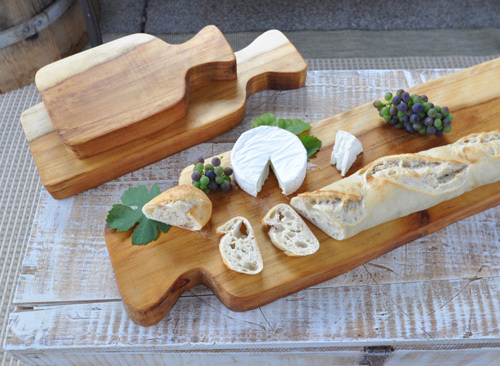 DIY Butcher Block
The classic look that is functional and durable. Use these easy to follow plans to build your own classic butcher block cutting board for a minimal amount of money.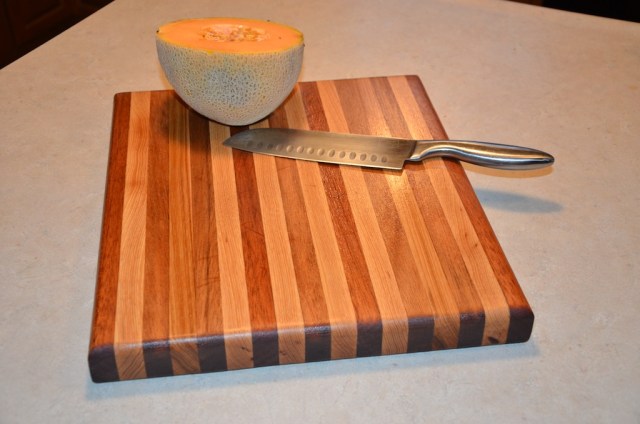 Minimalistic Cutting Board
When all you want is a simple cutting board, use these minimalistic plans to create a quick, easy and functional board that will last for years.