Garden benches are an ideal spot for chatting and enjoying a great time with your friends and family. Each home deserves a special corner that is all set for cozy and comfortable evenings.
Using one of these free garden bench plans to build a custom bench that will create attractive seating and storage for any outdoor area. Even though the name implies the bench should be placed in a garden, a DIY outdoor bench is useful in any outdoor
A DIY garden bench is ideal for use on a patio, deck, beside a pool, pond, or water feature, and are perfect resting spots when placed along walkways or near a flower garden.
You may also like to see our similar articles diy storage bench, outdoor furniture plans, picnic table plans, and window bench seat.
Check out these 52 DIY garden bench plans we have found for you that you will love to build and enjoy on your property.
52 DIY Garden Bench Plans and Ideas:
Make a simple custom slat garden bench for your seating and create a cozy and comfortable space in your garden. Place the diy garden bench in a shade to enjoy your time relaxing in the garden with great comfort.
See the tutorial at : This Old House

If winters are around the corner and you like partying with friends, you must definitely work on this idea. What if you don't have a fire pit in your backyard, you can always go for bonfire ideas. Well, around the fire pit, you can arrange wooden seating's in curve and enjoy sitting there in winters while enjoying your hot beverages.
Steps to build this diy garden bench.
Draw a sketch and calculate the lengths and angles on screen.
Cut all the frame pieces and join them together.
Cut the legs of bench and screwed at the end of seating frame.
Flipped the bench and cut out all the back braces.
Bolt and screwed all the pieces of back braces.
Cut and join the back support pieces.
Cut the back braces,glue and screwed them with back support.
Sand and paint the bench.
Tutorial : A beautiful Mess

Extra storage is always needed indoors and outdoors. If you're looking for a solution that will provide more outdoor seating plus outdoor storage, these outdoor bench plans are for you.
Watch this YouTube video that will show you how to build an attractive, functional outdoor storage bench that has a lift-up lid and storage underneath. The top lid is attached with hinges so it can be raised and lowered easily. Underneath is a large storage area that can hold two plastic bins that will store pillows, covers, candles, and other outdoor items safely and keep them dry.
Paint the wood to complement your outdoor decor and use this outdoor storage bench on your patio or deck. It would also look great in a mud room or garage.
Turning your old dresser into a vintage bench is definitely worth all the work it requires. This wood bench plans gives you an opportunity to utilize your old piece of furniture for transforming into something really amazing for your garden.
Tutorial: commatose.ca

Spark up your garden, deck or fire-pit area by building a semi-circular wooden bench. DIY garden bench adds a contemporary look to your home with its stylish design. Providing a longer seating room, the semi-circular bench is an excellent choice for your home.
Get the Tutorial at : diy network

This is one of the widely practiced and like garden bench plan; after all, the name and the concept sound really tempting. You do not need to have brand new chairs for this kind of bench, but make sure whatever you choose does not have cracks. With a nice printed fabric, seat foam and 2 chairs, you will be able to make a wood garden bench.
Get an overview of building this diy garden bench
Download the cut list to build this garden bench plan from dining chairs.
Use a screw driver to unscrew any fasteners and remove each seat top.
Remove the frame of chairs and assemble the platform.
Reinforced the frame for the bench.
Prepare the surface and paint the bench.
Affix the foam and upholster the seat.
Attache the seat on top of the bench.
View the complete plan at This Old House

Suitable for all garden types, a customized painted bench is an awesome way of creating a beautiful and comfortable space for your garden area. The diy bench is not only ideal for your garden area but also perfect to place next to your fireplace. This painted bench is modern yet classic and this is what makes it stand apart from other garden bench plans we have are going to share with you.
You can even choose to style this bench with some comfy cushions and small lights to get set for the perfect night out with your friends and family.
Check out the complete plan at: rona.ca

Build a comfortable 2×4 bench and side table to make the best use of your outdoor space that has been lying utilized for a while. What makes this particular diy garden bench different is the fact that it makes use of pocket holes to stabilize slats without giving any view of screw heads. So get your hands set to build your own unique set of 2×4 benches & side table set.

Tutorial: jayscustomcreations.com
Just get a bunch of pine and untreated lumber so that you can get the finest, dark brown wooden garden bench. Oh yes, you can use it as a table too during a garden barbecue with friends.
Tutorial : Rogueengineer.com

You can build a comfortable and attractive outdoor bench without using any power tools. These free garden bench plans on YouTube will show you how to use cinder blocks and lumber to build a sturdy bench fast, cheap, and without power tools.
Challenge your creative abilities by building a power-sculpted contemplation bench in your garden. This diy garden bench gives you a chance to use some amazing designing skills to come up with an exclusive set of a power-sculpted contemplation bench.
Find the tutorial at: woodcraft.com

Give a new life to your headboard by transforming into a bench! This garden bench is an awesome way of using your old bed's headboard and making it into something useful in the most creative way. You may also like to see diy headboard.

Diy outdoor furniture is ideal to relax with your family and friends on a perfect evening. Build a double chair bench for your front porch and add a distinct charm to the entire appearance of your home.
Get the tutorial at: diypete.com

Aren't coiled hoses a distraction in your garden when not in use? Store not only one but two hoses by building a diy garden bench. Quite similar to building a toy chest, this garden bench will take about two days to get completely ready. By going for this diy wood bench plan you not only get to hide your hoses but also get a durable piece of outdoor furniture.
Tutorial: sunset.com

Get some inspiration from the iconic George Nelson platform bench and create your own diy garden bench. This bench is not only very economical but also quite suitable for outdoor usage. We are sure you will love the whole experience of recreating this iconic piece of outdoor furniture for your home.
Tutorial: manmadediy.com

Providing a seating for four adults, a farmhouse bench can be placed both at the outdoor or indoor of your house. Begin the project by building the legs and further assembling the top board. For the perfect farmhouse look, go for a stained look for your diy wood bench. So if you are someone who would love to add a rustic charm to your house, the farmhouse bench is the perfect option for you to go with. You may also like to check out farmhouse dining table.
Get the plan at: blog.homedepot.com

Well the interesting part about this garden bench plan is that you can use it either ways, as a wooden bench or a table for serving wood. It requires simplest assembling of the wooden planks without almost on cost on its making. You may also like to see picnic table plans.
Get the details at Picnic Table Plan

Refurbish your old park bench by painting it with some vibrant colors. You can choose to paint each of the slats on the bench with different colors to create a one of its kind piece. Take inspiration for colors from your home interior or either use color blocking to come up with beautiful results.
Get the instructions at: homejelly.com

When looking for wood bench plans, the refreshed bench made from a bed and end table is a great idea. You will surely love the experience of seeing the transformation of your unused bed headboard and end table into diy gardcen furniture.
Tutorial: refreshrestyle.com

Gardens are special as they give you a respite from your daily routine. So why not turn your garden into a place that makes it even more functional? Go for a bed into bench plan for your garden seating for its sheer simplicity and economy. Also check out diy platform bed.
Tutorial: littlehouseinthesuburbs.com

In order to build a gorgeous looking garden bench, you need to first look for a proper space in the garden or backyard area. By placing the wood in crib style, you can construct a fine bench; if you have some extra time, you can add a crib design planter to compliment the seating area.
Below are simple steps to build box crib-style outdoor bench and planter.
Using 2 x 2 boards,32 pieces 15-3/4 inches long and eight pieces 47 inches long.
Cut four 1-11/32-inch-long spacers and set them aside for now.
Make a framing square by joining one leg against the side of a 47-inch piece and the other leg against its end.
Alternate the 1-11/32-inch spacers with the top long slats.
Glue, drill, and screw the inside slats to the ends of the frame.
Glue, drill, and screw the middle 15-3/4-inch boards at 12-3/4 inches apart in place.
Glue, drill, and screw alternating pairs of 15-3/4-inch boards to form one leg of the bench.
Wipe the bench clean and apply a generous coat of stain.
Get the bench plan from Lowes

Does it sound weird that you can build and have your own tree bench? Well, you can certainly achieve this milestone and have a good space or family to enjoy fine weather during cold nights and rainy season. All you need is a thick pine tree in your garden and bits of efforts to gain what you want.
Get the building instruction at This Old House

This is a very inexpensive park bench plan and remains popular choice for those who are into DIY garden furniture expedition. Within a day, by spending just $20 you will be done with a comfortable and easy to handle diy garden bench. You can color it the way you want, so that it looks compatible with overall garden setting.
See this diy project at Family Handyman

All it requires is one smart move; you need fine wood, some hardware and a detail garden bench plans to build this rustic style bench. With application of oil-based polyurethane and oil paint, you can give this simply creation a look to die for. This is ideal to be used as bench seats or you can also place them in your car parking.
Get diy instructions at DIY Network

As the name suggests, this is garden storage bench plan and facilitates you with proper storage of your belongings. You can either keep stuff that you use while spending time in the garden, or anything important.
See how how to made this one at au.lifestyle.yahoo.com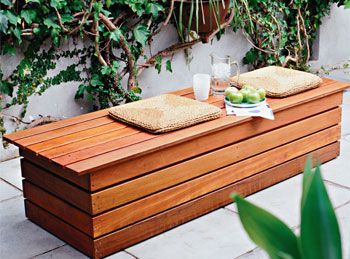 Having a cedar crafted bench, framed in arbor and placed in the garden would be such a lovely idea. You can do it yourself, without spending much money and time. This type of garden bench plan would be an eye catching symbol for your garden area.
See the detail plan at This Old House

You can use either recycled or brand new lumber to construct a simple garden bench like discussed here. It won't occupy much space, but it has enough space to accommodate up to 2 people. Don't forget to color it, if you want it to look appealing.
See the instructions at Instructables.com

Enrich your garden by building a modern planter bench. First go about building the wood top and then make use of ceramic pots to substitute the pair of legs for the bench support. Modern planter bench is one of the most unique ways of incorporating garden bench plans in your garden with the most beautiful results.
Tutorial: sunset.com

If you are someone who likes spending a lot of time in the garden, large outdoor bench plans are ideal for you. Garden bench help you expand the living space of your home, adding a special charm to the overall look of your house. Choose the right materials for your outdoor garden bench and get the job done in just one day!
Find the instructions at: my outdoor plans

This type of diy planter bench can be added to the corridors to enhance its appeal; you have to make sure that you have a whole day for this fun activity, since you require doing some major interesting tasks. The design of this diy garden bench is made in such a way that sides have enough space to be decorated with flowers or plants, as per your choice.
View the plan on My Daily Randomness

If you have kids in the house or you generally fall from colorful things, you need to work on this simple garden bench plan and increase the appeal of your small garden space. It can be build against the wall easily.
View the plan at Aristocrafty

This will hook up many eyes in your garden space because this is one of the creative plan to filling up the garden space. This project requires some expertise so you may end up seeking professional help, but first ask your friends and peer circle if they can help.
Tutorial : Woodsmith.com

Build a diy garden bench to place around a trail or at the corner of your garden to make the best use of the outdoor empty space. You can even choose to paint the bench to add your unique touch to the piece of diy outdoor furniture. Enjoy the amazing view of nature by this bench.
See the plan at: handymanwire.com

Keeping the structure of chair in mind, you can build this type of bench with the help of following plan for your garden. This would be ideal for accommodating up to 5 people easily.
Get the instructions at The Design Confidential

By using bricks to make the bench handles and using slate to make the top, this kind of simple bench plan can be finished in just an hour. It requires nothing but some psychical efforts since lifting is involved.
Tutorial: Apartment80.com

If you have some spare garden space and you feel like filling it up with easy to made diy garden bench, than you must work on this idea this weekend. Simple looking but comfortable, you can make a timber bench is just a few hours with no technical expertise.
See the tutorial at Instructables

Many ask how to make a garden bench without putting in much effort. If this is your desire then this idea would work fine for you. By simply utilizing a few hours and spending money on buying the wood for making the bench, you would be able to achieve your goal without any hassle.
Tutorial: Build Easy

If you don't feel like investing too much in having a simple bench for your balcony, than build it yourself, yes, you can do it by making simple wooden bench by lumber or cedar whatever suits you. If you want to decorate the bench, you can do it by adding some pseudo flowers or plants around it.
Get the instructions on : Engineer Your Space

Build your own park bench slats or transform the old ones in your garden to soak into the charm of nature. Diy garden benches are an awesome way of transforming the way your garden looks alongside giving you the comfort of seating.
Tutorial: midnightwoodworking.com

Fill in that extra space in your shed by making a cute little box planter bench. The box planter bench is one piece of diy outdoor furniture that is not only functional but also helps to beautify your outdoor by carrying flowers.
Tutorial: shanty-2-chic.com

Ideal to be placed at an entry way, a woven bench really adds up as one beautiful space filler in your home. Add this jute project in your list of wood bench plans and enjoy the art of creating something new for your home!
Tutorial: themerrythought.com

These free plans will show you how to build a knock off bench and save yourself a lot of money.
If you like browsing through garden furniture websites to discover the newest styles and designs but can only afford to look and not buy, consider building the furniture.
This DIY started with a very expensive ready-made garden bench and ended with a custom build knock-off that looks just like the original for a fraction of the cost.
Find a ready-made garden bench that you like, then build one like it. These garden bench plans will show you how.
Tutorial: homemadebycarmona.com

43-
X Leg Garden Bench
This DIY outdoor bench seat is super easy to build and very sturdy. The X leg design makes the wooden bench strong so it will last a long time and be able to support a lot of weight.
These free wooden bench plans can be customized to build a long or short X leg garden bench that can be used for outdoor seating, for displaying potted plants, or as a work bench for the garden. The X leg design makes the bench strong so it can be used for many different outdoor functions and still look good.
This is an easy build and can be created from leftover lumber and painted to fit in with any outdoor decor. Even if you have to purchase the lumber the bench will still be cheap to build.
Tutorial: sawdustgirl.com

This long DIY patio bench is ideal for use on a patio or deck. It's ideal for people who have a large family or who enjoy having lots of guests over. The patio bench provides lots of seating and can double as a place to set a drink and plate of food.
These free outdoor bench plans are easy to follow and you can customize the bench size to fit perfectly on your patio. You can enjoy the outdoors this summer with friends and family without worrying about where everyone will sit after you build one of these simple patio benches.
Tutorial: pinkwhen.com

Most garden benches don't have a back rest but this one is different. This YouTube video will show you how to make a sturdy DIY outdoor bench with a back rest for under $30. The garden bench plans are easy to follow and the bench can be built in under one hour.
The size is perfect for two people and is great for resting because you can rest your back. The low building cost and quick building time make this a great DIY project for after work one evening. You might even want to use these free garden bench plans to build extra benches as gifts for family and friends.
Here is a cheap and easy way to build a DIY outdoor bench seat. The DIY project stacks cinder blocks and uses boards to create seating.
The cinder blocks can be configured into many different sizes and shapes to fit the outdoor space. This YouTube video provides the outdoor bench plans that you can customize yourself. Sturdy garden bench can be built to seat two or six people, it's all up to you and what you need. The back rest provides a comfortable seat so you can enjoy sitting for a prolonged time and visiting with family and friends.
This cinder block bench is also easy to take down when you are done with it, Great for a one-time
Tutorial:
This idea transforms simple outdoor wooden bench plans into a designer seating area. The center wooden bench is flanked by two built-in wooden planters and trellis, then topped with a pergola.
Use these garden bench plans to create an attractive seating area near the entryway of your home that will improve curb appeal and add value to your home. This garden bench will welcome visitors to your home but sitting down on this DIY bench might be as far as they get.
This planter box bench is great for use in a sunny location because flowering vines can be grown in the planters that will climb up the trellises and across the top pergola to create shade. These free building plans will make the project easy.
Tutorial:

Indoors or outdoors, this 5 board bench is a must-have. Great for use in a mud room or entrance way to provide a place to sit down to put on or remove shoes. This easy to build bench is also great for a small porch or balcony sinch it takes up very little space yet provides enough seating for two people.
The video instructions are easy to follow plus there are written and pictorial instructions to help you with this DIY project. This sturdy little garden bench has many uses in the house or the garden.
Tutorial: woodworkingformeremortals.com

This L-shaped corner bench is ideal for placing in an unused corner of a patio or porch, plus it provides plenty of storage.
Corners are always challenging to decorate and often get left empty but these L-shaped garden bench plans can show you how to put an empty corner to good use. Add plenty of outdoor seating with storage by using these free plans to custom build a corner bench for your outdoor space.
Tutorial: ramblingrenovators.ca

Make your own beautiful DIY garden bench with matching table when you follow these free plans.
Attractive and functional, this DIY building project cost very little but the finished pieces of outdoor furniture look like high-end pieces of ready made furniture.
Tutorial: homemadebycarmona.com

Watch this YouTube video to learn how to make a breath-taking garden bench from concrete that looks like it was created from real stone.
Amazing craftsmanship that will last a lifetime and add value to your property while providing you with a place to sit and enjoy your garden.
Tutorial:
Conclusion
Having a place to sit and storing useful garden tools, a diy garden bench will help you to enjoy outdoor time with your family and friends. You can place these garden benches in a patio, deck, beside a pool, pond, firepit or water feature. These garden benches plans we have gathered for you are in versatile designs and shapes you can choose any one of them that meets your needs.