These DIY patio cover plans will show you how to cover an existing patio so you can enjoy the outdoor space more during the summer. Construct a covering so the area will be shaded and provide you with an increased outdoor living space for you and your family.
Building a patio cover will improve the appearance of your home, increase the value of your home, and increase the amount of time you can use the outdoor space every year.
One of these 31 DIY patio cover plans we bring for you will be just right to meet your roofing needs so check them out today.
You may also like to check out my other interesting and relevant articles such as: small patio ideas, patio decorating ideas, diy pergolas and diy gazebo plans.
1- DIY Patio Cover With Skylights
As we know a patio is meant to be bright and open, and sometimes putting a cover over it can make the space dark and feel closed in. Constructing a DIY covered patio by brittanystager with two skylights will solve that problem and kept the outdoor space bright.
The two overhead skylights in this patio cover will allow the sun to shine through while providing shade and protection from the elements. Attractive and sturdy construction, use these covered patio plans and start construction this weekend.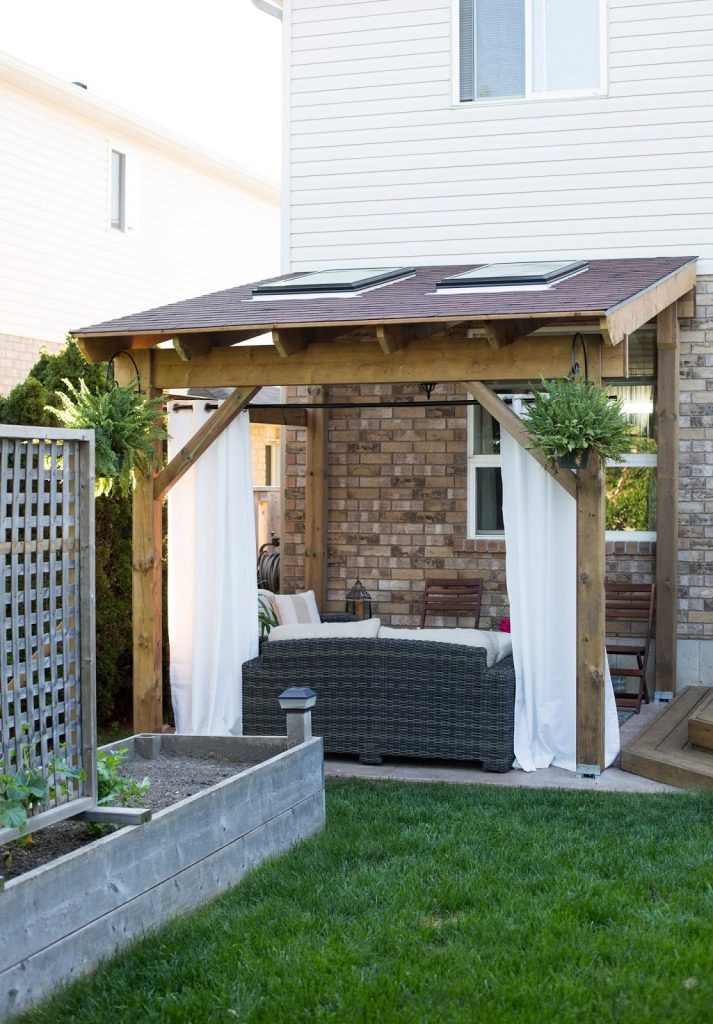 2- Metal Roof Patio Cover Plans
In this plan we have a corrugated metal roofing that is lightweight and affordable, and these free plans with show you how to build a patio cover with the roofing material.
These patio cover plans by dengarden will show you how to tie in the roof with the existing house roof line to create a seamless look. Use the plans to customize the size and shape of the DIY patio cover that you need.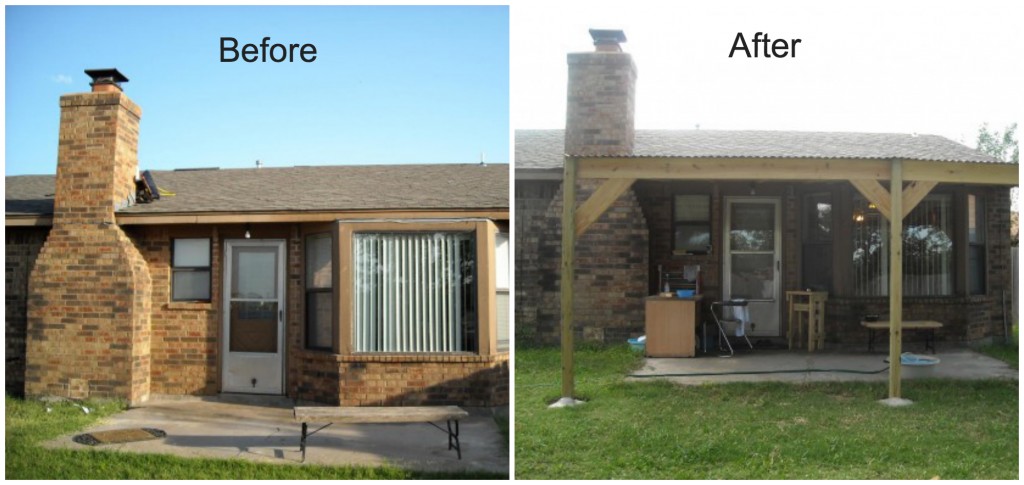 3- Private Patio Cover
These free DIY patio cover plans by instructables will show you how to construct a private, free-standing structure in the corner of your backyard.
City and suburban backyards are often small and open to the neighbor's view but this idea we are sharing with you will provide you with an attractive, covered outdoor space. Two sides of this patio are walled and two sides are open, making it an ideal design to build in the corner of your backyard.
Add a wood heater and seating and this DIY covered patio plans can be used year-around. You will be sheltered from the weather and the eyes of next-door neighbors while you enjoy an outdoor living space in this sturdy covered patio.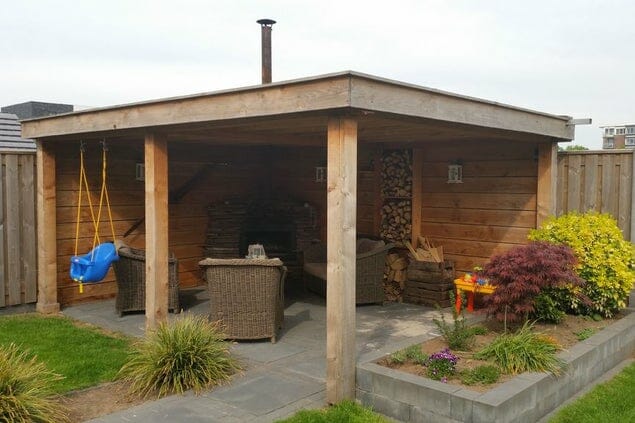 4- Budget Friendly Patio Cover
Creating a DIY patio roof such as in this Youtubevideo  will enable you and your family to get more enjoyment from the patio. By building a patio roof you will be able to use the outdoor space when it's raining, snowing, or when the sun is shining brightly.  
Having an overhead patio cover also provides a location for hanging lights so the outdoor space can be used after dark. Hanging planters can also be suspended from the DIY patio cover so you can grow some fresh food and colorful flowers. 
This free YouTube video will show you how you can build a budget friendly patio cover that will give you lasting enjoyment for years. 
5- Shingled Roof Patio Cover Plans
Free patio roof plans for shingled roofs that will show you how to tie the roof lines together flawlessly. The DIY patio cover by mycarpentry will look as though it was built at the same time as the home, not added on at a later date.
Simple construction design makes the patio cover easy to construct and to customize to any size you need. The sturdy construction material will also keep the patio cover lasting for years and add value to your home.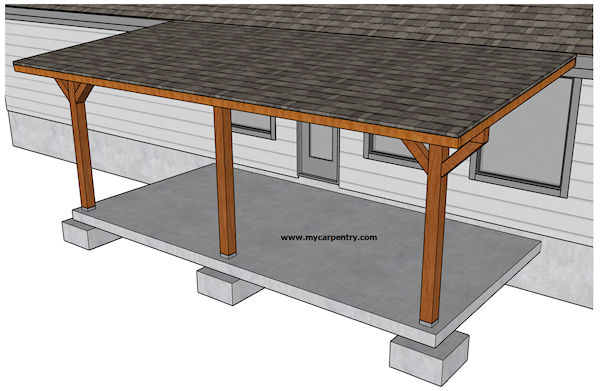 6- DIY Patio Cover with Pergola
Get the best of both outdoor worlds with these patio cover plans that show you how to build a roof that is half-closed and half-open.
One end of this DIY patio cover by myoutdoorplans uses a metal roof and the other end is semi-open with a pergola cover. Great for enjoying the sun on clear days and enjoying the outdoors on rainy days too.
Make your outdoor patio space usable year-around with this dual roof style design. The pergola will also allow plenty of sun to shine through for potted plants to thrive if you want to grow a container garden on your patio.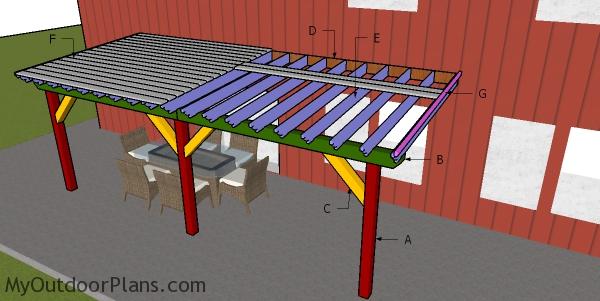 7- DIY Patio Cover with A-Line Roof
Most patio cover plans by catzinthekitchen are for a flat roof but these free plans are for an A-line roof over the patio. Great for climates that receive a lot of rain or snowfall, the A-line roof promotes drainage and makes snow easier to remove if needed.
These detailed patio cover plans also show you how to build a wooden deck over an existing concrete slab. The tall, A-line roof allows for maximum sunlight to shine on the patio while keeping the weather elements out.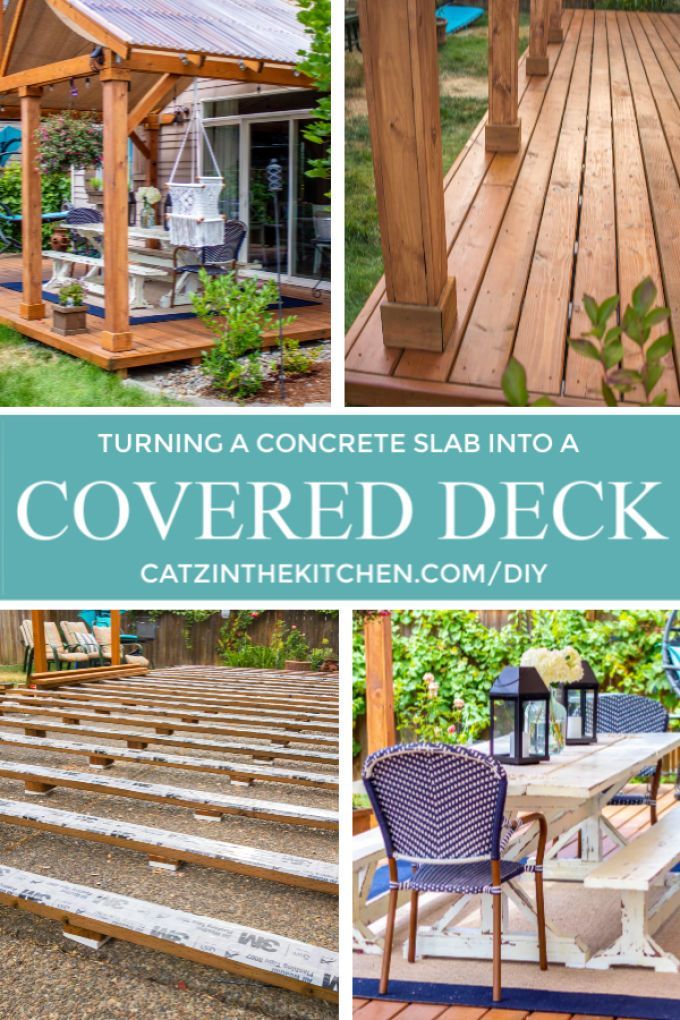 8- Wooden Patio Cover
Here's a YouTube video that will provide you with detailed visual instructions on how to build a patio cover.
These plans use an existing concrete slab, then construct a wooden frame to the house that extends past the concrete slab perimeter. This extra outdoor space would be great to use for a raised bed garden area.
This DIY patio cover on youtube increases the usable outdoor space while offering protection from the elements. The appearance of the back of the home is enhanced and the value of the property is increased with the addition of this easy to build wooden patio cover.
9- Lattice Panel Patio Cover Plans
This detail video and written tutorial will show you how to build a a patio cover by kenarry with a lattice panel roof.
The lattice panels allow enough sunlight to shine through for light and for growing plants, while keeping out some of of the harmful UV rays of the sun. Attractive and affordable, this patio cover will increase the time you and your family spends outdoors, plus the DIY building project will add value to your home.
Lattice panels are lightweight and easy to work with. Leftover pieces of lattice will be easy to transform into DIY decorative projects for your outdoor living space. Use lattice as a trellis for a climbing vine or to create a semi-private wall for your patio.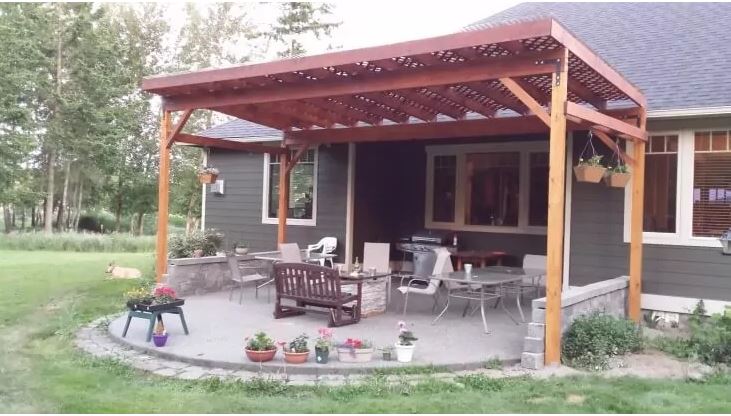 10- Insulated Patio Cover
This YouTube video is easy to follow and will show you how to take down an old patio cover and replace it with a new insulated one.
This is a quick build that can be accomplished in less than one day and will provide you with years of outdoor enjoyment. The insulated patio cover in this youtube video will help keep the outdoor living space cooler in the summer and warmer in the winter so you can enjoy being outdoors more months out of the year.
Relax, grill, entertain, let the kids play, or do other fun activities under your insulated patio cover more months out of the year.
11- Clear Panel Patio Cover Plans
By using clear panels, like the ones in we have in these patio cover plans on youtube, you can enjoy the view of the sky without getting wet from the rain or burned by the sun.
The clear panels are slightly tinted to block the harmful UV rays from the sun but are clear enough to allow the sunlight to light up the outdoor living space.
Easy to follow YouTube instructional video will show you how to build this DIY patio cover. The clear roofing panels will allow you to watch the rain falling without getting wet. The sound of the rain falling on the panels will be soothing and may promote a better night of sleep.
12- Flat Patio Cover
Use these covered patio plans on youtube to add a flat patio cover that will provide shade from the sun and protection from the rain.
The flat roof is attached on one side to the house, so that speeds up the building process while providing a stable anchor point for the new patio roof. This YouTube video is easy to follow for this DIY project and lets you know all the building material you will need to complete this DIY project.
This flat patio roof can be built in just one day to cover a small outdoor space. Use these plans and you can complete this DIY building project and have a BBQ in the same weekend under your new covered patio.
13- Polycarbonate Covered Patio Plans
Lightweight, easy to work with, and inexpensive, polycarbonate makes a great roofing material for a sunny patio.
The polycarbonate allows the sun to shine through while providing some protection from the direct rays of the sun. Follow this YouTube video and learn how to build a patio on the back of your home.
This DIY project creates a large patio that could be used as a carport and outdoor living space. This project can double your usable outdoor space and increase property value. The polycarbonate roofing material allows enough sunlight to shine through so vegetable and flower plants can be grown on the patio. You can grow a container garden and enjoy fresh food and flowers under your covered patio.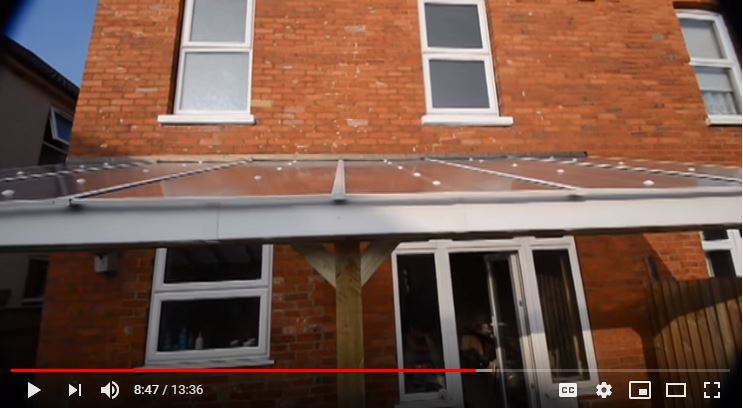 14- Odd-Shaped Covered Patio Plans
House shapes are not always flat and/or square and that can make home additions challenging. This YouTube video will show you how to build a patio cover successfully on the back of a house that has some odd angles.
Learn how to measure, cut, and build around corners and other angles with this instructional video. The existing concrete slab creates the angled floor of the patio and the roof line is built to match it and the odd lines of the house.
One side of the patio roof line will match the angles of the house, while the other side of the roof line is straight. The roof addition will look like it was built at the same time as the house was built and not like a later addition.
15- Shingle Roof Patio Cover
This is a great instructional YouTube video to watch if you want to build a patio cover that will look like it was built at the same time as the house.  
More concrete had to be poured to enlarge the back patio before the solid wood construction for the DIY patio cover began. These covered patio plans take you through the entire building process from the concrete flooring up through the shingled roof. 
Increase the value of your home plus create an enjoyable outdoor space for the whole family with a covered patio like this one in your backyard. 
16- Pool Side Patio 
If you have a backyard pool and need a shady spot for lounging after a swim, consider building a DIY covered patio like this one on youtube onto the back of your home.  
A covered patio will provide much needed shade from the summer sun and a place to hang out at the pool side. An ideal spot for an outdoor kitchen area so the family can have fun swimming and BBQing without getting the inside of the house wet or dirty. 
The patio will look as though it was built at the same time as the house when you use the same roofing materials. Increase outdoor fun and increase property value by following the detailed building instructions on this YouTube video for building a covered patio. 
17- Corner Covered Patio 
This L-shaped covered patio by myoutdoorplans will make a great addition to a workshop, garage, house, or any other structure where a little shade is needed. 
These free detailed plans will show you how to build a patio cover that will provide shade and additional living or work space. the L-shape is attached to the existing structure and can almost double the amount of usable space. 
If more covered space is needed so you can have protection from direct sun, rain, and snow, check out these amazing plans for a corner covered patio.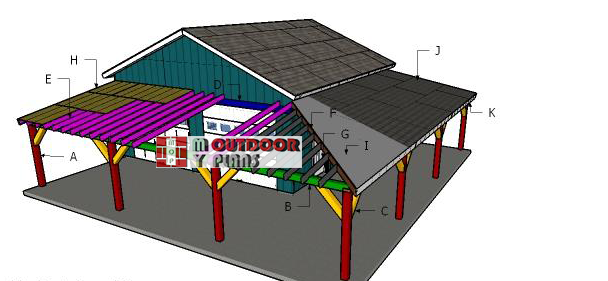 18- Unique Covered Patio Idea 
If you want something unique to add value to your home and increase your outdoor living space, check out this DIY patio cover idea. 
This large, 30-foot DIY patio cover by theawesomeorange will add plenty of outdoor living space to your home. You can have room for lounge chairs, tables, storage, and an outdoor cooking area. The attractive space will have you and your family spending more time outdoors than inside of the house. 
These free plans include video instructions, pictorial directions, as well as a written building plan. You can't mess up the DIY project when you have that much information. 
Check this unique covered patio idea out and get busy increasing the living space at your house this weekend.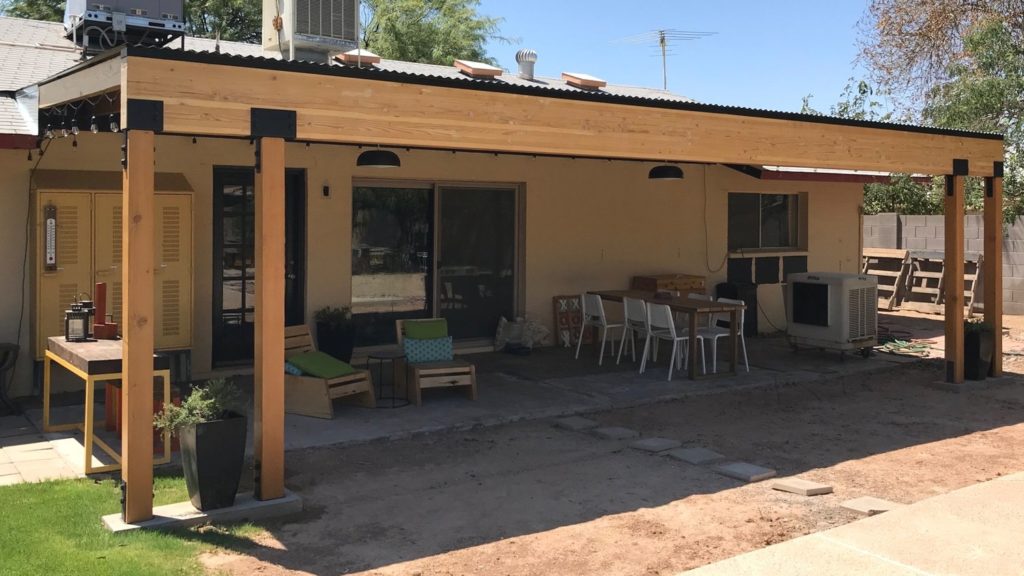 19- Dream Patio Cover Kit 
If building a DIY patio cover such as this one by patiokitsdirect is more than you want to undertake, then get a little help with the project by using a kit. 
Select your dream patio cover from one of the many kits that is offered and you'll be well on your way to having a shady area for outdoor living. There are many options to choose from, like free-standing or attached, that will help you select a kit that is perfect for your patio. 
The kit also has options for accessories and you can choose to have it wired for electricity so you can install a ceiling fan and lighting. Even though this is a kit, many of the design elements, including color, are still left up to you.  
All the measuring and cutting is done for you so it will take the guesswork out of the building process. the kit will even instruct you on the right tools to purchase for the project.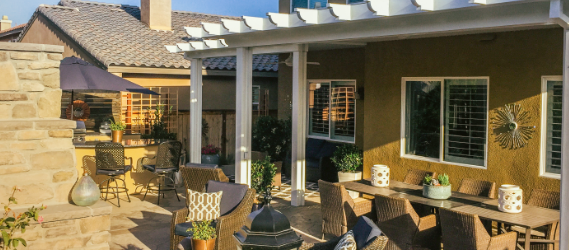 20- Privacy Patio Cover Plans 
How does some outdoor privacy from your next door neighbors sound? If you live in a crowded subdivision and are surrounded by two-story houses, it's hard to find any privacy when you're outside. Even a privacy fence can't screen you from the watchful eyes of a neighbor looking out of their second floor window but a DIY patio cover can. 
Watch this YouTube video to learn how to build a patio cover that will shield you from the rays of the sun and the eyes of next door neighbors. Enjoy relaxing outside and cooking on the grill in privacy when your patio is covered with a roof. A covered patio will also add value to your home when it's time to sell it. 
21- Beat The Heat
A DIY patio cover in this youtube video will make the interior of your home cooler so you will use less energy on air conditioning. Save money on the cooling bill by shading one side of your home with a DIY patio cover. 
The money you spend on building materials will quickly return to you in the form of savings on the electricity bill during the summer. If you live in a hot climate a cover over the patio is a must to keep the home cooler and provide a shady outdoor living space. 
The large, shady outdoor space is ideal for birthday parties, cook-outs, and other get-togethers where you want to keep cool and stay out of the sun. 
Watch this YouTube video for step by step instructions on how to build a patio cover that adds value to your home and keeps your home cooler.
22- Free Patio Cover Plans And DIY Project
This DIY project of a Patio cover is a great tutorial that will help you to finalize your patio cover in a week by howtospecialist. It explains the general technique in addition to free patio cover plans. However, you will need to have experience in building such constructions to do this project.
Undoubtedly, this covered patio will become one of the most comfortable and loved parts of your garden and house. It will provide the garden with perfect shade from the scorching sun.
The DIY project provides the exact tools and materials that you will need during the building process. Additionally, the measurements are also provided. This patio cover plan has a roof with a 5-degree slope.
It is worth mentioning that you may change and modify the structure as you wish. The DIY project also shows illustrations of every step and the final result as well.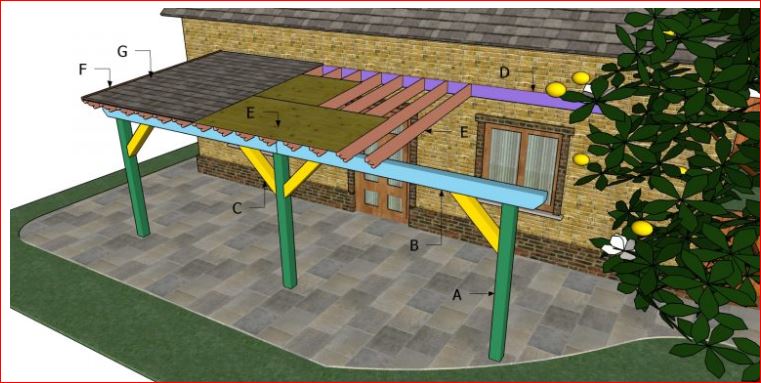 23- Building Patio Cover Roof from Start To Finish
Making the patio roof plans like this one Youtube alone seems to be difficult and yes, it is not easy. However, the end result does pay off. This video DIY project will prove this too. If you want to do the canopy roof yourself, then you can get some tips by watching this fast-forwarded video.
The project is not easy to do and will require you to have some basic knowledge of woodworking. This cover over the terrace will provide great shade in the summer and keep the snow and rain off the territory in the winter.
Since this project is done by just one person, obviously, it will take relatively more time.
24- 10X20 Backyard Patio DIY Project
The project in youtube video will teach you to step by step to build a 10 by 20 patio cover for your backyard. In the beginning, the DIYer shows you the area where the patio will be built and share the general idea. After that, the project starts and you get to see the building process up close.
The slope of these patio roof plans is 5 inches from the house. However, DIYer mentioned that this is according to the regulations of the area. So, before starting the building process, make sure to check the building codes in your area.
DIYer explains the process steps as the video goes on which makes the whole process seem solid and simple. Price typically depends on the types of materials and numerous other factors. However, in this case, the patio cover cost was around $2000-$2500.
Stones that are wrapped around the columns of the patio make the whole design even more amazing. However, the DIYer does not go into detail to explain how he does it.
The use of a metal roof is a very smart and creative decision. First, it is lightweight, and second, it is relatively easy to install.
25- Basic And Simple Patio Cover Plans
If you do not have the patio cover, the rain will most likely splash all over the door, windows, and the house. One of the benefits of patio cover is that it keeps the rain away. This DIY project on youtube shows how to make a strong constructed, yet simple and basic backyard patio cover.
The DIYer also strongly recommends checking the regional codes regarding the patio cover plans. At the beginning of the DIY project, he explains the instructions for the building patio cover. After that, the actual process starts.
This DIY project is especially useful if you are doing the job with your wife, children, or friends. Not only then you will get a beautiful patio cover as a result, but also will make great memories.
In this particular patio cover plan, DIY-er's daughter is involved in the work. This makes it look like something you can do with your family.
Even though only part of the building process is shown in the video DIY project, it still gives some insights. This patio cover plan is useful if you are just starting construction from scratch.
26- Patio Cover Plans on House With Eaves
This step-by-step DIY project on youtube will help you to create the patio cover on the house that comes with eaves. In the first part of the video, the DIY-er works on the bases, and measures posts, and beams. As the patio cover plan video goes on, he explains that he does care.
Eaves were too long and also would not go well with the patio roof. Because of that, the DIY-ers removed the eaves' sheets and rafters too. After that, the ledger board was installed in place of the eaves.
The patio cover roof must be resistant to rain, especially if it rains a lot in your area. This DIY project teaches you exactly what you need to do to avoid damaging the wood.
The DIYer applies self-adhering material as the first layer of the roof. These "Base sheets" cost around $100.
As the top layer of the roof, the granulated Cap sheet is used. This gives the patio cover a modest look.
27- Sturdy Wooden Free Patio Cover Plans
These free patio cover blueprints by Garden Plans Free are fit for you if you want to build a sturdy wooden patio. It can be made with the basic tools that can be found in every shed. In the DIY project, you will come across the PDF version of plans that you can download in high quality.
In addition, the patio cover plan will remind you once more importance of checking local regulations and codes.
It is recommended to use good quality wood material for this project. Perfect choices are pine, cedar, or redwood. This way, your recently build patio will be weather-resistant. The approximate time you will need to finalize this patio is one week.
As for the size, the free plans are suitable for patios with sizes of 10X24. It is worth mentioning, that this particular free patio cover plans feature a metal sheet roof. Which is not only beautiful but also provides extra protection.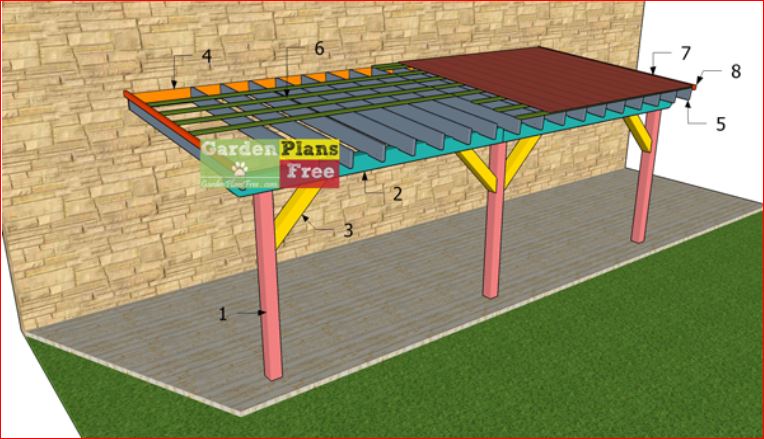 28- How To Build A Freestanding Patio Cover
This freestanding sloped patio cover building DIY project by siwekjordan is a unique and beautiful structure if you are wondering how to build a freestanding patio cover. An open, free-standing patio cover is great because it gives a larger view of the yard and has more extensive openings.
The sloped roof is beneficial because it makes it easy to drain the snow and rain. So, if your main goal when putting up the patio is to keep the snow off in the summer, then this is your project.
These detached patio cover plans come with illustrations and sketches of the patio cover. It also includes exact measurements, materials, and tools that are needed. However, you will definitely need to have some kind of woodworking experience to finalize this project.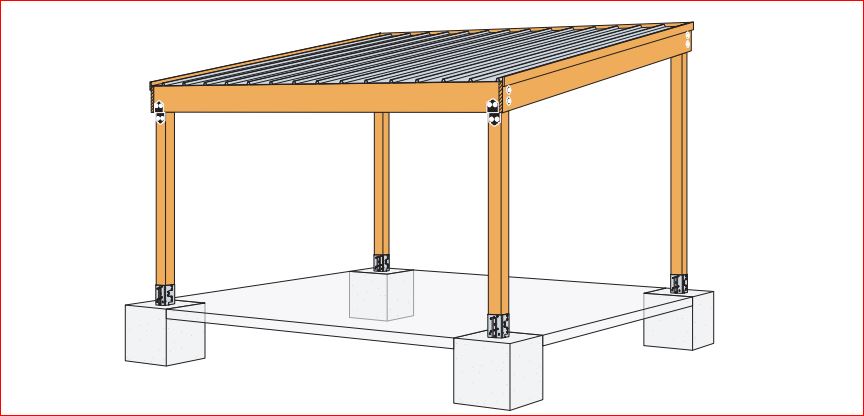 29- Instructions On How To Add Patio Roof
This inspirational DIY project on youtube will help you to build a very rigid and strong roof for your patio. The height of this patio is 9 feet. At the beginning of the DIY project, DIYer shows the current patio and explains what he is about to do.
He shows step-by-step how to build the cover and what to use. As the video goes on, the DIY-er also explains some details. The process is well-explained; however, the end result is not shown in the patio cover plan.
Yet, what you will get is the cozy, wooden patio cover which you can decorate however you wish. You can put on hanging lights to make it beautiful and to use it at night too. Or you could do the hanging planters to grow some greenery, flowers, and herbs.
30- Patio Cover
If you are looking for a patio cover building project such as this one on youtube that is simple and useful, then these particular instructions will help you. Additionally, this can be done by several people. You can ask family members or friends for help and do this "group project" together.
In the end, you will receive a beautiful patio cover where you all can relax. To celebrate your "victory" you can do the BBQ and spend a nice evening with your friends under the new patio cover.
This patio cover plan is affordable in comparison to others because it includes metal roofing material. Metal is lightweight and low-cost. It also is great in any weather and will protect the wood from getting damaged by rainwater.
The video DIY project does not come with specific instructions, a list of tools, or a list of materials. Instead, you will see the fast-forwarded video of the building process itself. So, at least one person from the group must have experience in woodworking.
31- Shingle Roof Covered Patio
This time-lapsed youtube video DIY project shows how to build the Shingle roof-covered patio. However, this is not all. It also features a whole backyard transformation.
The process includes building patio cover, fire tables, porcelain pavers, seat walls, and landscape lighting. So, there is a whole bouquet of transformations.
The difficulty level of these patio roof plans is hard in comparison to others. So, if you do not have enough experience and knowledge, you will need some help from professionals too. However, you will also need various types of tractors to dig out the ground and make space for the foundation.
The overall design of the shingle roof-covered patio is amazing. It fits with the house roof visually perfectly and therefore, creates a beautiful match. The lights, fire table, seat wall, and porcelain pavers, all make it even more unique.
Final Thoughts!
A patio cover extends your outdoor time in summer days when the sun is shiny and warm by protecting you from outdoor elements. Having a covered patio area also keeps you unnoticed from the eyes of your next door neighbour. These patio cover plans from our list will help you cover your existing patio so you have more time outdoors with your family and friends.  
Here we have prepared a questionnaire to answer common questions asked.
FAQ's
What is the best material for a patio cover?
There are many materials to choose to cover a patio such as wood, vinyl and aluminum but vinyle is best of all. Its weather resistant, durable, comes in a variety of shapes, style and colors. Pests and other mites would not affect vinyl cover so you need to pretreat it before installing.
What materials do I need to build a covered patio?
There are three commonly used traditional materials to choose for your patio cover such as wood, aluminum and vinyl. However you can opt for alumawood as it resembles the wood and needs little maintenance. It's durable, weather resistant and tough but it's more costly than natural wood.
Is there any difference between patio cover and pergola?
Typically both cover patio and pergola are the same things used interchangeably. The main difference between the two is that the patio cover provides a complete shelter to protect from the elements such as sun heat, rain, wind and snow. On the other hand pergola provides only partial shade and has an open roof.
What is the purpose of patio cover?
Patio cover provides you protection from harsh sun rays to cool down your patio as well as your entire home.