A diy platform bed with storage is one of the best ways to maximize living space in a small bedroom. Even a large and spacious master bedroom can be decorated in style by using a modern platform bed as the focal point of the room. If budget is tight and there's shortage of funds for a new bed, you can create a DIY platform bed using recycled pallets and build your own cheap platform bed. Storage problems can be solved with a diy platform bed with drawers and room to stretch for a good night of sleep can be had with a king size platform bed.
Take a look at these stylish and easy to build platform bed plans and discover how to build a platform bed that will meet your sleeping comfort needs, room space needs as well as budget needs. The versatility of platform beds make them useful in other rooms of the home besides the bedroom too. Also check our other articles diy bed frames, DIY murphy bed, diy bed with storage underneath, and diy headboard.
1: Storage Platform Bed Made With Plywood
Wood platform bed with storage underneath offers versatility of design and size to meet all your bedroom storage needs.

2: Easy DIY Platform Bed
Chic and Chunky platform bed frame provides the stylish look of re-claimed wood that will work well with a modern or recycled decor.
Here are step by step guide to make this diy platform bed.
Make cuts for all of top and bottom frame and drilled all of pocket holes with Kreg Jig set for 1 1/2″ thick boards.
Attach the top and bottom frame with 2 1/2″ pocket hole screws.
Flipped the top frame over and attached the bottom frame to it with 2 1/2″ pocket hole screws.
Flipped the frame back over and attached the center support.
Attach the 2*3 cleats with 2 1/2″ screws.
Apply one coat of Rust-Oleum Dark Walnut.
Attach the 1*3 slats to both cleats and center support by spacing them evenly.
Attach the headboard by drilling spax screws from the backside of headboard legs into bottom and top frame of platform.

3: Easy To Build Platform Bed On Wheels
DIY Platform Bed with Wheels makes re-arranging a bedroom easy. Substantial DIY headboard with thick wooden base looks immobile, but the hidden wheel makes it easy to move to any room in the house.
Below are simple steps to make this platform bed on wheels.
Make the frame with Kreg Jig KS for doing pocket holes and Kreg Right Angle Clamp to hold the boards together.
Attach the 2*2 cleats with frame and secure them using glue and screws.
Use Ryboi Airstrike Nailer and glue to add the trim.
Apply one coat of Rust-Oleum Dark Walnut stain to entire bed.
Cut 8 pieces of 2*4 blocks to secure the wheel.
Attach the blocks at each corner of frame.
Finally attach the locking casters to the blocks.

4: King Sized Platform Bed
Metal and Wood Modern Platform Bed starts out with stylish metal legs and frame, then is topped with wooden and a sleek modern wood headboard. Other DIY furniture pieces to compliment the platform bed design can also be easily created with these DIY plans.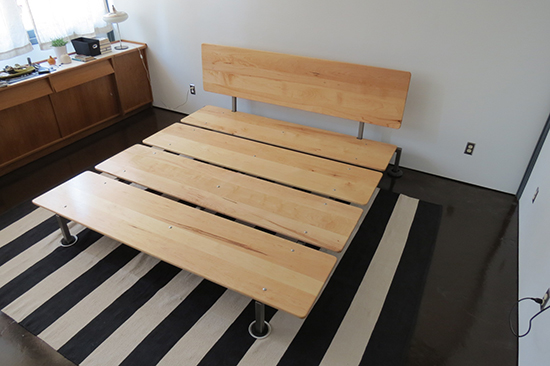 5: DIY Platform Bed With Storage
Storage and More can be had with this unique set of platform bed plans. By building the platform larger than the mattress you can create a side surface that acts as more floor space and a bedside table. The amount of storage under the platform bed almost doubles the space in the room.

6: Modern-Style Platform
DIY Platform Bed with Headboard provides a chunky, yet modern look. Complete DIY plans allow you to build a custom platform bed to your own desired height and width.
Following are brief steps to make this platform bed.
Cut wood parts for bed and headboard as per the cut list.
Drill pocket holes in the feet parts and attach them together. Drill pocket holes in the side rails and positioned them.
Cut the platform to length according to cut list using a circular saw with a straightedge guide.
Make pocket holes in the side trim and attach it to platform using 1-1/4-inch pocket-hole screws.
Cut the narrow and wide headboard panels according to diagram.
Position the headboard panels on the clamps.
Make pocket holes and attach wide and narrow rails to headboard panels.
Position the end rails and attach it to the feet.
Attach the center wheel and flip over the bed. Assemble the headboard with the platform.

7: Modernica Case Study V-Leg Bed
George Nelson Case Study Platform Bed combines modern beauty with timeless style. Short, metal hairpin legs hold up a wooden slat frame and classic wooden headboard on the designer bed that would cost you thousands of dollars to purchase already made. Get the look without the expense with this DIY platform bed plans.

8: DIY Platform Bed with Floating Nightstands
Floating Nightstands are a stylish and useful addition to a DIY platform bed. The simple addition to this substantial bed makes a bold decor statement in any bedroom.

9: Hailey DIY Platform Bed
Barn Plank platform bed is sure to please the teen or recycler in your family. The short bed legs are offset by the high headboard to create a very dramatic look.

10: IKEA Expedit Bed (DIY)
High and Comfy platform bed is a perfect height for those with back problems or other medical conditions that make getting up and down challenging. In addition to the easy in-and-out aspect of these platform bed plans are the increased amount of storage underneath.

11: Platform Bed With Drawers
Hidden Drawer Storage is what you'll get with sleek-looking modern platform bed. The drawers fit flush with bed sides and no one will even know the drawers are there.

12: Diy Platform Bed For Kidz
Bunk Bed Platform plans provide ample sleeping and storage space without taking up all the living space in the bedroom. Perfect for child's room and this DIY platform plan also comes with additional ideas for matching floating shelves.

13: Fillman Platform Bed Under 30$
Fillman Twin Platform Bed is perfect  for a small bedroom and/or a small child. Low to the floor design makes it a perfect bed for sleeping spaces in a home attic where ceilings may be low or have odd angels. Headboard can be custom designed to fit odd roof angles and heights too.

14: Build a King-Sized Platform Bed
Platform bed plans creates a wood headboard that becomes the focal point of the room. High wood headboard is stained to bring out the wood grain and offset the low platform bed frame.

15: Diy-Platform-Bed With Storage
Daybed Platform Bed plans allow you to have seating, storage and sleeping space in a small or oddly shaped room. Customize the size and height for the room, then paint the wood to match the room's decor and toss on some decorative throw pillows and you have a perfect place to use during the day and night.