DIY loft beds are children most favorite beds; They aren't just comfortable to sleep on, but also adds style to the room and makes your kid have more  fun.
A DIY loft bed is the perfect vessel for playing, impressing friends, storing toys, and having incredible dreams.
If you want to infuse a bed, desk and other furniture into a room and still have sufficient space, a loft bed will be a perfect choice.
You may also like to read other related topics:  DIY platform bed, DIY bed with storage, DIY murphy bed, diy bed frame and diy headboard.
Every child deserves a loft bed and you should build one for your little ones. Check out these 27 DIY Loft Bed plans for kids to have fun space under their bed.
1. Simple-styled Loft Bed
If you had ever wanted a loft bed, either for your first apartment or back in college, then you will love this project, and your kids will adore it because its fresh, fun and majority of their friends will probably not have it.
The DIY loft bed is designed to provide a floor space under the bed, where kids can play, or engage in other activities.
The bed is attached to the wall and comes with a safety rail, which provides extra protection for younger kids.

2. Full-size DIY Loft Bed
Following this plan, you can build a loft bed that will provide a lot of fun for your little ones. A first look will make the project look complex. However, it requires just basic carpentry knowledge.
This loft bed for kids is worth it and will bring a lot of comfort to your kids while providing a pleasant room view. The full-size loft bed has a length of 131 inches and is 39 inches wide; it also measures 49" from the ground.

3. DIY Loft Bed With Cabinets
A loft bed is specially designed to give your kid more space and storage in their room.
They need a table in the room where they can do their homework and also needs space for their toys and other stuff, and this DIY kid's loft bed provides just that.
This high loft bed plan designed to have adequate space underneath. It has rails all around to ensure your child doesn't fall off, while the bottom is designed to have cabinets.
The foot of the bed has a four steps open cabinet, while the head and right side have smaller cabinets.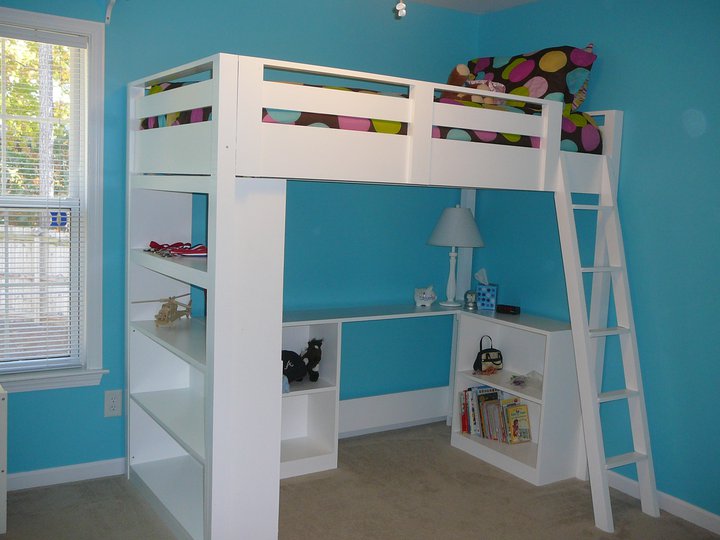 4. Modern DIY Loft Bed
If you recently moved to a new house or wants to re-design your kid's bedroom. Then this custom modern loft bed will be ideal for your home.
The design is a fully covered bed with a window by the side. You can place a bigger bed in the space under the bed. This comes in handy, especially if the kids are to share a room.
The plan is divided into six simple steps, to help you recreate this masterpiece.

5. DIY Sliding Barn Door Loft Bed
If you want something extraordinary for your kid, then this is the project. plan to build. Your kid will love and appreciate his or her bed, more than ever.
These DIY loft bed plans come with two sliding barn door that slides to both sides.  It's also designed to have roofs and a side window.
The bottom is open, and it has rails around it and comfortable open space underneath, where you can place a desk and table or even a sofa for your kid's comfort.

6. DIY Twin Loft Bed
If you are searching for a nice looking loft bed that cost less, then here is the right pick.
The plan involves building a twin loft bed, with a ladder at the side. The bottom of the bed is open, and you can place shelves and other furniture there for your kid's comfort. One great thing about this DIY plan is that it will cost you below 100 bucks.
This project is very easy to build, and any regular DIYer can complete it within two weekends.

7. Dorm Room Loft Bed
You got to admit that living in the dorm can be a sweet and sour experience. Besides the noise and funny roommate, you have to arrange the room to meet your basic needs. The average size of a dormitory is around 12'x19', and it's always tight for two people, hence one primary goal in this arrangement is to create more space, especially for sitting and studying. And this DIY loft bed helps you do just that. It has a high-end design, with a straight ladder on its foot. The bottom is wide open and can serve as a study area.

8. DIY Loft Beds With Bookshelf Ladders
This loft bed plan is designed to use the wall as part of the frame. It has a right combination of a ladder and a bookshelf by the side. Just like most loft bed plans, the bottom is empty, providing an ample space to keep things.
The project is estimated to cost below $150 to build and can be completed within two weekends. The project will be more straightforward if you have the essential tools like a mister saw and others.

9. Floating DIY Loft Bed
Living in a small apartment can be discomforting, as the bed can occupy about half the available space. However, you can build a loft bed provide more space and make your home more comfortable.
The plan involves building a floating loft bed without legs which are designed to have a detachable ladder by the side for easy movement up and down the bed. The bed has a height of 7', sufficient to provide adequate space underneath it.

10. Wooden Loft Bed With Desk And Storage
There are just a few things that make homework, a tidy room and bedtime all fun for a child, then a fantastic Loft bed with storage and desk.
Whether your son or daughter is a teen or adult, this twin loft bed offers so much fun and functionality to make them more comfortable.
It comes with a fantastic bookcase and desk that will make homework a fun activity.

11. DIY King-Sized Loft Bed
Building a loft bed will be the perfect solution for a bedroom with insufficient space.  Having a high ceiling enables you to develop and integrate a loft into your home and expanding the space in the living area.
This loft bed is designed to serve as a bedroom, and you can install curtains to provide more privacy. The project can be completed in a weekend and doesn't require any particular skill to undertake.

12. Junior DIY Loft Bed
Kids are special, and they deserve something special; build this unique loft bed for your little ones and paint it in their favorite colors to create a new comfort zone for them.
Building a loft bed for kids require accuracy in measurement, acquiring the necessary tools and supplies and following this detailed DIY plan.
The project can be completed within two weekends at most and is placed at an intermediate experience level.

13. Modern One-leg Loft Bed
Finding the right loft bed in the store is a burden, not to mention the exorbitant prices they are sold. The least bed goes for about a $1000, however, following a DIY plan, you can build this whole thing at a far lesser cost.
This plan involves building a hanging bed with just one leg.  It had a ladder for easy access, and the bottom is open for storage.

14. Toddler Loft Bed From Crib
This project involves transforming an old crib into a lovely toddler bed with ladder.
You can use your existing crib (if you have any) or purchase from the local junk store, friends, Craigslist, etc.
Your kid will absolutely love this new loft bed. The bed is designed to be sturdy,  so you can sit on it and read night stories before putting them to sleep. This project only requires a little space and can fit into any home.

15. DIY Full-size Loft Bed For Adults
Loft beds are not just only appreciated by kids,  even adults enjoy this amazing  bed and following this plan,  you can build yourself one. The design is an industrial styled loft bed with sufficient space under the bed for storage and a desk.
The frame of the bed was made using pipes and Klamp fittings which makes it stylish and extremely sturdy to carry two persons.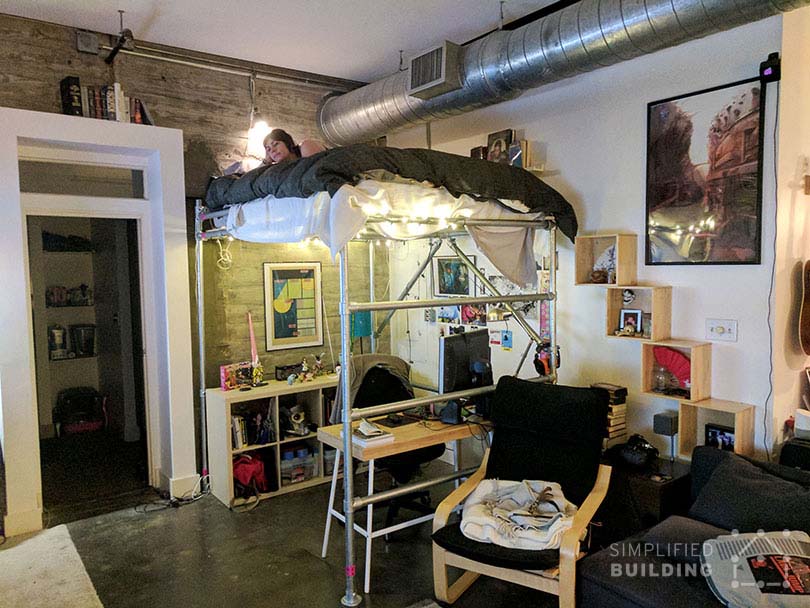 16. DIY Loft Bed Playhouse Or Clubhouse
This loft bed plan is designed like a clubhouse; it has a door through which its accessed with a ladder and two windows on the sides.
This playhouse loft bed comes with plenty of space at the bottom and is perfect for a small bedroom.
The plan is arranged in steps to make the process easy for you and also comes with diagrams.

17. Fire Station DIY Loft Bed
This DIY fire station inspired loft bed designed to turn your child's room to a nice looking fire department.
It features a sturdy wood construction and judicious use of materials. The design has a ladder that can be placed on either side, and the bed is protected by rails.
The bottom is uniquely designed like a conventional firehouse. Every part is covered and it has a door at the side and windows on both sides.

18. Kids Clubhouse & Loft Bed
This is ideal bed for every boy or girl to have their room. The design is a fully-covered clubhouse loft bed, with a door at the side and a ladder beneath it for easy access. It also features two windows.
The project may look difficult at first glance; however, once you start cutting the pieces and laying down the parts according to the plan, you will realize it easier than you think.

19. Castle DIY Loft Bed
Every child is a king and a queen; don't just say it, let them feel it by building them a castle bed for your little one.
Buying a similar bed from the display store will cost above $1000, but you can follow this step by step guide to build this diy loft bed.
This project, just like most may look a bit complicated. However, it requires only an essential carpentry skill. Your kids will love this bed and will remember it for the rest of their life.

20. Kid's Monster Truck Loft Bed
Sometimes your kid needs something bigger than the usual, most kids grow fast and their bed needs to be comfortable for them howbeit. This plan involves building a giant loft bed designed like a truck. The sides are made with plywood, and it has tires which also serve as stairs to climb into the bed. It's important to adhere strictly to measurement when building this project, measure, and then measure again before cutting.

21. DIY Hanging Loft Bed
Kids love to have fun and this project simply brings more of that to their room.  It involves building a hanging bed that is perfect for a little girl's room. This is a fresh spin made from the classic bunk bed, and it is easy for any DIYer to recreate.
The hanging loft bed will not only solve an issue of space, but it will also provide a safe and comfortable place to play. The design features an attached ladder, and the bed is held up with strong ropes.

22. Full-size Loft Bed
This DIY loft bed plan explicitly shows how to build a full size loft bed, with plywood.
The design is simple and can be built by anyone. The headboard is designed to have 3 shelves below the plywood and provide lateral support. The foot has a ladder and is designed to carry even adults.
The project is also amazingly inexpensive, costing below $200 to build.

23. Spaceship Loft Bed
Decorating a room for a child's can be a hectic task,  as you think of the best and safest place to keep various items. If your child needs a new bed, then this spaceship diy loft bed will be the perfect project.
The original design has stairs by the side, while underneath the bed is fully covered and decorated like a spaceship.

24. Camp Loft Bed With Stair, Junior Height
If you are always busy as a parent and want to get your kids to play independently in their room, then you should build this diy loft bed. The design comes with stairs at the foot and rails covering the sleeping area to ensure your kid are safe.
It's the perfect bed to get your kid to bed all by themselves; they will climb the stairs and fall asleep.

25. DIY Loft Bed From Scaffolding
This project involves building a loft bed from scaffoldings. One great thing about this DIY loft bed,  is that you just have to measure, cut and couple.
Using existing scaffolding will provide you with most of the necessary materials like couplings, extenders, and brackets.
The design is simple; it comes with two ladders at the foot and head of the bed. You can place items in the open space underneath the bed,  or use it as a cloths hanger.

26. Space Saving Loft Bed
Building a DIY kids loft bed, will provide a definite solution to your space problem, you will have a bed and enough space for storing things to space up your home.
The plan is designed like a 2 section shelf; the top is the bed where you place the mattress to sleep. The lower section acts as a desk, where you can place your electronics and other items. The space under the desk can also be utilized to store things.

27. Double Loft Bed
Building your own DIY loft bed gives you the opportunity to modify the plan to suit your home and basic needs, while also saving you money.
This plan involves building a low double loft bed, with a ladder in the middle. The edge of the bed is protected by rails to ensure you don't fall off.
It costs less than $150 and can be completed within a weekend.

Conclusively, your kids deserve the best you can offer,  build a loft bed for kids following the listed loft bed plans and add more fun to their living.