DIY garage shelves are the perfect alternative to costly, store-bought shelving. Garages are the catch-all location in many homes for items that don't seem to belong anywhere else. Garage storage units will help you keep all that clutter neatly organized. Browse through these 20 DIY garage shelving plans to find a set of plans that is just right for meeting your family's storage needs.
Leftover Wood Garage Shelves
Don't buy new pieces of wood to build garage shelving units, take this idea and use leftover wood to create functional and sturdy storage shelves.

High DIY Garage Storage Shelves
Look up and you'll find plenty of space to build some DIY garage storage space. All around the upper edge of the wall is plenty of space to create storage shelves with this idea.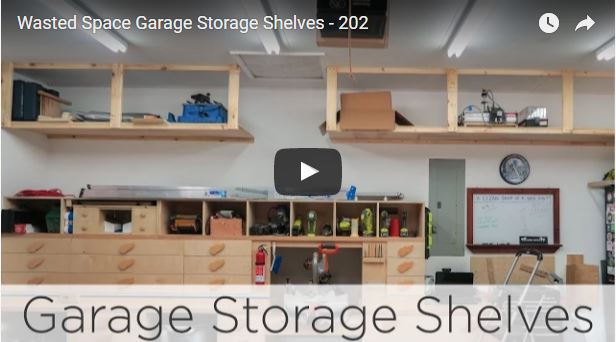 Storage Wall
Use these easy to follow plans that creates a DIY storage wall plus a shelving unit for hanging bins. The hanging bins make items more readily accessible and easier to access.

2×4 DIY Garage Shelving
Construct this DIY garage shelf with only 2×4 lumber. Great way to utilize leftover 2×4's from other building projects.

Cheap DIY Garage Shelves
Use this garage shelving idea to build storage for less that $40. Cheap build, but not cheaply built.

MDF DIY Garage Shelves
Use this idea to build super easy MDF shelves that are strong enough to anything you can place on them, yet attractive enough to be build inside the house.

Corner DIY Garage Shelves
That empty corner can be transformed into functional storage area with this great idea. Store tons of stuff on this sturdy shelf so the rest of your garage can be used for other things.

DIY Garage Storage Racks
Transform wire shelving and plastic coated particle board into this attractive and spacious garage storage rack. Large and attractive, place wire shelving at varying heights to accommodate totes, hanging items and various tools.

Sturdy DIY Garage Shelves
When large, sturdy wooden shelves are needed to house heavy equipment, use these step by step instructions to build your own. Easy build with these complete instructions.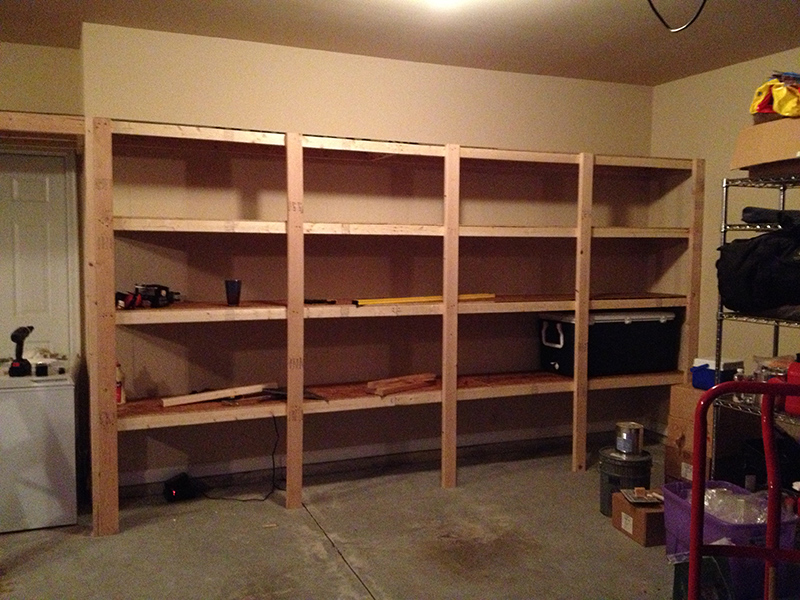 Build Up
Use these detailed plans for building up instead of out. This garage storage unit takes up very little floor space, yet can hold a ton of stuff.

Classic DIY Storage Shelf
Classic design is hard to beat for this DIY shelf build. Make 2 sets – 1 for the garage and another one for the basement.

Tidy Totes
Plastic totes keep things dry and pest-free, these diy garage shelves will keep the totes tidy and organized. Easy and inexpensive to build.

Heavy Duty DIY Garage Shelves
When a light-weight storage shelf just can't stand up under the heavy equipment you own, build this heavy duty storage shelf. Solid construction and attached to garage studs, these shelves will stand the test of time.

Step By Step
Detailed and easy to follow, even a novice DIY'er will be able to follow these step by step instructions and build their own garage storage shelf.

Overhead Storage Shelves
Look up and find the perfect place to build some garage overhead storage. Put everything up and out of the way, including the storage shelves.

Floor to Ceiling
Waste no space by building this floor to ceiling garage storage unit.

Look Up
Forgotten storage space is lurking just over your head . Even the smallest garage has un-used overhead space in which this diy shelf idea can be implemented.

Get Organized
Use this peg board and shelf idea to create a place for everything so your garage can be kept neatly organized at all times.

Over Garage Door
Here is a great way to utilize the empty space located above the garage door. Store a ton of stuff safely and securely with this idea.

Fast and Easy DIY Garage Shelves
Here is a fast and easy DIY build that will create functional and attractive garage storage shelves in just one afternoon.