Any of these 37 free carport plans will enable you to build the perfect structure to protect your vehicle from the elements, plus provide sheltered space for other uses. Building a DIY carport on a budget is easier than you may think, and the structure will increase the value of your property. Check out these free carport plans we have gathered for you and find the style that's right for your needs and that will protect one of your most expensive investments, your car.
Round up of different types of diy carports plans.
1- Attached DIY Carport Plan
Build a diy carport by myoutdoorplans with these free plans to transform one exterior side of your house into a covered and usable carport space. The attached diy carport is accessed through a side house door so you stay dry on those those rainy days when you have to leave home. An attached carport also provides usable covered space for other storage and activity needs.

2- Cheap Carport
An attractive and functional carport can be built very cheaply with the carport plans shown on this YouTube video.
To build this diy carport plan , you will need a few pieces of lumber and support poles, plus a few pieces of roofing tin and lattice panels. Construct this DIY carport cheap and quickly as a multi-functional outdoor structure on your property. Homemade carports are great for protecting your car, boat, camper, ATV, or anything else that must stay outdoors but needs to be protected from the weather.
3- Freestanding Double Carport Plans
Build a freestanding double diy carport by howtospecialist, no mater if you're a 2-car family or have 4-wheelers or snow mobiles. Get these easy and free detailed instructions that list all the needed building materials, tools and exact measurements so construction will go smoothly and the finished structure both attractive and functional.

4- Freestanding Single Carport Idea
Find these free carport plans that will show you how to build a basic and cheap freestanding single carport by buildeazy. This DIY carport can be placed anywhere that car shelter is needed. This inexpensive carport idea is also great to cover storage areas for a wide variety of outdoor tools and off-road vehicles.

5- Step By Step DIY Build
Here we have a free and informative site that will walk you through the entire process of building an attached carport at bunnings. Transform an odd, unusable outdoor space beside your house into a usable and valuable carport. Learn how to set out string measurement lines, how to install posts, beams and rafters, plus much more by watching several of these free instructional videos.

6- Solar Garden Carport
Build a carport, solar system, water catchment system, and grow food all in the same small space. Sound impossible? It's not when you follow these do it yourself carport plans we are sharing with you.
The solar panels are used to create a roof and house guttering is used to create rows on the outside of the structure that will catch rain water and grow plants. Park your car in this DIY carport by instructables or use it as an outdoor patio. You could also build exterior walls so the space could add to the interior living space of your home while the outside of the structure serves as a garden.
The carport plans are free and will show you how to build a multi-functional, affordable, portable carport.

7- Metal DIY Carport Idea
Learn how to build a metal diy carport in this instructional video on a budget. The YouTube video helps the build go smoothly without any mistakes so you can have a functional carport that will stand the test of time while remaining within budget. The finished result will also add value to your home and more usable space while providing protection for your vehicle.
8- DIY Carport Kit
Building a carport such as this one by handyman from a kit is practical and affordable. All the materials to construct the carport come in a kit, you just provide a few tools and sweat equity. These free instructions will show you how to put the pieces of the carport kit together so you can increase the curb appeal of your home while protecting your vehicle from sun and storm damage. Kits provide durable building materials that are all cut and sized to right length, so it takes a lot of the construction guess work away and makes a DIY build much easier.

9- RV Carport Plan
Building a shelter for you RV is essential for protecting it from the damaging rays of the sun, hail and snow. Your RV is a big investment and to keep it looking its best use these free plans by myoutdoorplans for building a perfect structure to protect it. An RV carport is taller than a standard car shelter and requires a few modifications in traditional carport plans. Use these free plans, that are easy to modify to specific height and length of your RV, to cover and protect your motor home year around.

10- Simple Carport Plan
Here we have a straight-forward building plan that will enable you to quickly construct this car shelter. Stay on budget and protect your car from the weather with this DIY carport idea by homehardware. Simple in style, perfect in function. Freestanding carport can be built almost anywhere to make parking convenient and increase property value.

11- Recycled Shipping Container
Check out this budget-friendly idea that recycles a used shipping container into a diy carport like this one by isavea2z and storage unit.
Keep your vehicle protected from the sun and create a safe indoor space to use for storing smaller motor vehicles with the help of a used metal container. These sturdy shipping containers are very cheap to buy and if you purchase one locally, the moving expense will be minimal also.
Build a cheap carport and storage unit with these free plans.

12- Carport Canopy
Next we have a homemade carport plan that will only take you an afternoon to build and it will protect your vehicle for years.
These free plans will give you detailed instructions for building a canopy frame with conduit pipe and covering the frame with heavy gauge plastic. The size of this DIY carport by bootstrapfarmer can be customized to fit a sub-compact car or an extra large camper. Whatever type of vehicle that you have and want to protect from the elements, a cheap carport can be built for it in a few hours when you use these detailed plans.

13- Lean To Carport Plans
Save time, money, and outdoor space by building an inexpensive lean to carport using these free plans.

You can use the exterior of your home as a wall for the lean to carport such as this one by myoutdoorplans and attach lumber to hold the roof up to the exterior wall. Frame in the roof line and opposite support for the carport, install roofing material and you will have created a budget friendly place to park your car out of the elements.
14- Three Car Carport
This structure has plenty of room to park three vehicles and it would make a great addition to your property. The solid construction and gable roof design will increase your property value and increase the enjoyment of your property.
Ideal for uses other than just parking your cars out of the elements, this three car carport can also be used outdoor functions. Use as a covered venue to host birthday parties, cookouts, or use the space as a play area for the kids when it's raining.
The large size and attractive design make this affordable carport by howtospecialist versatile and a must-have for large families.

15- Flat Top Carport
Follow this instructional YouTube video and build this flat top carport that can keep two vehicles out of the weather.
This simple design has a flat top roof that is covered with corrugated metal so the water will run off easily. Building a carport like this one is  simple, and it can be built with or without a concrete foundation.
Learn how to pour a concrete foundation for the flat top carport in this YouTube, but you can use gravel to save money. Leftover building materials can also be used to save money on the DIY project also.
16- Metal Carport Plans
Learn how to build a large metal carport in this YouTube video that will keep your vehicles protected from the elements and provide you with a covered workspace too.
There is so much you do with an enclosed space like this one, plus it will add value to your property. Build a carport like this one on your property so all of your motorized vehicles can be kept safe and secure from any type of damage. You may want to build two of these budget friendly structures so you can turn one into a workshop.
17- Two Car Carport
This simple structure has plenty of space for two cars and a couple of chairs to sit in. This is an ideal DIY carport on a youtube for a small yard since it can double as an outdoor cover to shade a sitting area. Many older homes with small yards do not have a covered porch to sit on but if you use this carport plan you can create a covered space that protects two cars and protects you from the sun while sitting outside.
This is a simple DIY carport that has four poles to support the roof and a lightweight, flat roof created from corrugated metal. This dual purpose structure is easy and cheap to build.
18- DIY Carport Kit
A DIY carport kit can be purchased from home improvement retailers and these kits will save you time and money. The kits will include everything needed to construct a carport and detailed instructions so the DIY project will go smoothly.
Building a carport like this one by homedepot provides more than just a dry place to park your car, it can also be used to keep motorcycles, boats, golf carts, and other vehicles from being exposed to the elements.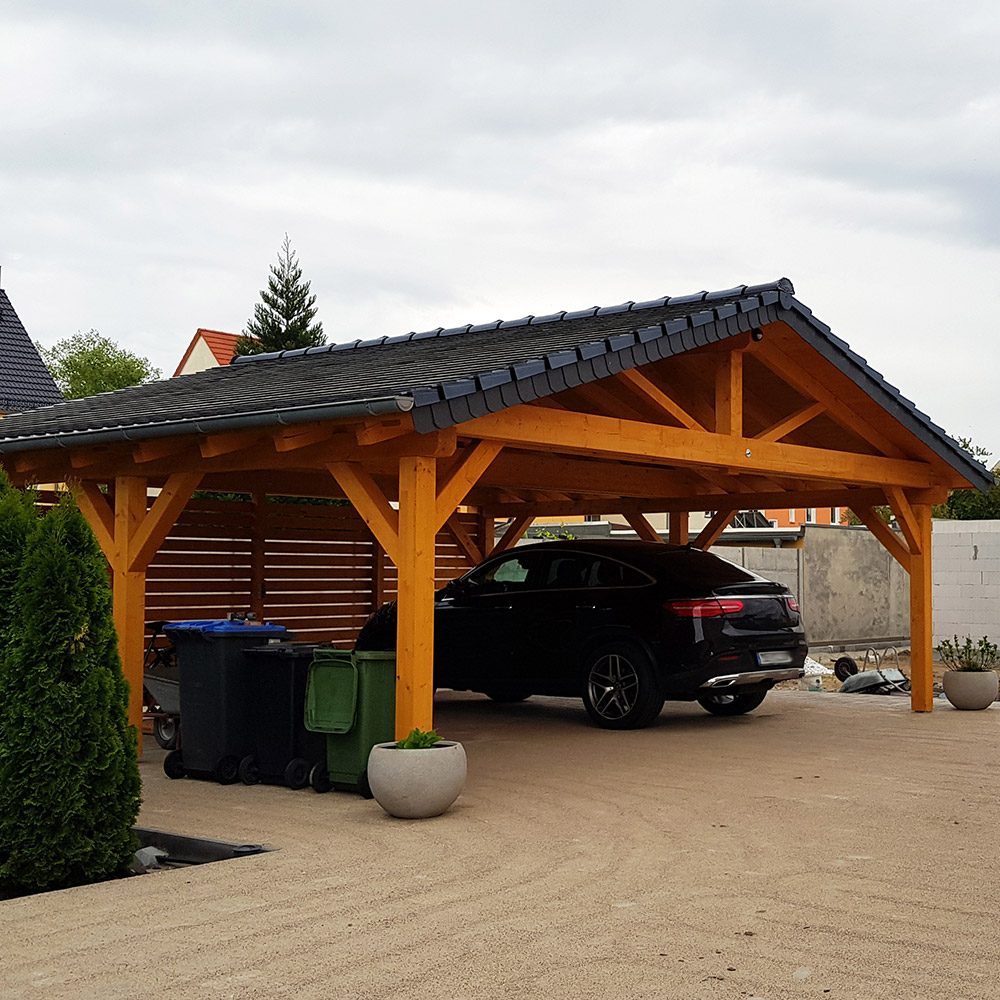 19- Steel Carport Kit
If steel is your preferred building material, then this carport plan is for you. Carport kits like this one by alansfactoryoutlet enable you to select the design, size, style, and the material from which the structure will be built, and this one is made with durable steel.
These kits will help you improve your DIY skills while saving you time and money. Choose the size that fits your outdoor space, vehicles, and lifestyle. Remember, a DIY carport can do much more than just protect your car from the elements.

20- Large Carport Plans
This 20×40 foot DIY carport by gardenplansfree is large enough to cover an RV, boat, and several other outdoor toys. If you enjoy spending time outdoors and have equipment that needs to be kept sheltered from the elements, these carport plans will show you how to build a shelter to accommodate the outdoor equipment.

The gable roof provides stability and style to the structure so it can be used for other things besides just to cover equipment. A picnic area, outdoor sleeping area, kids playground, or any other outdoor activity can be done under the covering of this large carport.
21- Triple Carport
These free carport plans show you how to build a large triple carport that can cover three cars and protect them from the elements.
With room for a truck, boat, and a couple of motorcycles, you will have plenty of space to park all of your motorized vehicles and keep them safe from the weather. This triple carport by howtospecialist can help you keep your vehicles looking new so they will hold their value and you can get more money for them at trade-in time.

22- Timber Carport
These free carport plans are very detailed and will enable you to build a precision timber carport, even if this is your first DIY project like this one by ubuildprojects.
These plans teach you how and where to take exact measurements so all the guess work is removed and the results will be a beautiful, long lasting structure with a cost effective design. This triple carport will also add value to your home.

23- Lean To Carport
A lean to carport is quick and inexpensive to build since you are using the exterior wall of your home as one side of the carport. The exterior wall provides a solid structure for you to attach the carport roof and these free plans by myoutdoorplanswill show you how to create a roof line that looks like it was built at the same time as the house.
Save time and money with the budget friendly lean to designed carport that can double as a covered seating area.

24- Flat Roof Carport Plan
The easiest way to build a DIY carports like this one by howtospecialist is with a flat roof. Simple and easy on the budget, this flat roof carport design is freestanding and can be built in almost any location. Perfect design for protecting your car from the elements or to use as a covering for a cookout and picnic area. The easy build and economical price make a DIY flat roof carport an affordable choice for several outdoor uses around the house. Great way to cover a child's play area to prevent sunburn or rain damage.

25- Tarp Carport
Watch this informative video to discover how to build a carport by instructables for under $60. This tarp carport is functional and cheap, plus you can create it in about an hour. It's easy to put up and easy to take down and move as needed.
This DIY carport will protect your car or motorcycle from the weather and it will create a covered outdoor space that is multi-functional. Think of all the things you could do outdoors if you had a covered space that would block the sun's rays and give you shade in the summer, or keep you dry when it's raining just like outdoor gazebo do. Increase your enjoyment of the outdoors with this cheap and easy to make carport.

26- Carport Pergola
Fast and cheap to build, this carport pergola on youtube will create a semi-shady spot to park your car and enjoy other outdoor activities.
A natural roof for a pergola can be created by planting vines at the base of each support post. Fast growing vines, like honeysuckle or wisteria, will quickly cover the pergola and form a colorful, fragrant roof. A living roof created by vining plants helps keep the construction cost down plus it's eco-friendly. A flowering vine will also provide food and lodging for pollinators.
Watch this YouTube video to learn how building a carport can be done in one day and be easy on the budget.
27- Double Carport
Learn how to build a double carport that is large enough for two cars in this YouTube video. These wood carport plans are easy to follow and their free.
A double carport like this one will provide plenty of space for protecting two vehicles and increase the value of your property. The covered outdoor space will also be ideal for using for birthday parties, cook-outs, and other outdoor events. Even if it's raining, this large covered space will keep you dry so enjoy being outdoors.
28- Carport and Shed
Everyone could use a little extra storage space and this homemade carport on youtube has space for a vehicle and storage space for lawn and garden equipment. Watch this YouTube video and discover how to increase outdoor storage space and create a covered space to park your vehicle.
Attractive large space will increase the value of your home while increasing your storage space and keeping your car protected from the weather. If you have a yard then you have yard maintenance equipment, like a lawn mower and weed trimmer. Storing this type of equipment in the house is not a good idea, just like leaving your expensive car exposed to the weather is not a good idea, and these carport plans will show you a way to solve both problems.
29- Building Tips For Carport
This page will provide you with a wealth of information on how to build a carport cheap by wikihow. Find out how to apply for a building permit before starting the DIY build, how to prepare the ground, build the beams and much more from this informative page.

30- Double Carport Plans
Download this PDF file that contains the detailed plans for constructing a double carport by myoutdoorplans on your property. Even if you only have one car (or no car) this double carport will provide you with plenty of covered outdoor space to use in a variety of ways.
This large covered space would be great for use as an outdoor kitchen area for grilling, a play area for kids, or for relaxing near a pool. Add a fireplace or fire pit at one end and the outdoor space could be used year-round for entertaining or relaxing.
Start with these free carport plans, then customize them to build the outdoor structure that is perfect for you.

31- Metal Carport
These lean to carport plans on youtube will show you to build an inexpensive metal carport that attaches to the side of your house. Easy to follow YouTube video makes this project an easy one.
By attaching the carport to the side of the house you will save in building costs, plus it will make the lean to carport more stable and secure. This DIY project is easy and affordable and can be built in one day.
A simple DIY carport will keep your car out of the snow, rain, sun, and prevent hail damage during thunder storms. A carport can even protect your vehicle from fallen limbs and other debris during a storm.
32- Wood And Shingle Roof
You can improve the appearance of your home, increase property value, and protect your car from the weather with this wood and shingle carport that you can build yourself. These easy to follow carport plans will show you step by step construction details so the DIY project will be a cinch even for novice carpenters.
This downloadable PDF file By barntoolbox contains plans for a 12-feet by 24-feet carport but the size is easy to customize to meet your needs. The wood construction and shingle roof help to make this structure strong and secure for years and well able to withstand high winds during a storm.

33- Easy And Cheap
This carport is easy to build and will only cost around $250 for all the building materials. If you have some leftover building supplies on-hand, the cost will be even lower.
If you need something that is quick and easy to build that will protect your car and provide a covered outdoor space, check out this DIY carport in this Youtube video. This very informative YouTube video will take you through the entire building process so you will be able to build one just like it on your property.
34- Lean To Carport
This lean to carport on youtube is large enough for a single car and is sturdy enough to withstand the harsh weather. The lean to design makes it cheap to build and it takes up very little yard space.
Detailed YouTube video is easy to follow and the size can be adjusted to meet your needs. Keep your car, boat, camper, or other outdoor toys safe and secure by building a lean to carport like this one.
35- Carport With Storage Shed
This long, sturdy carport by myoutdoorplans provides a safe space for parking your car and has a built-in storage shed on the opposite end.
Solid wood construction with a shingle roof looks attractive and will add value to your home. The storage shed is large enough to store all lawn and garden equipment to keep the items safe from the weather and thieves.
The outdoor space under the roof of the carport can be used for outdoor activities year-round, even on rainy days. Protect your car, lawn, and garden equipment, and enjoy a sheltered space outdoors for activities with this DIY carport.

36- Space Saving Carport
Save land space by building a combination carport and storage shed with these free carport plans by howtospecialist.
The carport and shed are under the same roof so the construction time and costs are reduced, plus it's more convenient to have everything under one roof.
The free plans on this downloadable PDF file will show you how to build this space saving carport on your property. The plans can be customized to meet your needs and when it's completed, it will add value to your home and enjoyment for outdoor activities.

37- Single DIY Carport
This classic single carport design by myoutdoorplans has many uses on a homestead. The foremost thing the structure is used for is to protect a vehicle from the weather but that's not all a carport is good for.
A single carport like this one provides a dry outdoor space to protect a boat, camper, ATV, or lawnmower. The dry outdoor space can also be used as an outdoor garage for working on a wide range of DIY projects. It will also provide a great covered outdoor space for a kids' play area or grilling area.
Download this free PDF file with all the detailed building plans on it, then decide what use the structure will have after it's built on your property.

Wraping Up!
Provide a shaded area to park your car to protect it from outdoor elements such as rain and Sun rays. You can build a diy carport any size you deem fit to cover up your car. These carport plans we have shared with you can help you in building your own carport. Hope you like the post! If you have any questions or ideas to share please use the comment section.
Useful Resources:
https://home.howstuffworks.com/
Here we have prepared a questionnaire to answer common questions asked.
FAQ's
What is a carport?
A carport is a covered structure that provides a limited protection from heavy winds, rains and snow. Unlike other structures a carport can be free standing or attached to the wall. A carport doesn't has four walls such as we see in most strutures, it can have one or two.
What is the minimum size of a carport for one car?
To park one vehicle a carport needs a width and length of 12 Feet (240 square feet) to allow for a space of passenger car, truck, or van. This space is sufficient to open doors easily on both sides of the car without touching the side poles or wall.
Do you need planning permission for a carport?
For building most parts of the carport doesn't need to have planning permission from local municipalities. It means you can use additional outdoor space without waiting for permission from the concerned authorities and save your time.
What is the minimum size of a carport for two cars?
The minimum space required for a car is 20'x20′, however you can go for a longer space of 24'x24′ to give you enough space to walk around the car.