Use these free gazebo plans to build an outdoor living area to relax and enjoy in outdoor shade structure. An outdoor gazebo is an easy and stylish way to add outdoor living space and value to your home. Unfortunately, many home owners overlook the valuable outdoor asset due to the stereotypical image of the backyard gazebo from yesteryear at their grandparent's home and their desire to have a more modern and updated look for their landscape.
The traditional octagon-shaped structure at the end of garden path or beside a landscaped pond can still be built and enjoyed, but there are many other gazebo ideas to choose from and one of them will fit perfectly into your landscape. The easy to build structures that provide outdoor shade don't even have to be built in the landscape, they can be incorporated into the design of a patio or deck.
If you're considering adding a gazebo to your outdoor living space, look at these 33 DIY gazebo plans that will inspire you and provide you with the instructions on how to build it.
Also check out pergola plans, carport plans and outdoor bench plans.
1- Grill Gazebo Plans
These free gazebo plans will show you how to build the perfect place for an outdoor grill. This grill gazebo will shelter you from the hot sun or soaking rain so you can grill in any kind of weather.
A countertop is built-in on two sides of the DIY gazebo and provides ample room for food preparation and eating area. Build a gazebo that allows you to grill food and visit with friends in the same space and in any weather condition.

2- Garden Gazebo Plans
Placed just a few steps from the back entrance of your home, this tradition-styled garden gazebo plan is surrounded by fragrant flowers and given partial seclusion by hanging baskets and shrubs. A quiet, mini retreat right in the middle of the garden. Since it sits so close to the home, it's easy to wire it with electric lights and stereo speakers for after-dark relaxation.

3- Rectangular Gazebo Plans
Step by step instructions for building this rectangular gazebo plan can be downloaded from your computer in just a few minutes. Large enough to host birthday parties and other family get-togethers, yet small enough to be a DIY project that can be completed in a weekend or two.

4- Easy DIY Gazebo Plans
These free octagonal gazebo plans are easy to follow and the DIY project is also easy. Small and functional, this is a great outdoor space for use as a shady place to read a book, take a nap, or watch the birds.
Hang pots of flowers around the octagon perimeter to attract birds and butterflies so you can enjoy their company while you relax in this attractive DIY gazebo.

5- Wooden Gazebo Plans
Step by step written building plans as well as step by step photos of this wooden gazebo building plan make it an easy DIY build. This outdoor structure will increase your property value, provide shaded outdoor living space and make your landscape more eye-appealing.

6- Google
Sketch up
Get a gazebo design in your head, then click on Google Sketch-up and move the design from your imagination into virtual reality. From there paper plans for gazebo can be made and you'll be ready to purchase material and begin the building process.

7- Octagon Gazebo Plans
Traditional, classic style of these octagon gazebo plans will enhance your backyard and provide you with a shaded and breezy outdoor location for dining, napping or otherwise enjoying the great outdoors.

8- Backyard Sanctuary Gazebo Plan
Need a large space that can be backyard sanctuary that will meet the needs of just one or two looking for a place to get away from it all in addition to providing a large covered space for weddings and other family events? This large and stylish gazebo Plan will meet the need.

9- Free Gazebo Plans
Free gazebo plans for the downloading, this diy wooden gazebo is perfect for as a stand-alone structure, or would be great for creating a patio gazebo or deck gazebo.

10- Octagon Gazebo Plans
These DIY gazebo plans will provide you with a cost effective 8-foot octagon gazebo that will enhance the beauty of any size backyard.

11- Screened Kit DIY Gazebo Design
No bugs, but plenty of shade and cool breezes are inside this DIY Screened Gazebo built from a kit. Use this kit to erect a screened gazebo in non-traditional locations.

12- Redwood Gazebo Plans
Long-lasting and easy to work with, redwood is an excellent choice of wood for building a wooden gazebo.

13- Small DIY Gazebo
Use these DIY gazebo building plans to create a small gazebo retreat in the middle of your backyard. Perfect size for enjoying morning coffee or a relaxing glass of wine in the evening with that special someone in your life.

14- Large Oasis Gazebo Plan
When it's time to go big or go home, these DIY plans for a large gazebo oasis will be a good choice. Plenty of room for potted plants, tables and seating, this wooden gazebo is built up high enough so you can enjoy the view of your landscape from every angle.

15- Kit Design Gazebo Plan
If starting from scratch is a little intimidating or costly, build a cheap diy gazebo from a kit. Everything you need is already pre-cut and included in the kit. The quality is there and a kit gazebo will last as long as one you design and purchase separate materials for, but the overall price of a kit will be cheaper in most cases.

16- Octagon Gazebo Plans
Learn how to build a gazebo that will provide a shady recreation space for you and your family on hot summer days. This shape is a little more complex to build but these octagon gazebo plans will take you through the DIY project step by step.
The semi-enclosed shady recreation area will add value to your property and be the go-to hang out spot for the whole family. Download these free plans and start building this unique outdoor space this weekend.

17- Square Gazebo Plans
Think of all the outdoor functions you could enjoy with your family if you have an attractive sheltered space like this square gazebo. These wooden gazebo plans will provide you with detailed instructions for constructing a square gazebo on your property that will provide you with years of family enjoyment.
This DIY gazebo would be ideal for hosting birthday parties, baby showers, family reunions, anniversary celebrations, and weddings. Follow these free gazebo plans and get started building today.

18- Pine Wood Gazebo Plans
Use pressure-treated pine wood and coat it with a clear water repellent to build a long-lasting DIY gazebo. These free plans will show you how to build a gazebo and provide you many tips, like using pine wood and water repellent, so your DIY project will be attractive and last for years.
This is a small gazebo that is suitable for small outdoor spaces. Enjoy the outdoors in any weather when you have a sheltered outdoor space like this pine wood gazebo.

19- Backyard Gazebo Plans
Learning how to build a gazebo won't get any easier than following these instructions. Create a semi-private sitting and eating area with these gazebo plans that is sure to become the favorite outdoor spot for the family.
The built-in center picnic table and side benches provide an inviting space for family meals and get-togethers. Grill out, eat out, and hang out in this comfortable backyard gazebo.

20- Upscale Gazebo Plans
If you want more than just a traditional backyard gazebo, then these free gazebo plans are what you need.
Stylish, upscale design is ideal for use in your front or side yard so it can add to the curb appeal of your home. Upscale octagonal gazebo plans will show you how to build a gazebo that can be used as a location for a hot tub, to host a fancy wedding, or just to be a hangout spot for family and friends.
The upscale design provides versatile usage in any type of weather.

21- Wooden Gazebo Plans
These free wooden gazebo plans will show how to build a DIY gazebo that will be the center attraction of your backyard.
Ideal for large backyards, this large gazebo will provide shelter in any weather and is large enough to have several things going on at once. Dad can nap in a hammock on one end while the rest of the family enjoy playing games on the other end.
Add a grill and the family will want to spend most of their time in this attractive outdoor shelter.

22- Attached Gazebo Plans
These unique gazebo plans will show you how to build an attractive shelter that is attached to your house. Just step out of your back door and into your own DIY gazebo for family dinner time.
Functional and easy to build, this attached gazebo is a unique alternative to an enclosed back porch or open back deck. It will provide the best of both worlds by giving shelter for sun and rain while giving you the feeling of being in great outdoors.
Since this gazebo has one side attached to the house the build is less expensive and quicker to get finished.
23- YouTube Gazebo Plans
This YouTube video will walk you through the process of building this unique and attractive outdoor gazebo. This is a rectangular gazebo plan with a twist – the roofline arches outwards to give a slight diamond shape to the structure.
The open front of the gazebo allows for easy access, and the center table and built-in benches on three sides provide ample room for family and friends. Increase property value and outdoor living space with this easy to construct gazebo.
24- Redwood Gazebo Plans
These easy to follow DIY gazebo plans will show you how to build a large octagon gazebo using sturdy redwood boards.
The structure is large and is ideal for those with large families or who would like to have a multi-purpose outdoor structure. This redwood gazebo will last for decades and will provide a sheltered outdoor space that can be used year-round.
These gazebo plans have a center fire pit and counter space along the side railing that can be used for drinks or food. You can use these ideas to personalize the redwood gazebo to suit the needs of your own family.

25- Airy Gazebo Plans
Great for beach property, this airy gazebo is light, bright, and inviting, just like a summer at the beach. Follow these free plans for building this DIY gazebo that is sure to become the family hangout spot all summer.
This gazebo is 12-feet in diameter and covered with lots of eye-appealing wood details. Host family graduation parties, weddings, showers, and more in this attractive outdoor space. And when all the celebrations are over this detailed gazebo will stand for decades and provides you with a relaxing outdoor space that you can call your own.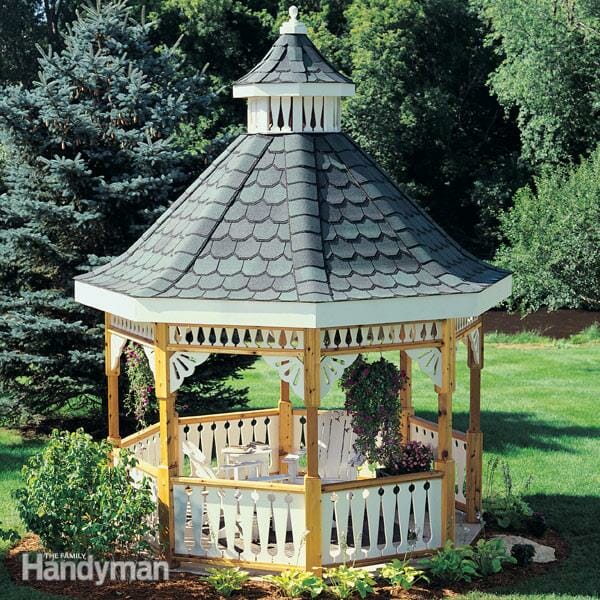 26- Satellite Dish Gazebo Plans
The old satellite dishes from the past were very large and are now useless for their original purpose. Recycling these 10-foot wide fiberglass dishes into a DIY gazebo is a great way to use them and save money on a DIY project.
These free gazebo plans will show you how to transform an old, unusable satellite dish into a roof for an outdoor gazebo.
This design gives the look and feel of a tropical hut, which is ideal for beach property or if you have tropical outdoor decor in your backyard. You can put your own spin on the design and still recycle a satellite dish into a functional roof.

27- Lean-To Gazebo Plans
This DIY project creates a lean-to style gazebo that has one side attached to your house or other outside building. These free gazebo plans provide all the details and material list that will need to construct this attractive and functional attached gazebo.

28- Square Gazebo Plans
All the building information you need is right here in these free plans so you can learn how to build a gazebo that has a rectangular shape and attractive side rails.
Concrete footings, pressure-treated lumber, and a shingled roof will enable this outdoor structure to provide years of outdoor living space for the entire family.
Hang out, grill out, host parties, and just relax after you build this multi-purpose gazebo in your backyard.

29- Fairytale Gazebo Plans
Every little girl dreams of being in a fairytale and one day having a fairytale wedding, and this DIY gazebo can provide both.
Build this so your daughters and granddaughters' dreams can come true now in the future. Think of all the fun your little girl will have in this unique outdoor space and how beautiful she will look on her wedding day a few years from now.
This sturdy built structure will stand for years and provide multi-generational fun.

30- Screened Gazebo Plans
Use these gazebo plans to construct a 12 x 12-foot gazebo that is completely screened in to protect from summer insects.
Nothing can ruin an outdoor meal like flies and mosquitoes but the screened-in perimeter of this DIY gazebo with keep insects out. Enjoy outdoor summertime activities in pest-free peace when you build this screened outdoor oasis in your backyard.

31- PDF Octagon Gazebo Plans
Download this free PDF plans that show you how to build a gazebo that is both attractive and functional. The octagon design increases usable space and creates an attractive addition to your backyard living space.

32- Hot Tub Gazebo Plans
Use these plans for building an attractive wooden gazebo over your hot tub. The overhead covering will help you keep the damaging sun rays out and the fun in while you enjoy soaking in your hot tub. These free YouTube plans are detailed and easy to follow so you can build a gazebo over your hot tub in just one weekend.
33- Sloped Roof Rectangular Gazebo Plan
Easy to build rectangular gazebo has a non-traditional sloped roof that is easy to build and cost effective. When a simple outdoor structure is all that's needed for a place to hang out and get out of the sun, give this DIY Gazebo design a try.

Useful Resources: