Building a DIY table from one of these awesome free picnic table plans will provide you with outdoor seating and a flat surface to eat, play games or nap on. In addition to showing you how to build a picnic table for free, the building plans span a wide variety of styles and price ranges, so there is sure to be one outdoor picnic table style that is just right for your backyard.
You may like to see garden and outdoor bench plans, outdoor table plans, diy sofa table, diy coffee table, diy folding table, diy farmhouse tables, diy office desk.
Free Picnic Table Plans You Can Build In A Weekend
1- Compact Picnic Table and Stools
Use these picnic table plans to build a compact table and four stools that will fit perfectly into a small outdoor space. Use the stool as an extra seating even when the table is not being used. Store the round stools under the square table when not in use. For longlasting beauty, use cedar wood for this DIY build.

2- Farmhouse Picnic Table Plan
Add some farmhouse charm to your outdoor living space with this picnic table design. The 'X' leg design, detachable benches and fun painted finish makes this table great to use on a porch or patio. Reclaimed wood can be used for the table top to give the table an even more farmhouse look and feel.

3- Roofed Picnic Table
Get these free picnic table plans that will enable you to build a large table with a roof that is great for family get-togethers. Create the perfect outdoor space for hanging out and eating barbeque with these free DIY plans. The weather won't stop the fun when everyone is together and under the roof. Easy step by step instructions make this build easy.

4- Classic Style Picnic Table
Here are DIY plans to build the classic two-bench style DIY picnic table. Use cedar wood for the construction and you'll be enjoying meals on it for many years to come.

5- Octagon Picnic Table
Plenty of room for a large family around this octagon picnic table and attached seating. These free picnic table plans will enable you to construct an attractive eating table with a 64 inch top.

6- A-Frame Style Picnic Table
Classic A-frame construction with two attached benches. These free picnic table plans provide you with a shopping list, step-by-step pictures as well as a video to walk you through building a picnic table.

7- American Picnic Table
This traditional American style used to found in every backyard across the country – and for good reason. It's sturdy construction and seating capacity made it perfect for the typical family backyard BBQ. Build your own American style picnic table with these free plans.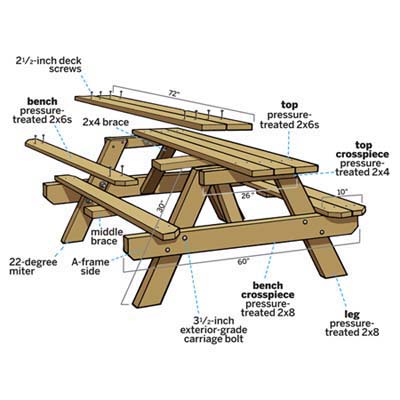 8- Children's Picnic Table Plans
These kids picnic table plans will enable you to build a fun outdoor eating table that will make the adults wish they could sit at. Children are often seated at a second-rate table while the adults eat at a more attractive table, but this design will change that. Adorable for use as a child's picnic table or craft table.
You may also like to see 15 diy sandbox ideas for kids.

9- Folding Picnic Table
When you're working with a small outdoor living space, these picnic table will provide an eating surface without taking up valuable ground space. These folding picnic tables fits flush against the wall when not in use, then easily and quickly lets down to a full sized picnic table when needed. Works perfectly in a small space.

10- Nautical Picnic Table
Kid's picnic table plans that have been upgraded to adult size. Use these free DIY plans to create this fun and unique nautical picnic table that has a colorful umbrella on top. Young and old alike will clamor to sit at this fun table, plus the overhead umbrella provides shade on those hot summer days.

11- Mini Folding Table
This fun DIY picnic table is easy to carry along with you anywhere you go. The built-in speakers can also help you set the musical mood for your picnic. Use these free picnic table plans to transform a suitcase into a mini folding picnic table. The small size makes it lightweight to carry or keep in a car trunk.

12- Six Footer Picnic Table Plans
Long enough for family meals and for taking a nap afterwards, these free plans show you how to build a six foot picnic table with attached bench seating.

13- Under $60 Picnic Table
Classic style in an affordable price range. These picnic table free plans, plus a few hours and $60 will provide you with an outdoor table and seating that will last for several BBQ seasons.

14- Kids Picnic Table
Free plans to show you how to build a child-sized table so the little ones in the family will feel special. The kids picnic table is great for eating meals and many other fun kid-friendly activities.

15- 12 Footer Handicap Accessible
Long eating table with each end being handicap accessible. Great for large groups and multi-generational families.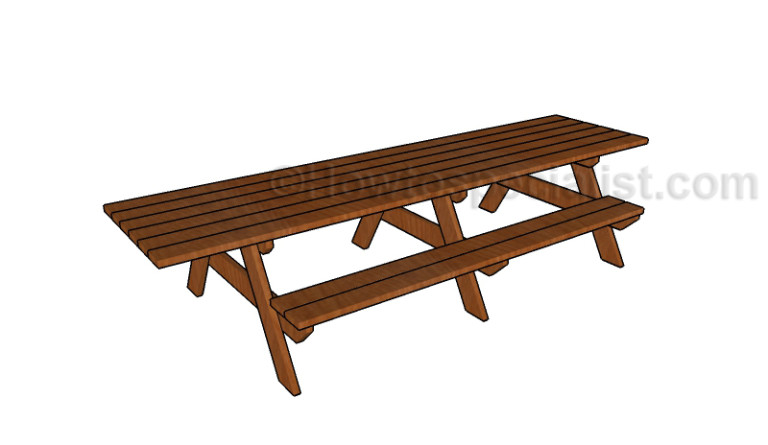 16- 10 Foot Picnic Table Plans
These plans for a building a DIY 10 foot picnic table are perfect for outdoor areas which host large gathering at meal time. Great for a lake retreat, church yard, playground or anywhere a large group of people will be gathered to eat.

17- Built-in Cooler Table
No more running back and forth to cooler for a cold beverage, these free picnic table show you how to build a cooler right into the middle of the picnic table top.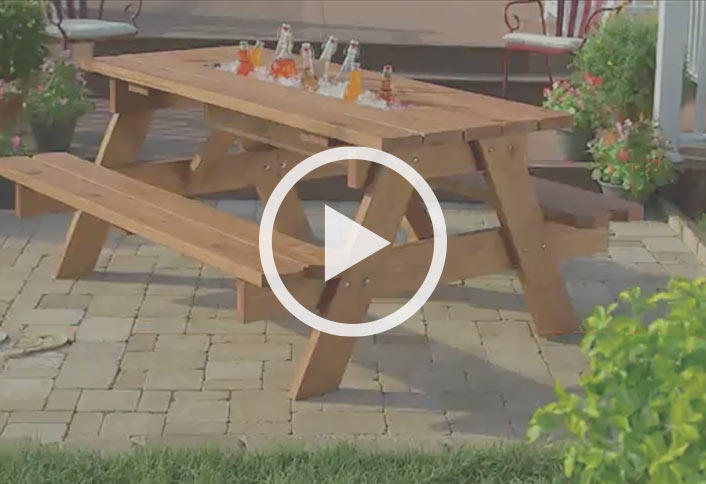 18- Convertible DIY Picnic Table
When seating and a place to eat are needed, build one piece of furniture to serve both purposes. Unique design provides a picnic table with bench seating that easily converts into two pew-style benches.

19- Kid's Picnic Table
Fun for eating, creating crafts of having a tea party. This kid's picnic table plan provides kids with their own colorful space. Great for outdoor or indoor use, easy to follow plans will allow you to have this kid's picnic table built in one weekend. Sturdy enough to passed down through a couple of generations.

20- Large and Traditional DIY Picnic Table
Easy step-by-step instruction will enable you to build this large and traditional picnic table in one day. traditional design fits into any landscape and will lasts for years.

21- Weekend Classic Picnic Table
Use these free plans to create this classic design picnic table in just one weekend. Table with two detached side benches provide plenty of eating space without taking up too much backyard space.

22- Lightweight Classic DIY Picnic Table
When a picnic table is needed in different areas of the backyard, build one that is lightweight so it can be easily moved around. This classic design is easy to build and easy to move.

23- Folding Table
These plans enable you to build two things – a folding picnic table which converts into a bench. Picnic bench plans that creates a comfortable bench and folds into a spacious table for meals are easy to follow with detailed instructions.

24- DIY Eight Footer Picnic Table
We've had plans for a six footer, ten footer, 12 footer and last but not least, here are plans for a eight foot DIY picnic table. Choose the size that best suits your families needs and get it built these weekend with these easy to follow instructions.

25- Reclaimed Wood Flat Table With Planter/Ice Trough
This DIY picnic table has a center trough that can be used to hold ice and beverages, or to use as a planter. This design uses reclaimed wood to create a a unique picnic table with two detached benches that slide under the table when not in use. The detached benches are great for use as extra seating in any location.

26- Picnic Table Into Convertible Benches
This small picnic table is hiding a secret – it is actually two wooden benches. These plans show you how to build two wooden benches that easily convert into a picnic table. Perfect for outdoor dining or when you just want to sit outdoors, relax and watch the sun set. Paint or stain the wood as desired.

Related: 15 DIY farmhouse tables for dining room
27- DIY Picnic Table With Built In Coolers
Build a picnic table that has two hidden coolers with these free plans. No one wants to leave their comfortable seat and go get something cold to drink, so keep the beverages handy with this picnic table design. Two coolers are hiding under the table top. Lift the lid for a beverage, close  for a flat table surface.

28- DIY Picnic Table You Can Build In One Day
This DIY picnic table only takes one day to build and will provide years of use. The A frame design and two attached benches are a classic, sturdy design that will provide you with years of family enjoyment. This wooden picnic table can be painted in fun or classic colors, stained or use re-claimed wood and let the natural beauty of the wood show.

29- Octagon Picnic Table
The octagon is the right shape and size for a large family meal. These free octagon picnic table plans will show you how to build this challenging shape with ease. Eight adults can easily fit at this table, and the open seat design makes getting up and down very easy. Sharing food and conversation is made easy with the octagon shape.

30- Plumbing Pipe Picnic Table 
Here is an easy way to achieve an industrial looking picnic table. These picnic table plans show how to use ordinary plumbing pipes to create table legs. Casters on the bottom of the legs makes this picnic table easy to roll around to the desired location on a patio or porch. The metal pipes can be left as-is or spray painted.

31- Children's Picnic Table
This fun picnic table will fuel the imagination of children by giving them the feeling of sailing the seas in this boat designed table. This DIY picnic table is easy to build with these free detailed plans. Paint in fun colors to complete the boat look. An overhead umbrella would be easy to add to keep kids shaded from the hot sun.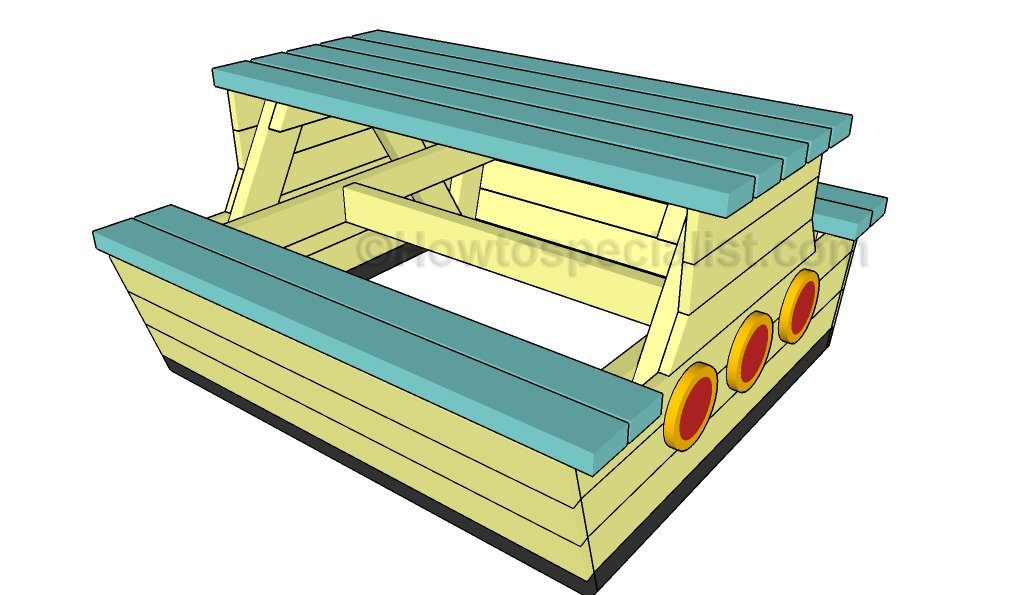 32- Picnic Table For Two
When a romantic table for two is all you need, this picnic table plan is what you need. Easy to build and just the right size for two. It can be used for two children during the daytime, then be used after the sun goes down for a romantic candle lit dinner. The building process can be completed in one day.

33- Wooden Picnic Table Plans
These wooden picnic table have two benches and a table top, but it's a one piece unit for solid construction. Easy to move around as needed.

34- Child Size DIY Picnic Table
Here another set of free plans for a DIY build of a kids picnic table. Rounded edges on the table and attached benches help prevent any mishaps to toddlers.

35- Convertible DIY Picnic Table
Sometimes you need a place to sit, sometimes you need a place to eat. Sometimes you need both and these free plans will show you how to build a convertible picnic table that gives you the best of both worlds. Simple design makes the conversion goes smoothly and quickly. Easy to follow video takes you through the building process.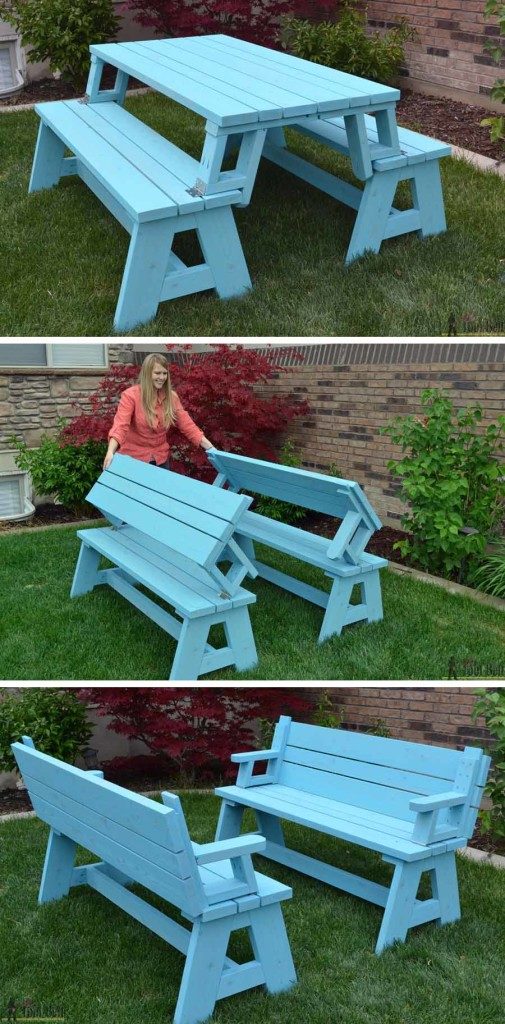 36- Separate Benches
Use these plans to build a picnic table with two separate benches. The benches provide unencumbered table seating, plus they can be moved to other parts of the backyard for seating as needed.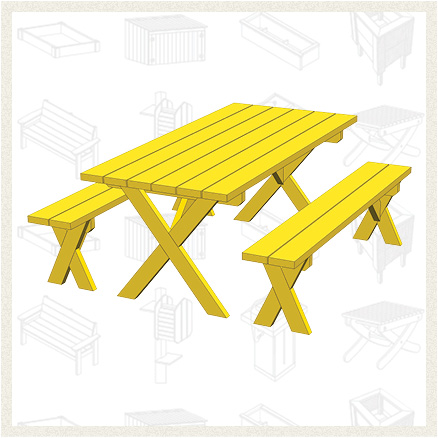 37- DIY Backyard Picnic Table
Use these step-by-step plans to build once and enjoy the table for years to come. At home in any backyard, this attractive wooden picnic table is a must-have for summer meals.

38- One Bench DIY Picnic Table
This unique design picnic table has only one bench and is great for a small space. The table converts into a large bench with a back for time when you want to sit and relax. Easy to build, easy to convert, the video instructions will walk you through the building process. The one bench table is built from all 2×4's.

39- Toddler DIY Picnic Table
For under $50 you can create this durable DIY picnic table for toddlers. The composite material used to build this table is weather resistant, lightweight, and will last for years. Great for a birthday present or Christmas gift. Can be used indoors or outdoors. A great way to use any left over composite building material and make a child happy.