A DIY propane fire pit will be a great addition to your outdoor living space. The firelight and dancing flames can transform a boring backyard or patio an exciting location where everyone wants to gather.
A DIY propane fire pit can be used for more than just keeping warm on a chilly night, it can be used to light up the outdoor space so you will save money on electricity. A homemade propane fire pit can be used instead of a grill or stove so meals can be prepared and enjoyed in the backyard and reduce the mess inside the kitchen.
Heat water so you can enjoy a warm cup of tea or coffee while sitting around the dancing flames and gazing at the stars. One of the best things about building your own propane fire pit is that you will never have to chop fire wood.
Check out these 23 DIY propane fire pits we have collected for you to build for your backyard or patio and choose one that is best for your outdoor space.
You may also like to check out our other articles: Homemade fire pits, outdoor fireplace plans, brick fireplace makeovers, and diy fireplace mantels. 
1- Cheap Propane Fire Pit
Here we have a YouTube video that will show you how to build a cheap propane fire pit that is attractive and produces large flames.
Stay cozy and warm outdoors on a cold winter's evening with this DIY gas fire pit. It's small in size but it will produce plenty of light and heat.
2- Portable Propane Fire Pit
At the number second we have a small DIY propane fire pit that goes where you go and is ready to use in minutes. Created from a metal ammo container, this diy propane fire pit by expeditionportal can be used in the backyard, on the patio, or outside of  a tent in the woods. It's a great size for a small patio or backyard. Plus, it won't cost much to build and it's easy to store and take along with you on vacation.
It's small and portable but will provide big flames and plenty of heat. Use it to keep warm when you're outdoors on a chilly night or to roast s'mores while on a camping trip. Any place can become special when you have a portable fire pit to illuminate the night.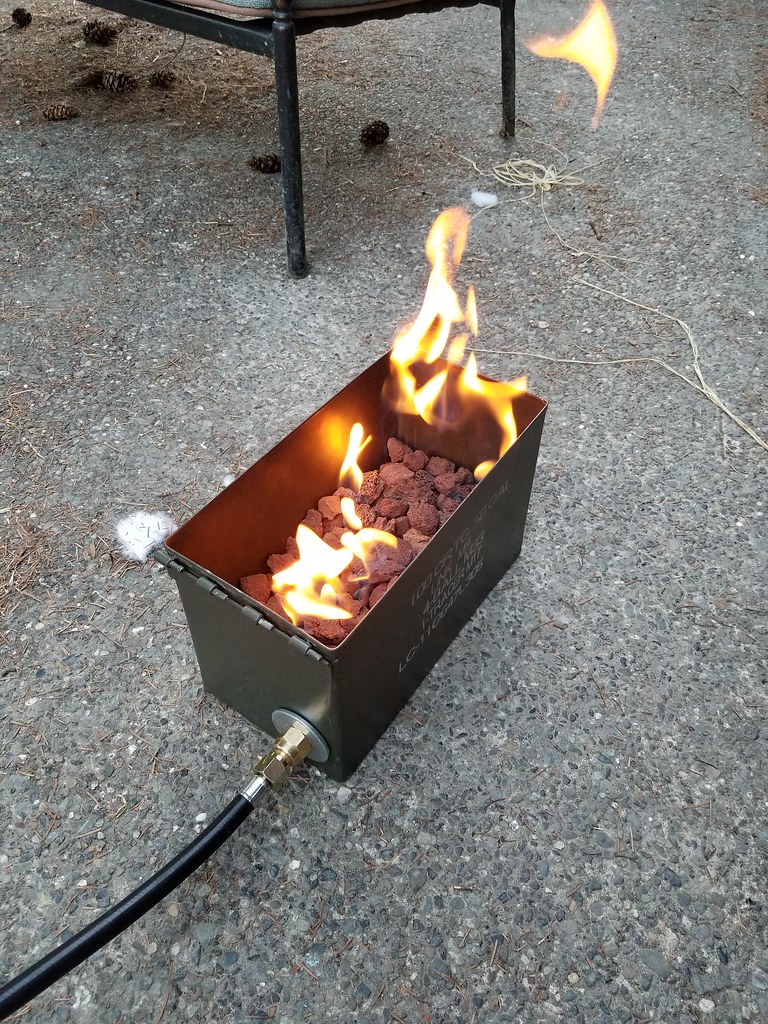 3- Stone Fire Pit
Create a cozy conversation area around a stone diy propane fire pit with these free plans we are sharing with you. Use stackable landscape stones or retaining wall stones to build a round fire pit that will house all the components of the DIY propane fire pit by kismet-house in style.
The round design is perfect for placing comfortable chairs around so the whole family can sit outside together under the stars. This is a four season fire pit that can be used for outdoor cooking, lighting, and heating. It's a permanent structure that will add value to your property and to your family time. These detailed instructions will take you through the building process step by step.
If you prefer a square or oblong shape for your DIY propane fire pit, use bricks instead of landscape stones. These free plans show you how to build a customizable stone fire pit.
To build this diy propane fire pit, you need concrete retaining wall blocks, iron pipe elbows, hose clamps, two home-flex 90 degree elbows, golden flame 18″, bbq Propane bottle.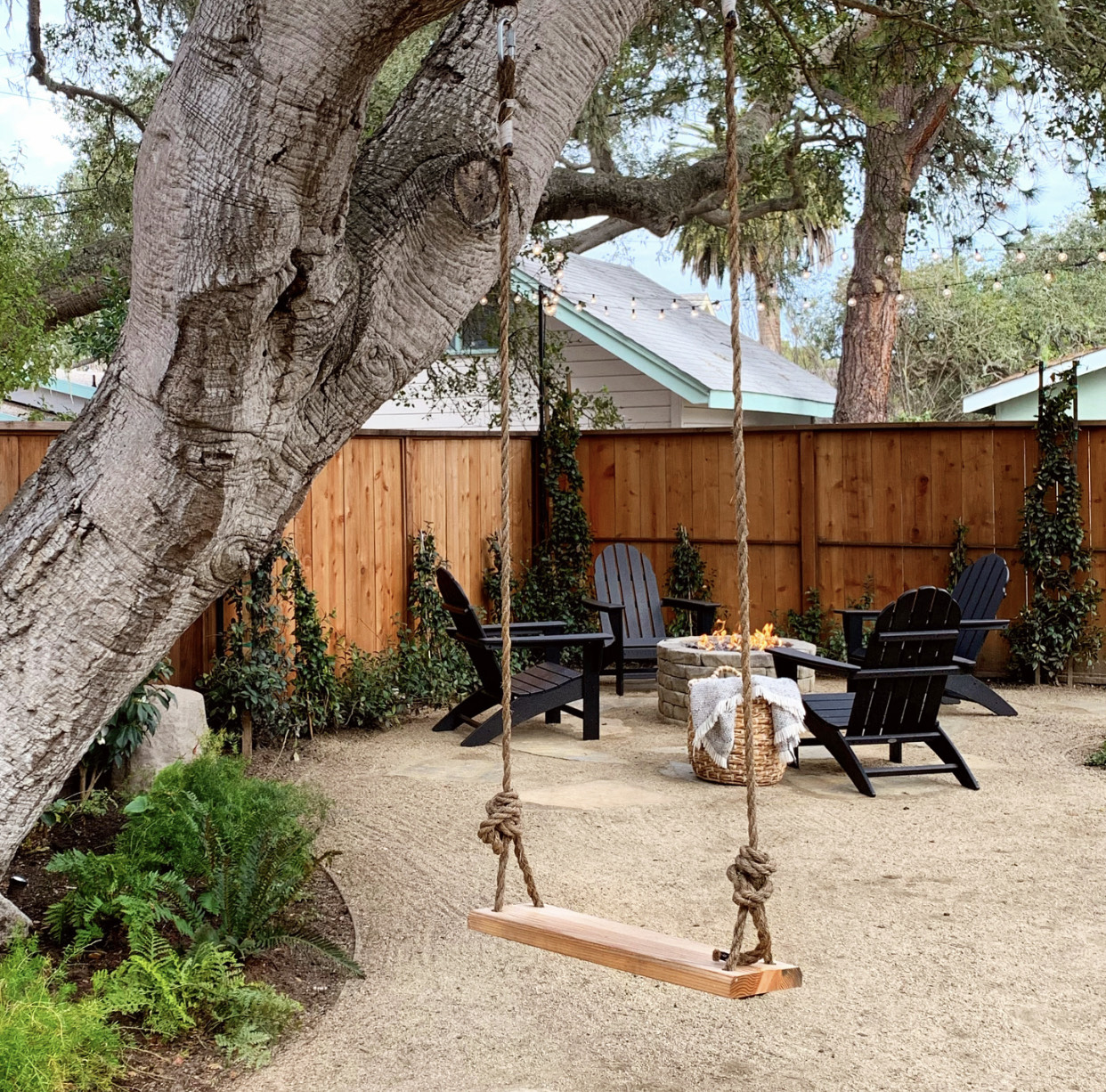 4- DIY Gas Fire Pit Flower Pot
It looks like a flower pot but instead of flowers growing from it, flames of fire are dancing across the top that we all love about propane fire pits.
It's a propane gas fire pit by instructables created from a flower pot, and these free plans will show you how to build a gas fire pit just like the one pictured. The flower pot, copper tubing, and all of the other needed materials are listed so you will know exactly what to buy to create this appealing piece of outdoor furniture.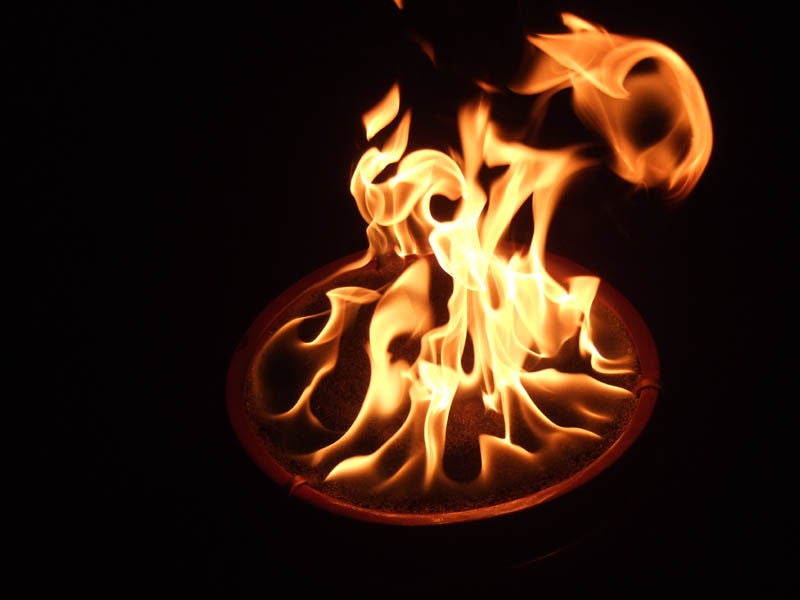 5- Ceramic Flower Pot Propane Fire Pit
Here is a great idea for recycling an old ceramic flower pot such as the one we discussed above – use it to create a propane fire pit table such as this one by fresnobee.
Chek out these detailed instructions that will show you how to combine the flower pot and circular piece of wood to create a functional and attractive DIY propane fire pit for your backyard patio. Ideal for a small space and by recycling materials the cost of this DIY project is almost nothing.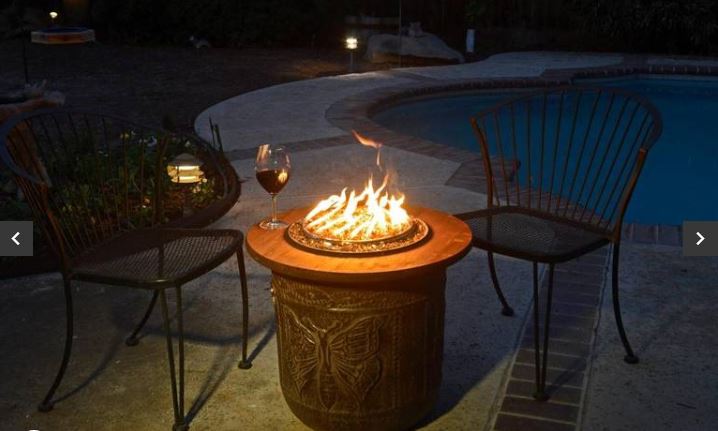 6- Large DIY Propane Fire Pit
If you have a large outdoor space that needs some light and heat, this large propane fire pit by moderustic will be a good fit.
Get these detailed pictorial instructions that will will take you through this big build step by step so you can build this enchanting diy fire pit that will attract people to it. The large fire pit is surrounded by seating and people are protected from the flames with a plexiglass shield. We suggest this idea to build in an area that has many visitors.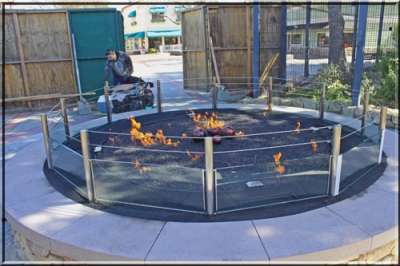 7- Modified DIY Propane Fire Pit
Use this idea and free plans to transform an old wood-burning fire pit into a fire DIY propane pit by instructables. If you're tired of getting smoke in your eyes when trying to enjoy an outdoor fire on a wintery evening, use these instructions to create a clean-burning gas fire pit.
An outdoor fire pit is great for warming up after a fun day in the snow, but if wood logs are used as the heat source, smoke will get in your eyes while you warm up. Change out the wood-burning element for propane power so you can get warm and stay smoke-free.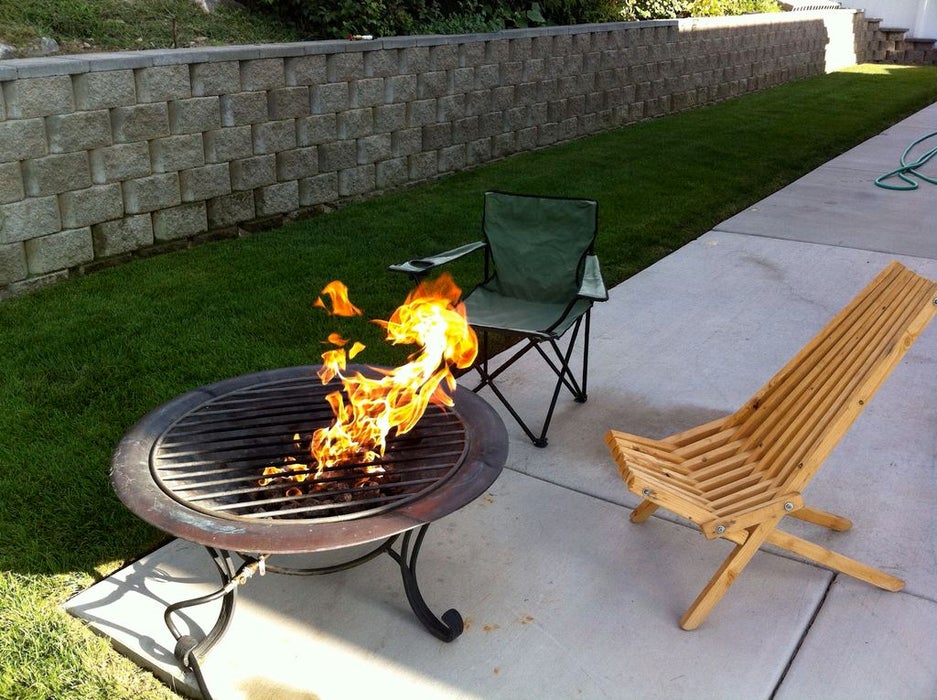 8- DIY Gas Fire Pit Table
Sit back, relax and enjoy the warmth of an outdoor fire when you build this eye-pleasing oblong DIY gas fire pit by with a table.familyhandyman 
The table surrounding the center fire pit is made from concrete, so it can withstand the elements and easily wipe clean. This fire pit will make a beautiful addition to any outdoor space.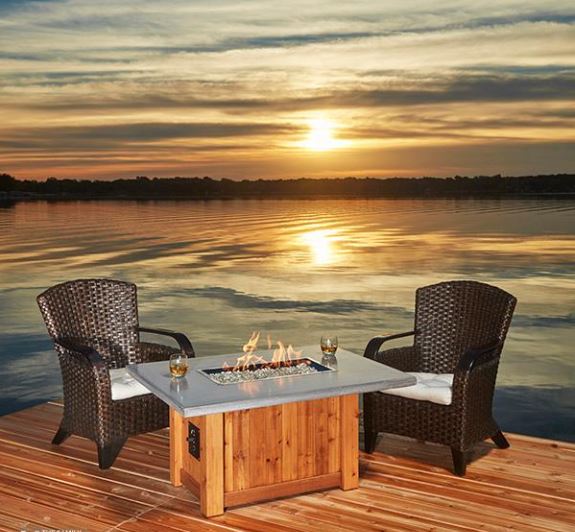 9- DIY Propane Fire Pit Table
This good-looking design by learn.kregtool features a DIY gas fire pit on one end and a small table on the other end. There is also a bottom shelf under the table that comes in handy for storing snacks, drinking glasses, or other items.
Built from lumber, the table can be stained or painted to match any outdoor decor. The lumber used for this build is cut into short lengths, so it's easy to recycle leftover lumber from another project to create this propane fire pit table.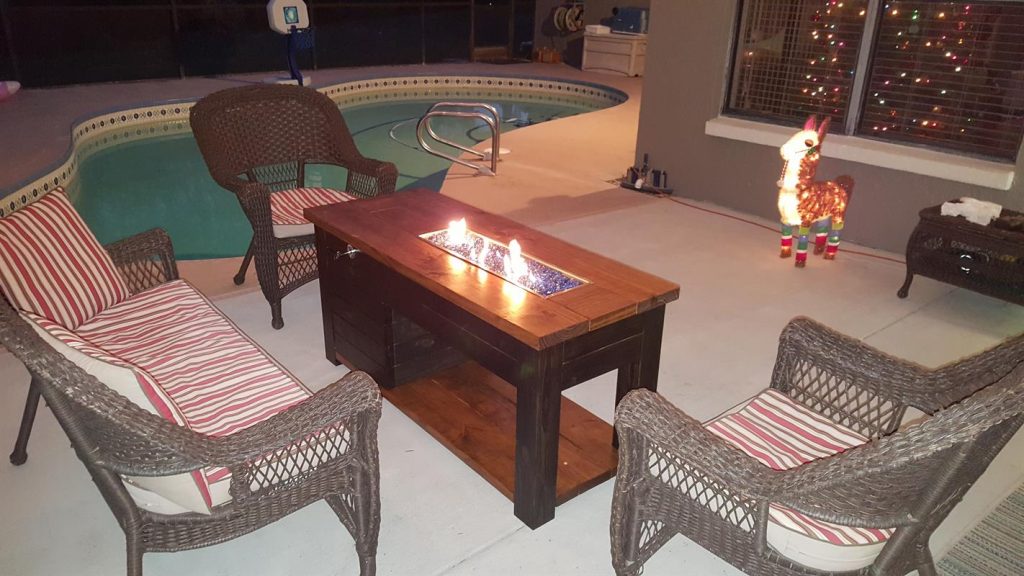 10- Concrete DIY Gas Fire Pit
Follow these video instructions for creating this elegant concrete gas fire pit with seating area. This DIY propane fire pit by diy pete looks like an expensive gas fireplace that should be inside of the home, not outside on the deck. Light up the night with warmth and firelight when you build this DIY fire pit.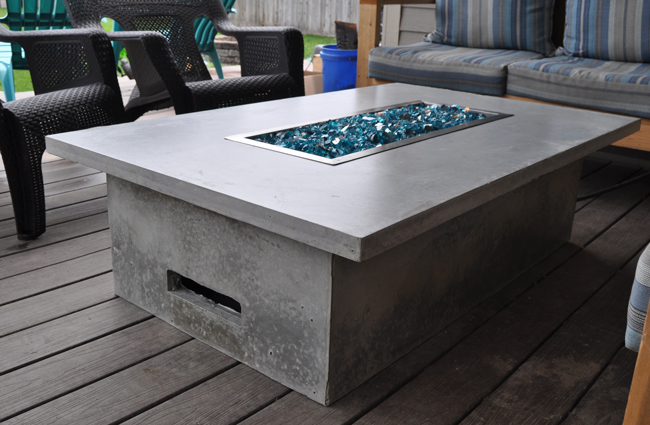 11- Match Light DIY Gas Fire Pit
These free video plans for building a DIY propane fire pit by firepitsdirect also offer a phone number that will connect you with an expert that will answer any questions you may have.
Attractive round design of this fire pit makes it usable in small outdoor spaces.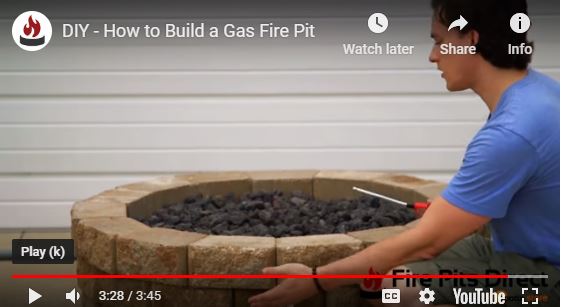 12- Concrete and Wood Gas Fire Pit
This is not your average-looking gas fire pit. Almost triangular, this wood and concrete DIY propane fire pit on youtube is attractive and small. Ideal for small outdoor spaces and easy to build. Follow this instructional video and learn how to build a functional fire pit from concrete and wood.
13- Round DIY Propane Fire Pit
The round shape and size make this DIY propane fire pit by firepitsdirect just the right size for sitting around with a small group of family and friends. Enjoy the warmth and roast some marshmallows when you build this easy DIY project.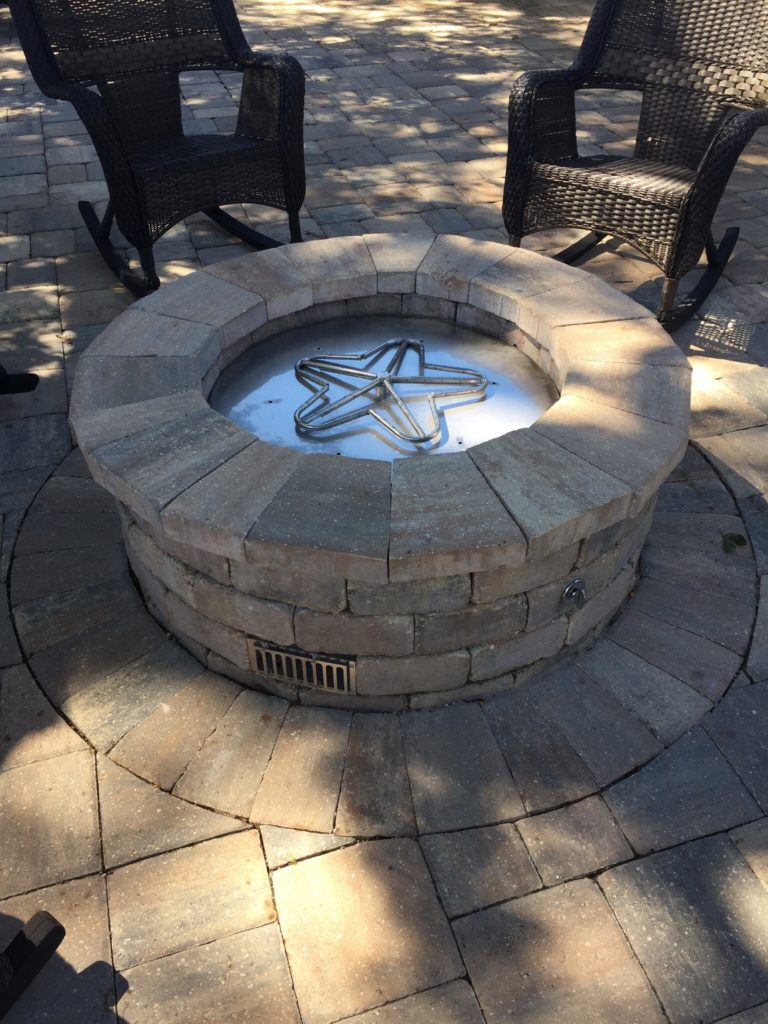 14- Three Tiered Propane Fire Pit
When you follow the instructions for building this DIY propane fire pit by instructables you will not only create a unique item for your backyard but you will learn some new DIY skills.
This three tiered firepit is made of three different types of materials so each tier is unique. The bottom tier is made of flagstones, the middle tier is metal and has a design burned into the metal, and the top tier is covered with tile.
The three materials create a cohesive look that will make the propane fire pit the focal point in your backyard. After learning new DIY skills you are sure to want to create more items for your home and yard.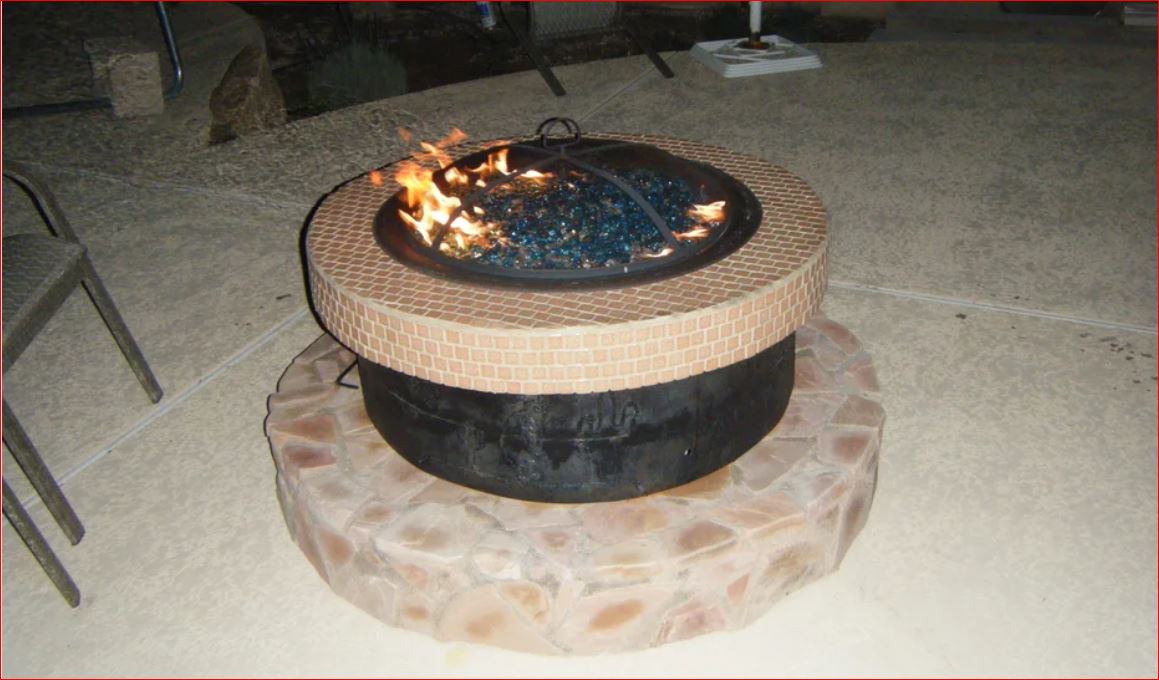 15- Customizable DIY Gas Fire Pit
Landscapes are not all the same size and shape, so outdoor DIY furniture pieces should be customizable to fit the outdoor space. These free plans show you how to build a DIY gas fire pit by outdoorrooms that can be designed to fit your outdoor living space.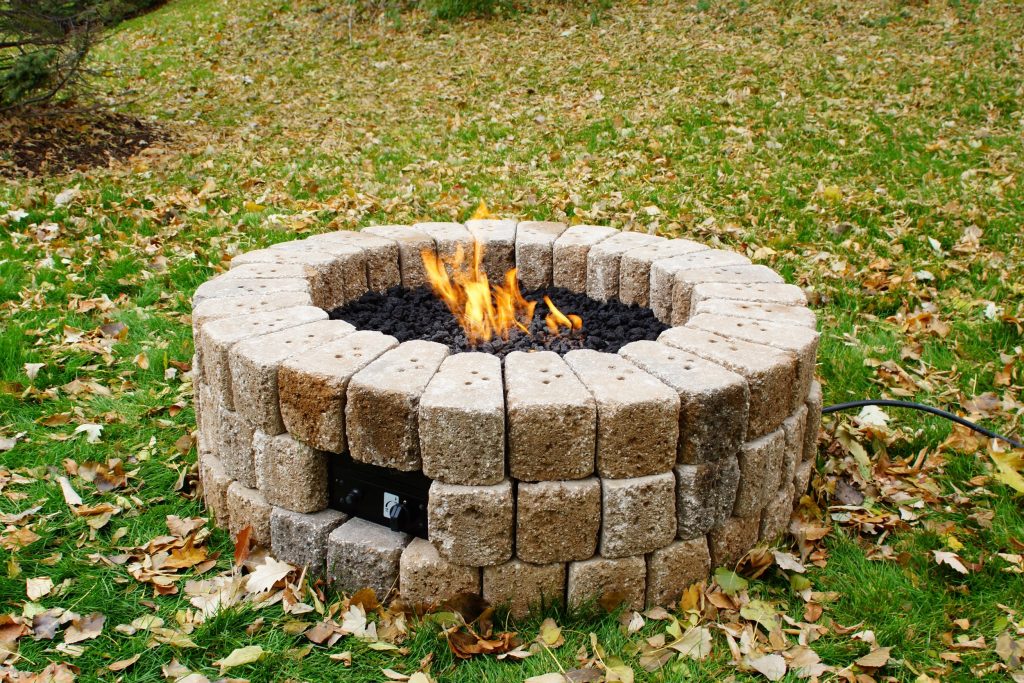 16- Garden Table Propane Fire Pit
Great design for a small group of friends gathered in the backyard. This DIY gas fire pit by wcwelding is created from a garden patio table so the fire pit is in the center and there is table space all around the perimeter.
Matching chairs can be purchased for the DIY garden table fire pit and the set will look like it was ready-made, not a DIY project. The ready-made items are inexpensive and make the DIY project very quick to complete.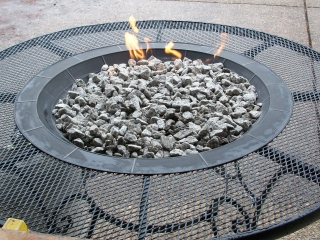 17- Cheap DIY Fire Pit
If you have a wood burning fire pit in your backyard, you can easily and cheaply turn it into a propane fire pit with the instructions on this YouTube video.
The transformation will cost under $200 and you will have a beautiful square propane burning fire pit like this one on youtube instead of a wood burning one. It's a simple project and will provide you with more time to enjoy the warmth and light of the fire. No more chopping wood, stacking wood, and getting the fire started, all you will have to do is turn the propane on and light it.
You will get to enjoy the fire faster and it will be extinguished as soon as you turn the propane off. No more worries about the fire getting out of control and having to stay up late into the night to ensure the fire has gone out. Propane burns clean, quiet and is quickly turned on and off. A tank of propane lasts a long time and it's fairly inexpensive to purchase.
18- Table Top Propane Fire Pit
This YouTube video will show you how to create a pipe burner so you can use it to build a table top DIY propane fire pit. Customize the table to suit your exact needs.
The exterior is made from concrete and it's small enough to sit on top of an outdoor picnic table. Use this table top fire pit for cooking, heating, and ambiance. ideal for making s'mores and star gazing. The small size of this fire pit would also make it great for use on a small patio.
It's easy and cheap to make, so get busy making one for your outdoor space this weekend. This DIY propane fire pit burner can be used inside of any type of exterior you want to build for it so you can customize it easily.
19- Car Rim Propane Fire Pit
Low budget recycling will enable you to create a DIY propane fire pit burner like this one on youtube from an old car rim. Think outside the box to come up with something unique and cheap to use as a fire pit burner. It will save you money and keep usable items out of the landfill. You will make your patio or backyard more inviting and be eco-friendly at the same time by recycling.
Watch this YouTube video to see how you can transform a metal car rim into a propane fire pit burner. And the cost will be less than $50 for the entire project.
You will be able to cook, stay warm, and light up the outdoor space with this cheap, recycled propane fire pit just like you could do with an expensive fire pit.
20- DIY Propane Fire Pit Table
This DIY propane fire pit table by instructables is perfect for use on a patio. Even though it's small in size it will provide plenty of heat, light, and ambiance for the patio.
The circular table around the fire pit provides a place to set plates and cups so it's easy to have a little picnic outside by the fire. Even in the middle of winter, this cozy fire pit table will be the central attraction on your patio. Gather around the fire and make memories while making S'mores and roasting hot dogs.
These detailed instructions are easy to follow and can be downloaded and printed out for easy access during the building process.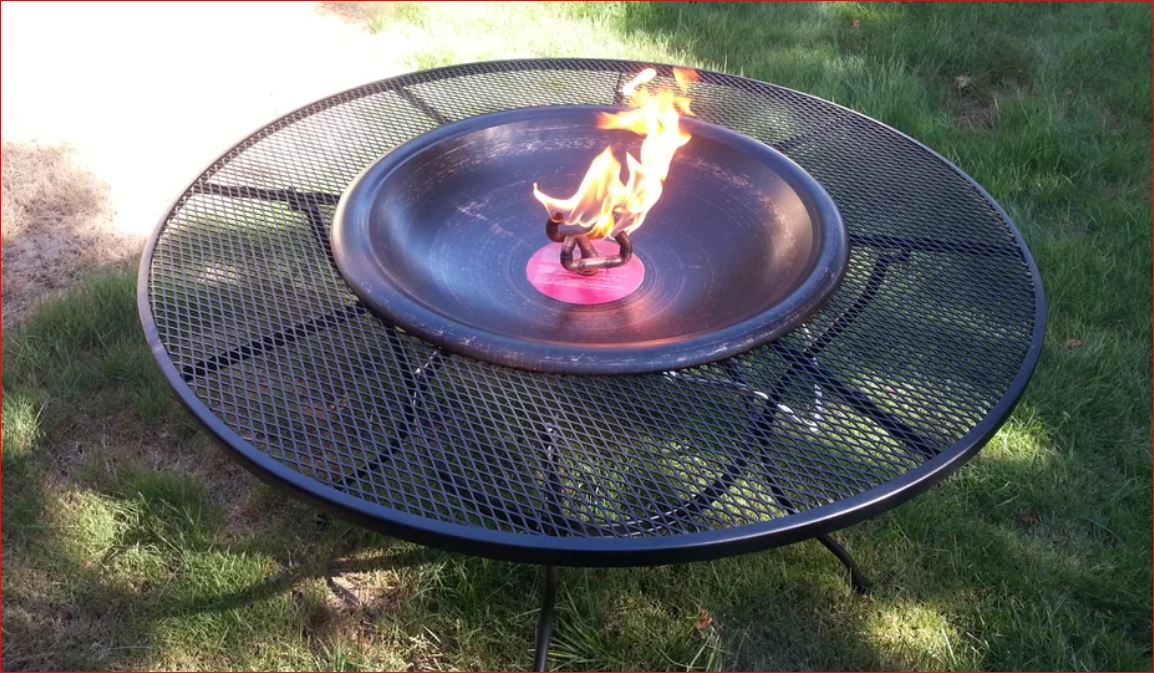 21- Large Fire Pit
This large DIY propane fire pit on youtube will keep you warm and provide lots of space for cooking or grilling outdoors.
The attractive fire pit has a sleek modern design with a concrete top, wood exterior, and metal corners. The hidden bottom wheels make the fire pit easy to move around. It's sure to be a conversation piece and the place everyone wants to hang around. Use it on the patio or in the backyard.
Watch this YouTube video for all the building details.
22- Sand Fire Garden
This one is so simple and inexpensive to build yet it will look like it cost a fortune. A DIY propane fire pit kit by instructables is used in this project to make the build quick and easy.
These free instructions will take you through the building process so you can complete it in just a few hours. Get started on the project this morning and be ready to enjoy the sand fire garden tonight.
The sand and the flames are so attractive and mesmerizing. This will become the focal point of your patio or backyard. Everyone will want to gather around it to play in the sand and watch the dancing flames.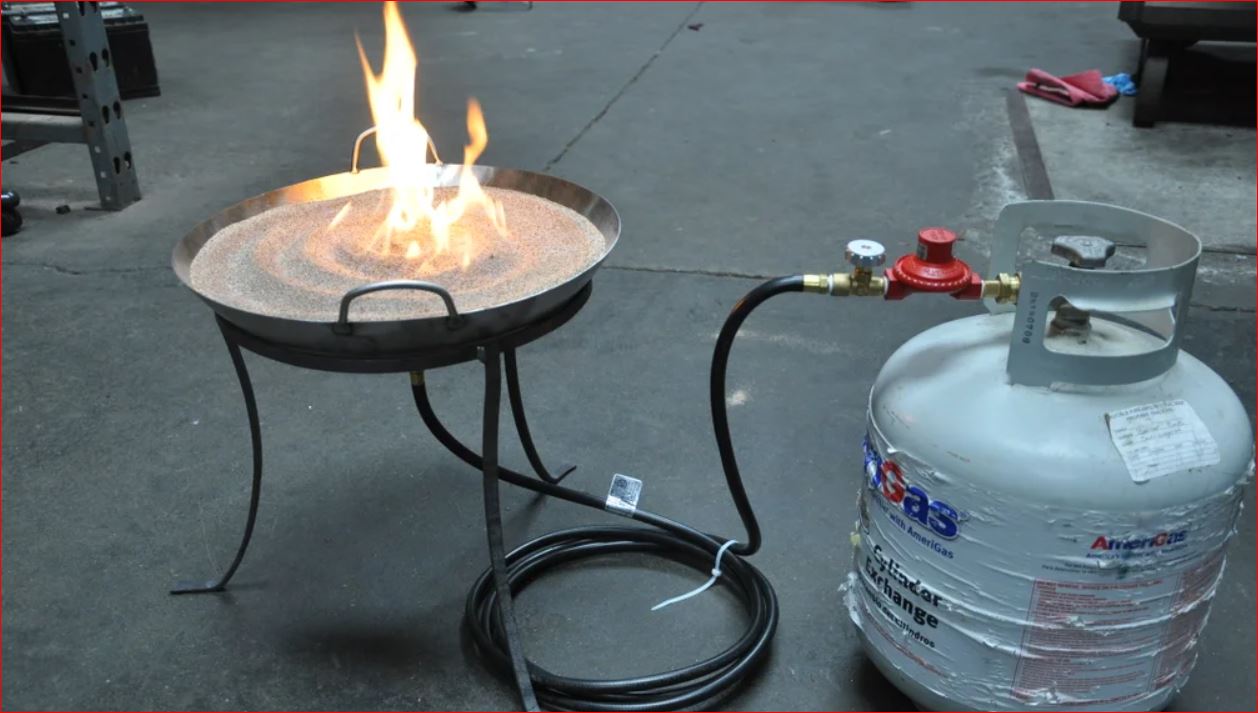 23- Propane Fire Table
This attractive large DIY propane fire table by moderustic is a must-have for a large backyard. The table top is made from cedar wood so it's both attractive and durable. There is plenty of surface space on the table top and the fire pit is large. The entire fire table is on wheels so it's easy to move around.
There's a drink shelf that goes around one half of the table so you will have a good place to set your drink while enjoying the fire.
These free building plans will take you through the building process step by step so you can confidently build a large fire table like this one.
If you enjoy entertaining family and friends outdoors, then this fire table will help you do it in style. Have the get togethers year-round with this DIY fire pit to keep you warm and light up the night.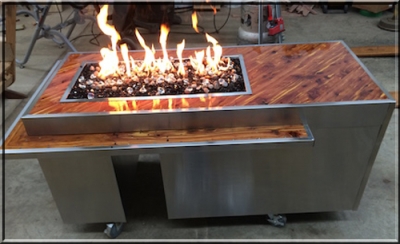 Conclusion
A propane fire pit can make your outdoor space more appealing, also you can use it for recreation, to heat water to have a cup of tea, coffee, warm and light in the winter nights. These diy propane fire pits provide you a vast option to consider when building your own fire pit. Hope this article has helped you a lot!