A quick way to update your home is to give your brick fireplace a makeover. A dark, out-dated fireplace can be changed into a bright and inviting space with just a coat of paint. If you have an old brick fireplace that is begging for an update, look over these 12 fireplace makeover ideas and you just may find the idea that is perfect for your hearth and home. You may also like to see diy firepit , diy fireplace mental and surrounds and outdoor fireplace plans
Painting A Brick Fireplace 
One weekend and one gallon of paint can transform dark brick into bright brick that will lighten up the feel of any room. Painting a brick fireplace in a light paint color gives the room a modern, updated look without having to change anything else in the room.


Fireplace With Built-In Bookshelves
Give your home more storage space with this brick fireplace makeover idea. Follow these instructions to create bookshelves and cabinetry on both sides of the fireplace so it will become the focal point of the room.


Update Fireplace With Budget Friendly Airstone
This fireplace refacing idea transform the brick into stone, at least it will look like stone. Airstone is a budget friendly product that is applied to most any surface to give it a faux stone look. If you can ice a cake, you can apply Airstone.

Wood Shingle Brick Fireplace Makeover
Shingles are not just for roofs, they can also be used to update a fireplace. Use this idea for a floor to ceiling transformation and add warmth to your living room.


Craftsman Style Fireplace
If you love the Craftsman style of homes and furnishings, then this brick fireplace makeover idea is for you. Simple, sleek and modern, this classic remodel idea provides a place to mount a flat screen television too.

Black and White Brick Fireplace Makeover
Modern, bright and dark blends itself well to decorating for all seasons. This easy black and white brick fireplace makeover can done for under a hundred dollars.


Updating Brick Fireplace With Wood
If you're tired of brick and don't want stone, use this step-by-step brick fireplace makeover idea and reface your brick fireplace with wood. This simple design is easy to create and is budget friendly.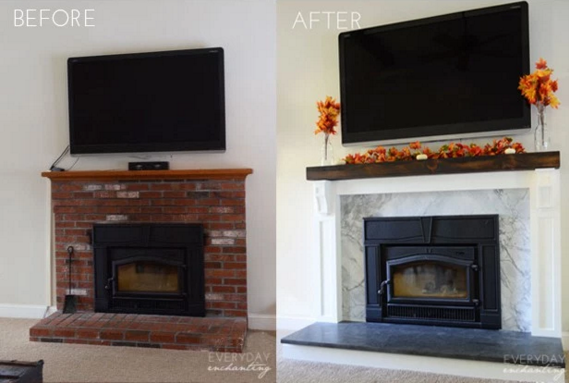 Marble and Tile Update
The clean lines of the marble and tile brick fireplace update will bring the look of an old home into the modern era. Easy to install, the light colored marble and tile instantly brightens the room and will go with any type of home furnishings.

Chalk Board Fakery
Here's an inexpensive and chic way to create your own fireplace and hearth design. Start with chalkboard paint and paint over all areas of the fireplace you don't like. Then use a chalk pen to create the design pattern you want. The finished results looks real and only you will know it's painted fakery.


How To Paint Brick
Here is a step-by-step tutorial that will teach you how to paint brick so you can undertake the DIY task with confidence. Easy to follow video will enable you to update your old brick fireplace in one day.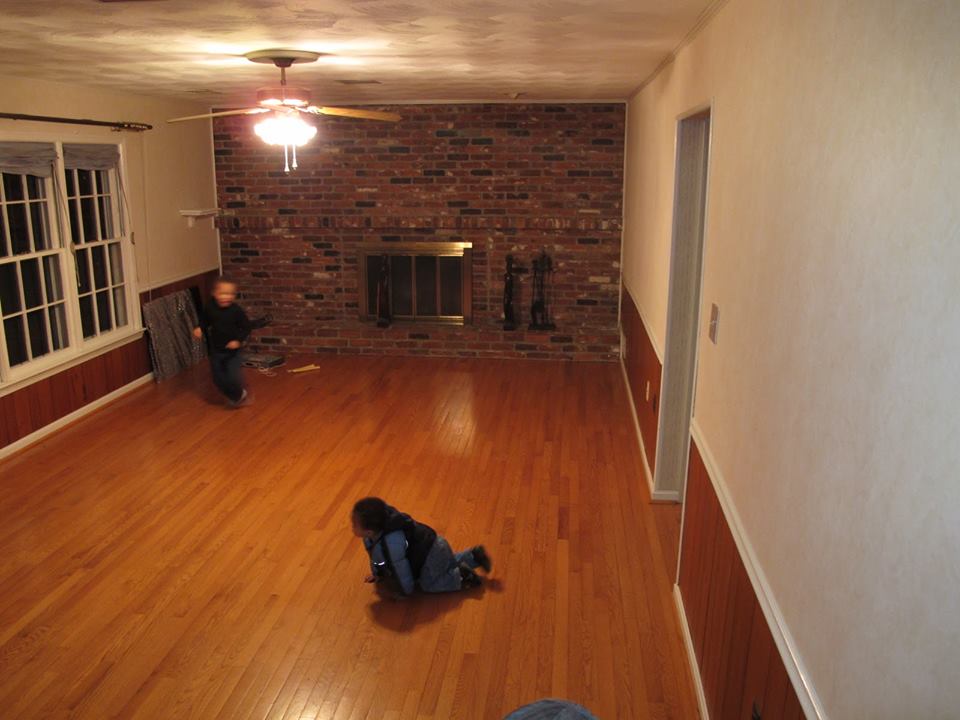 How to Video
This short video, combined with pictorial instructions, will have you painting your old brick fireplace like a pro and update a room in just one afternoon.


Rustic Tile Fireplace Makeover
Use this idea to transform a bland fireplace into the WOW factor of the room. Easy to install rustic tile comes in many colors and provides textured color to the room and can update an old fireplace in just one day.