With a little imagination and creative mind you can make diy headboard in different styles and even using different salvaged  material to make your bedroom look alluring. A beautiful headboard could enhance the appearance of your bed. This is why we look as some diy headboard ideas to help you have a nice looking bedroom. Also check out diy pallet bed and bed frame plans.
DIY or Homemade Headboard Ideas
1-DIY Upholstered headboard made of squares
This fabric diy headboard is made out of upholstered squares. The squares are glued to the board before it is attached to the wall. Britex home decor fabric makes the outer layer.

2-Create Your DIY Headboard From An Old Picket Fence
You need to pick up a few pieces from your old picket fence, clean them and fit them into a frame to make this diy wood headboard. There is not much expense but you need a few tools to create this.

3-Nail head trimmed DIY upholstered headboard
The basic materials you need for this diy upholstered headboard are the plywood and fabrics. However, you need to have some skills on sawing as well as carpentry. Once finished, it will have an elegant look.

4-A large Diy Fabric Headboard Ideas
If you want to know how to make a headboard like this, simply buy the fabric of your choice first. The next is to measure the size of the headboard and divide it into squares. Finally, you finish the squares and attach them to a board. Your cool fabric headboard is ready to enhance your bedroom appearance.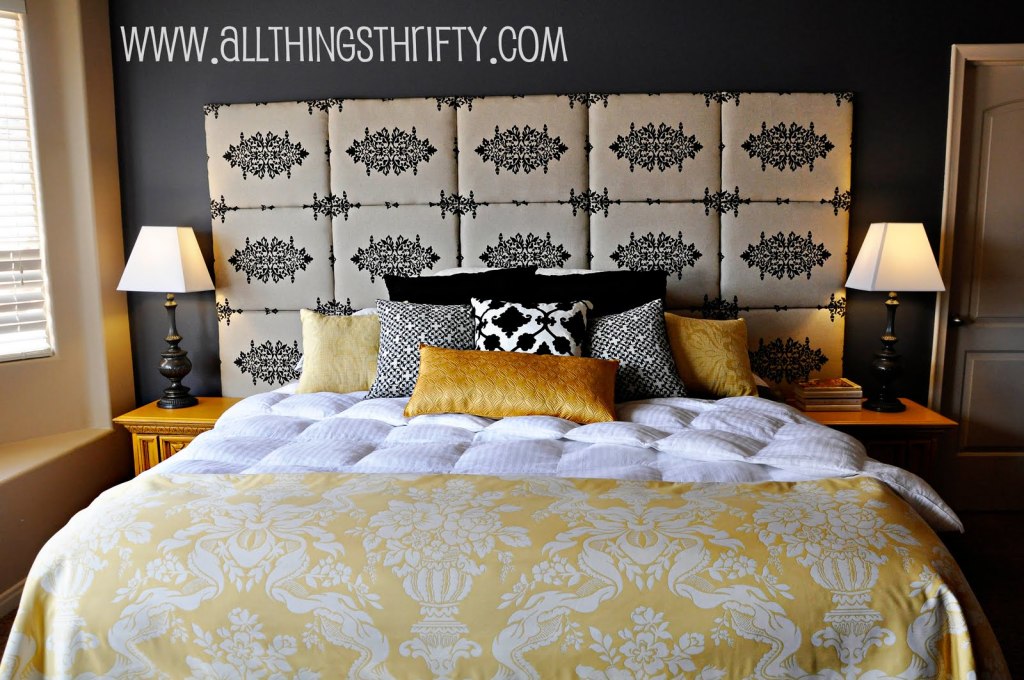 5-Upholstered DIY Headboard Ideas
In order to make diy upholstered headboard you must buy a piece of plywood of the precise size. Also, you need a MDF board. Then it is a case of adding the upholstery and securing it with nail trims.

6-DIY Headboard Of Vintage Style
In order to make this headboard you need to draw your design on cardboard and trace it on the wall. Afterwards cut the insulation board and batting overlay to staple them together. Finally, add the fabric to complete this fabric diy headboard.

7- DIY Headboard Made Out Of Old Shutters
In order to make this beautiful diy wood headboard you only need some old shutters. It is a case of making a frame and fitting the shutters into it.

8-Upholstered high-back DIY headboard Ideas
You can get the particle board you need for this diy headboard project cut to the right size in the store. Using glue, you can attach the foam on to the board. Then it is a case of stapling the fabric to the board before installing the headboard.

9-Old five panel door converted into a DIY headboard
After removing the old hardware, you need to clean the door before the other additions are attached. Though there are many steps to follow it is easy to create this diy headboard.

10-DIY Headboard Made Out Of Picture Frames
This one has picture frames attached to it in order to create the beautiful look. This is one of the simplest homemade headboards.

11- DIY Headboard Made From Books
This beautiful but cheap diy headboard is made up of books. You can find these books in a thrifty store and you can put them together easily in a day.

12-Bed Tipi DIY Headboard Ideas
You can buy this in the store and you will not have any difficulty in getting your kids into bed when you have one of these in their room. Tutorial at Babyology.com

13- DIY LED Lit Floating Headboard
This simple diy headboard with LED backlighting is made out of old board left over from a previous project.

14- DIY Headboard Idea
This is yet another diy project where the frame is made out of wood and foam and fabric is used to finish.

15- Chain Link DIY Headboard Idea
In order to make one of the easiest to make diy headboards you need some chain link fencing. This is easy to make and attractive in your bed room.

16-DIY Headboard Idea With A Simple Frame
A simple frame made out of wood is the starting point for this diy headboard. It is finished with beautiful printed fabric.

17- Making a DIY Tufted Headboard
You need materials such as plywood, foam and fabric to make this and you can use any kind of buttons. Doing it is easy and you only need to use your innovation. Details at Skinnymag.com

18-Homemade headboard that incorporates lights
This homemade headboard was decorated with lights that were lying in the home without being used. It adds colour to the bedroom.

19-Curtain DIY Headboard Ideas
This diy bed headboard is made out of curtains. A curtain rod keeps it in place.

20-LED Lit Headboard Idea
This headboard is lit with LED lights and looks romantic. It is easy to make too.

21- DIY Headboard With An Artwork
It is always nice to have a decorative headboard that has quality artwork on it. It is really a hanging painting.