Have you ever wondered what is it that makes candlelight so attractive to majority of people? Well, candlelight serves amazingly well in adding warmth and intimacy to the ambiance of any place. That is why candles and candle holders play such a significant role in interior decor purposes. So, we are here with "DIY Candle Holders – 20 Unique Ideas for Crafters", a roundup of 20 unique homemade candle holders to make sure that you get some real inspiration for beautifying your home. Also check out fun ideas to make your own candles.
1-  DIY Tealight Wood Candle Holder 
This Wood DIY Candle Holder shares the idea of using a split log for a better purpose than burning it in fireplace. It can be placed on any plain surface, carrying about 5 tealights to exude warmth and glow in a room, definitely a conversation starter in whichever room you place it in.

2-  Crochet Votive DIY Candle Holder 
Another way of resorting to the warmth and character of candlelight to decorate your home interior is none other than this Crochet Votive diy Candle Holder. Tealights are recommended to be used with this because they produce very little heat while they burn

3-  Festive Little Luminaries DIY Candle Holder
These Little Luminaries can be one of the best candle holder ideas because they are not only easy to make, but also have the potential to stay with you for considerable time period.

4-  Apple Votive DIY Candles Holder
Talking of homemade candle holders, there is no way you didn't see how wonderful these Apple Votive Candles could be. The best part is that these are super easy to make.

5-  DIY Laced Cement Votive
This  Cement Votive is a must-have for all those who are in love with unique candle holders.

6-  Lumiere DIY Candle Holders 
These Lumiere DIY Candles serve as great centerpieces, all-organic glowing fun that can set alive any ambiance.

7-  Autumn Leaf, Mason Jar DIY Candle Holder
If you are not feeling ready to invest much in sprucing up the ambiance of any of your rooms, this Autumn Leaf, Mason Jar Candle Holder will be your true savior. You will be amazed at how dramatically it enhances the whole environment of the room.

8-  DIY Advent Stake in Concrete   
If  Tealight Candle Holder Idea sounded wonderful to you, this diy Concrete votive idea will simply blow your mind away, just as this rustic candle holder would amaze your guests.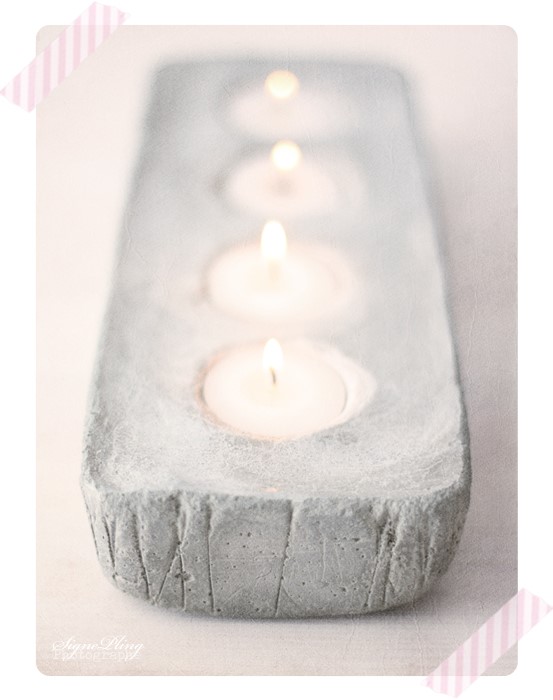 9-   Cut-paper
DIY
Candle Holder 
This diy Candle Holder idea will help you get the best out of your any ordinary glass candle holders, adorable centerpieces that everybody in the room would love to talk about.

10-  Orange Peel DIY Candle Holder
These extremely simple but super amazing Orange Candles will surely leave your guests gasping and inquiring about how did you do so.

11-  Buttoned DIY Candle Holders 
One of the simplest but undeniably beautiful homemade candle holder ideas is none other than this Buttoned Candle Holders.

12-  Sea Glass DIY Candle Holder
Lo and behold – your guests are about to kiss your hands out of amazement with this one of a kind Sea Glass  Candle Holder adorning your living room with its uniqueness and simplicity.

13-  Tuna Cans DIY Candle Holders
Stop worrying about disposing those empty tuna cans, because you can turn them into something most adorable and prolific, just like these Tuna Cans diy Candle Holders.

14-  Cement DIY Candle Holder  
This diy Candle Holder gives you another option to have a great looking rustic candle holder, an instant head turner in any room.

15-  Mercury Glass DIY Candle Holders
Turn any of your ordinary glass candle holders into stunning pieces of art, just like these Mercury Glass DIY Candle Holders.

16-  Homemade Heart Lanterns
These Heart Lanterns will work superbly as homemade candle holders to supplement any of your family or friends' gatherings.

17- Glittering Glass DIY Candle Holder
Sprinkle around some glitter and glow with this Glittering Glass Candle Holder and turn the party on to a whole new level with this simple and easy DIY job.

18-  Stained Glass Votive DIY Candle Holders
You can add color, glow and fun to any room of your home with these wonderful Stained Glass Votive.

19-  Copper DIY Candle Holders
Add some rustic elegance to your home with few of these Copper DIY Candle Holders. These are simple to make, but leave a lasting impact on decor of any room.

20-  Doilie DIY Candle Holders
You won't believe how these little DIY Candle Holders can add to the aesthetic elegance of your home decor, simple but unbelievably attractive.

 These are some great homemade candle holder ideas and you are totally free to share with us some of your amazing ideas to beautify your home with the glow and warmth of candles.