A DIY folding table will allow you to have the best of both worlds – floor space and table surface space. Sometimes a little extra surface space is needed, other times the need may be for extra floor space. A DIY folding table gives you what you need at an affordable price. The table can be created in any design that will compliment the other home furnishings and a cheap folding table can be built for use indoors or outdoors. Check out these 27 practical folding table plans we have found for you to find the style that's right for you.
Our Related Articles: diy outdoor tables, diy sofa tables, picnic table plans, diy farmhouse tables, unique coffee tables and homemade coffee tables.
1- Skinny Style
The first one we have is a DIY folding table it's thinner than a book and almost fits flush against the wall when not in use. Perfect DIY design for narrow hallways or other areas where floor space is at a premium. Tutorial: popularmechanics

2- Folding Farmhouse Table
Ideal for those times when dinner guests exceed dining table space or when you want to take the meal outdoors. Folding legs tuck neatly under the folding dining table for easy storage. You may also like to see farmhouse dining table.
Tutorial: manmadediy

3. Wall-Mounted Fold-Down Table
If you're looking for another plan such as we saw in former plans for a smaller space, or if you just want a DIY folding table that stands out, consider a wall-mounted fold-down table. The plans show you how to create a sturdy table that's going to stay attached to the wall until you take it down. It's big enough to seat two people comfortably, and you can fold it down when you're not using it to make your space feel bigger.
4- Mirror Folding Table
This innovative design creates a mirror and a wall folding table that is perfect for a tiny apartment. Fold down to use as a table, fold up for a wall-mounted mirror. Tutorial: handimania

5- Light Folding Table
Create a DIY folding table that is lighted with these building plans. Perfect for tracing and transfer images from one paper to another.
Tutorial:

6- Kid-Size DIY Folding Table
These plans for a wall folding table will enable you to build a kid-size table that will fold flush against the wall to maximize floor space when needed. Tutorial: realmoms

7- Saw-Horse Style Folding Table
Use these plans to create a table that has saw-horse style legs that will allow the table to be folded and moved from room to room as needed.
Tutorial: lowes

8- Hidden Shelves
  Store table settings, glassware and utensils in the shelving that is hidden behind the wall mounted folding table. This attractive wooden folding table design maximizes floor and wall space which is why we love it.
Tutorial: apartmenttherapy

9- Umbrella Style DIY Folding Table
Great for outdoor use and easy storage. Build a DIY folding table on an umbrella pole that will fold down just like the umbrella. Portable shade and table for those times when you just have to take the party outside in the sun. You may also like to see diy outdoor tables.
Tutorial: instructables

10- Mini DIY Folding Table
These folding table plans will guide you thorough the DIY build with ease so you can create a useful DIY table for a small indoor space.
Tutorial: bhg

11- Folding LEGO Table
A must-have for the LEGO enthusiast in your family. Easy DIY build that has base plates attached to the table top surface for LEGO building and yet is lightweight for easy portability.
Tutorial: littlebinsforlittlehands

12- Folding Photography Table
Perfect design for those who enjoy taking still-life photographs. Easy fold, portable design allows the table to be quickly folded and stored out of the way or folded and taken along on a photo shoot.
Tutorial: diyphotography

13- Folding Toy Storage Table
Keep all those small cars and blocks that kids enjoy playing with up off the floor and in their own little storage unit with this wall-mounted, folding table design. Storage and play area combined into one unit that will maximize floor space in your child's room.
Tutorial: theownerbuildernetwork

14- Folding Picnic Table
These DIY building plans show you how to build a folding picnic table that transforms into a comfortable bench. Outdoor seating and eating combined into one space-saving furniture piece.
You may also like to see collection of 39 free picnic table plans.
Tutorial: buildeazy

15- Portable Picnic Table
Built on a tripod legs, this folding picnic table is portable so you can take the picnic to the mountains, beach, park or in your own backyard.
Tutorial: instructables

16- Grill Master Folding Table
Perfect wall-mounted storage table for use in the outdoor grill area. Store grilling utensils at your fingertips with this easy to build design. This DIY folding table design would be great as an outdoor garden table or pet grooming station.
Tutorial: goodshomedesign

17- Cedar Folding Table
A cedar folding table is a small but great table for relaxing with a cold drink, or you can use it as a small coffee table in your living room. The wood gives it a natural, attractive look, which works with almost any home design. Cedar is also strong enough to withstand daily use, so you don't have to worry about replacing the table anytime soon. Of course, it's not difficult to build a cedar foldable table, if you decide to build more than one for your space.
Tutorial: instructables

18- Folding Farm Table
If you're looking for an addition to your farmhouse interior, consider a DIY folding table. It's spacious enough to seat the whole family, as togetherness is a huge part of a farmhouse-inspired home. Distressed wood is perfect for a folding farm table, and the wood itself creates the warm vibe every farmhouse design needs. When you need more space in your kitchen or dining area, simply fold up your table and place it elsewhere.
Tutorial: hgtv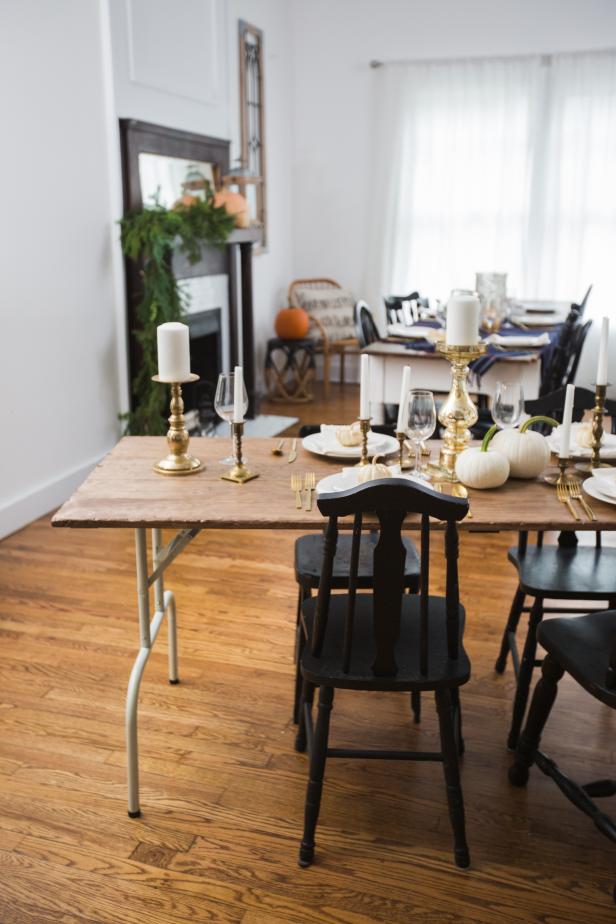 19- Fold-Up Grill Table
When you're ready to get the grill going, you need a place to prepare your food. Luckily, this set of folding table plans show you how to build a fold-up grill table from cedar boards. You have enough space for your food and condiments, so you don't have to take up space on your outdoor table. When you're finished cooking and cleaning up, simply fold up your table and place it in your shed or garage.
Tutorial: familyhandyman

20- Upgraded DIY Folding Table
You don't always have to learn how to build a folding table from scratch. You may already own a folding table that could use a little work. Start by disassembling your table and spray painting the frame.
While your frame is drying, use a table cloth or flannel backed vinyl material to resurface the tabletop. You can leave the original surface on the table, but be sure to trim the edge of the table cloth or vinyl, so you can assemble the table with ease. When you're finished, you're going to have a stylish folding table for your home. Tutorial: fabulesslyfrugal

21- Party DIY Folding Table
It's always fun to throw a party with your friends, and you can use wood and EMT galvanized conduit to build a party folding table. This is perfect for creating more space for your appetizers, snacks and dips at your event, such as a birthday, holiday or football viewing party. You can even personalize your DIY folding table with a team logo, last name or fun graphic.
Tutorial: homemadebycarmona

22- Repurposed Card Table
A repurposed card table makes the perfect DIY folding table. All you need to do is touch it up a bit. You're going to resurface the table with a PVC fabric in your preferred design, such as a solid color or floral print.
The fabric is going to be attached to your tabletop, just like in the "Upgraded Folding Table" plans. You also want to spray paint the frame, preferably in a color that matches your fabric. It adds a bit of style while making your table more usable for everyone.
Tutorial: addisonmeadowslane

23- Reclaimed Wood Folding Table
A reclaimed wood folding table is a stylish piece for your home, especially if you love a rustic, farmhouse or coastal design. You're going to use distressed white wood for this project, which is perfect for several styles or an all-white interior. Of course, you're also spray painting the frame and legs in white to match the tabletop.
There's something warm but elegant about a white table, and the distressed surface gives it a natural, vintage feel. When you're not using your table, you can fold it up to create a little more space.
Tutorial: sugarandcloth

24- Workbench DIY Folding Table
If you need a place to work on projects, consider a workbench folding table. With these foldable table plans, you're building a workbench from scratch. You can use it for your gardening tools in your backyard, or you can place it in your garage for your power tools. If you want to protect your workbench from the weather or make additional space, all you need to do is fold it up and place it inside your garage.
Tutorial: remodelaholic

25- DIY Folding Coffee Table
A coffee table is almost like an essential in your living room, but sometimes you need more floor space for a project or gathering. This is why a folding coffee table comes in handy. Use this foldable table as a standard coffee table, and fold it up to place against the wall or in a closet when you need more space. You can even paint the surface and wooden legs in a color that matches your interior, which is better than trying to find a matching coffee table in stores.
Tutorial: instructables

26- DIY Foldable Table
If you're wondering how to build a folding table for a small dining room, these may be the plans for you. You're building a table that's spacious enough to seat several people, but not big enough to block your walkway. When you need to create more space, fold it up to place on the side. You can use a piece of an old table as the surface, or you can build the entire table from scratch. Use paint or stain to add a little style to your table.
Tutorial: designsbystudioc

27- Van DIY Folding Table
The idea of turning a huge van, such as a mail truck, into a tiny home is exciting. Of course, you need a table that's practical and functional, and it shouldn't take up a lot of space. The answer is a DIY folding table that's mounted to the wall. You can use the table for eating and working, so you don't have to worry about investing in two tables. When folded down flat, it's several inches off the floor to provide room for your shoes or other accessories.
Tutorial: we-who-roam

Conclusion
When you're looking for a new table for your home, backyard or garage, building a DIY folding table is a great project. These folding table plans provide you multiple options to consider when building your own folding table. Hope you like our round up of above diy folding tables.