A DIY outdoor table is a great addition to your patio or backyard. Building the table is not only a great outdoor project, but you can customize your DIY patio table to meet your needs. You can designate your table to entertaining guests, or you can use it when you want to get a little fresh air.
There are different methods for building a DIY outdoor table, from using wood pallets to adding a built-in cooler. You're sure to find a set of plans that catch your eye. Use the following plans we have found for you to build an outdoor dining table that's perfect for your space.
Related: diy folding table, diy sofa tables, picnic table plans, diy farmhouse tables, unique coffee tables and homemade coffee tables.
1. DIY Outdoor Dining Table
Can you imagine an evening of dining outside in the nice weather? With these plans, you can build a DIY dining table that fits on your porch. The table is large enough to sit four to six people comfortably. You can even add a cross-X pattern or granite to the tabletop to give it a unique look.
Finish it off with wooden dining chairs, which you can adorn with cushions for style and comfort. While these plans are for repurposing an old dining table, you do have the option of building your table from scratch. Tutorial: cravingsomecreativity

2. Farmhouse-Style Picnic Table
If you're looking for a DIY outdoor table with a country vibe to it, we suggest you consider a farmhouse-style picnic table like this. You're going to build this picnic table from scratch using lumber, screws and several tools, and it's going to include two benches and the table itself.
It's recommended to finish the job with General Finish's Outdoor Oil, as this oil enhances the beauty of the wood, and it holds up well outside. There's enough room to seat several people at your table, plus it adds a touch of coziness to your country-style exterior. In addition, every mealtime feels like a picnic in your own backyard. Tutorial: justagirlandherblog

3. Frugal DIY Outdoor Table
Are you looking for a frugal option for your outdoor furniture? We suggest you look no further than this frugal diy outdoor table, which you can build for less than $60. In fact, these plans show you how to build your table using 17 2×4 boards.
Like other plans we are sharing with you, this table is big enough to seat four to six people, and you can use cushioned dining or patio chairs to add comfort to your space. When you're finished with your project, you'll have built a beautiful farmhouse table without spending a lot of money. Tutorial: thefrugalhomemaker

4. Herringbone Top
Here we have a high-end design table with a low-end price tag. These DIY patio table plans will show you how to easily build an attractive wooden outdoor table that has 'X' brace legs and a herringbone top design. You may also like to see farmhouse dining table. Tutorial: cherishedbliss

5. Simple Elegance
This elegant-looking outdoor dining table is very simple to build if you follow these step-by-step plans. Easy to adjust size so you can build this table to fit your outdoor space. Tutorial: ana-white

6. Matching Benches
Use these DIY outdoor table plans to build a table with matching benches. The benches add extra seating even if the table is not being used, and the benches fit under the table when not in use to free up floor space. Tutorial: findingsilverpennies

7. Shanty Chic
Here are free video plans to build a shanty chic outdoor table to compliment any outdoor space. Solid construction is easy to build. Stain wood or paint is to suit your personal chic taste. Tutorial: shanty-2-chic

8. Concrete and Cedar Table
This patio table plans will show you how to build a permanent outdoor table that has cedar legs and a concrete top. Durable, stable, inexpensive and easy to build, this outdoor table will last for years and provides a solid surface for food preparation.
Tutorial: bhg

9. Built-in Cooler
Use these free DIY plans to build a wood outdoor table that has a built-in cooler. Great for times when you just want to sit around the table with friends and enjoy a cold beverage. No lugging out the cooler or having to trot in and out of the house for cold beverages, the built-in cooler will keep the drinks right at your fingertips. Tutorial: blackanddecker

10. Recycled Patio Table
Use these free plans to discover how to recycle old pieces of furniture into a new outdoor patio table. Create a unique outdoor table for almost free with this idea. Tutorial: instructables

11. Planter Ice Box
Use these plans and a couple of oblong flower planters to create an attractive outdoor patio table with a built in ice box. If you don't want to use the planters as a place to cool beverages, use them for their original purpose and plant flowers in the center of the table.
Tutorial: remodelaholic

12. Under $50 DIY Outdoor Table
Cheap, attractive and durable. Use these plans to build an outdoor dining table for under $50. Wood construction that can be stained or painted and used with or without an umbrella. Tutorial: curbly

13. Outdoor Table with Chairs
This video tutorial will walk you through building an outdoor table with matching chairs and a bench. This design looks like it came off the showroom floor of your local patio furniture shop, no one will believe you built it yourself!
Tutorial: ana-white

14. Octagon Table
Free octagon table plans will enable you to build this attractive outdoor table with attached benches. Durable construction that will last for years without breaking the budget. Tutorial: bobsplans

15. Modern Design
These patio table plans have a modern design featuring clean lines and durable construction. This is one of our most favorite DIY outdoor table design. These plans will show you how to build this large outdoor patio table that will seat 8. The modern design will fit in perfectly with new home construction.
Tutorial: decorandthedog

16. Composite Deck Table
You can build a composite table for your deck using the leftover materials from building the deck itself. This way, you're able to build your new table without breaking the bank. The best part is your table is going to match your deck, which creates a stylish exterior that stands out from the crowd.
If you'd prefer to not have them match, you can use an exterior stain with special polyurethane, or an ordinary outdoor stain, to give your table a slightly different shade than the rest of your deck. Tutorial: thediynuts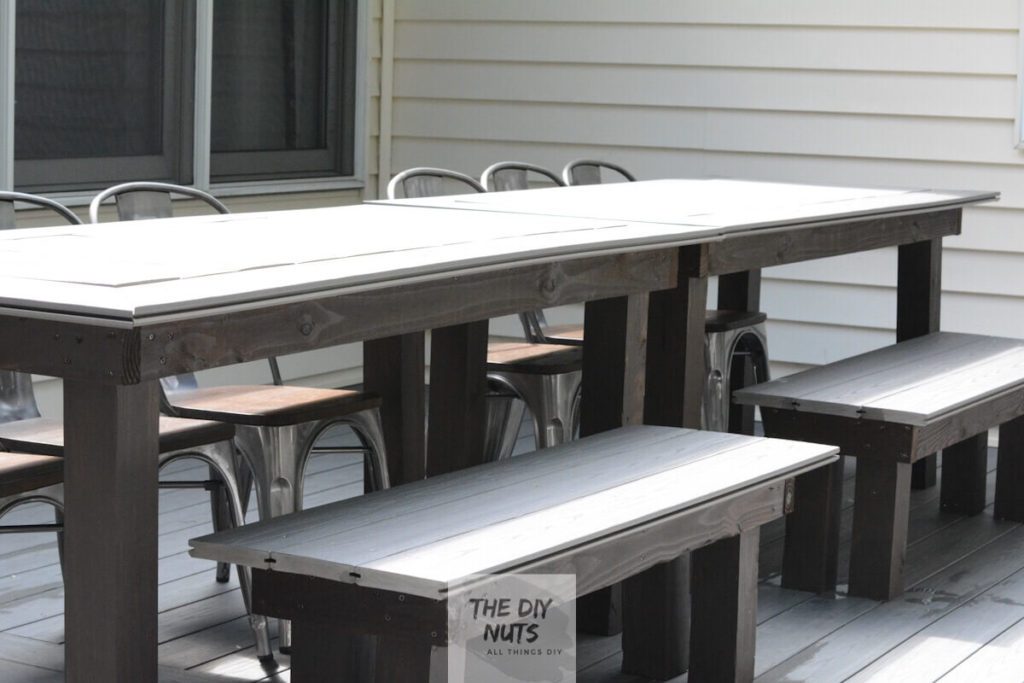 17. Outdoor End Table
When building a DIY outdoor table, you don't have to stick with dining table plans. You can also learn how to build an outdoor end table to complement your patio furniture. Just like with the frugal table, you're building this table with several 2×4 boards, but the exact number of boards is going to depend on the size of your table.
Place your end table next to your patio chair or couch for a place to set your beverage or snack as you spend time outdoors. You can use stain for a wood-toned table, or you can paint it to add a splash of color to your outdoor lounge.
Tutorial: girljustdiy

18. DIY Outdoor Table With Cooler
Whether you're relaxing or entertaining guests, a DIY table with a built-in cooler is going to come in handy. The table itself features a round hole for your cooler bucket, and you're going to fill the bucket with ice before placing it in your table. Fill the bucket with wine coolers or champagne for an elegant dinner party, or fill it with soft drinks for a casual gathering. For seating, you can use chairs, benches or a mixture of the two, as this depends on your preference. Tutorial: bunnings

19. Multifunction DIY Coffee Table
If you're planning to build a coffee table for your patio, you can never go wrong with a multifunction coffee table. It's going to feature several compartments for everything from snacks to board games.
Can you imagine hosting a party and pulling your essentials out of your coffee table? It also makes setting up and cleaning up a breeze because you don't have to carry everything to and from your house. There's a lot of work that goes into this coffee table, but look at the amazing table you're left with once you're finished. Tutorial: instructables

20. Modern Outdoor Patio Table
With these plans, you're going to build a modern DIY patio table with pressure treated boards. Of course, you're also going to stain the table in your preferred shade. The stained wood is perfect for your modern rustic, or even a modern farmhouse, exterior. You can use chairs or benches for your seating, or just like the table with a cooler, you can mix them up. While you're building your modern outdoor patio table from scratch, the instructions are detailed and easy to follow. Tutorial: ana-white

21. Wood Pallet Dining Table
Use these plans to build a dining table with wood pallets, which gives you an easy, budget-friendly project for your patio or backyard. You can purchase the materials you need from your local hardware or home improvement store, or you may already have the materials from another project. You're also going to stain your wood to add a little style while protecting it.
The table in this set of plans is large enough to seat eight to ten people, but you can adjust the length as needed. One idea is to add colorful chairs to your wooden dining table to make a fun statement. Tutorial: awortheyread

22. DIY Outdoor Farm Table
These plans show you how to build an attractive, sturdy DIY outdoor table with a farmhouse vibe. While this table may not be as long as previous plans, you can still seat four guests comfortably, or you can adjust the plans to build a longer table.
As for style, you can keep your outdoor farm table a dark shade with black patio chairs, or you can go with a lighter shade with white patio chairs. Regardless of which scheme you choose, this table gives your space a modern farmhouse look. For maximum comfort, you can add a cushion or pillow to each chair. Tutorial: unexpectedelegance

23. DIY Large Dining Table
If you're planning an outdoor dinner party, you may need these plans for a large DIY dining table. This table is designed to seat 10 to 12 people, which is great for birthday parties, anniversary parties and backyard wedding receptions.
You can use a long bench on either side for a casual gathering, or you can give everyone their own space with patio chairs. A dark walnut wood stain is the cherry on top, as it creates a gorgeous piece that's fitting of any event. The instructions feature everything you need from the materials to the cut list. By pinspiredtodiy

24. DIY Patio Table And Chair Set
You're not just building an outdoor table with these plans. You're building a DIY patio furniture set. The pieces are built with 2×4 boards to create a project that's not only budget-friendly, but it's also built with durable materials to last for years. In fact, your furniture is going to have a heavier weight to them, allowing them to withstand storms and strong winds. If you follow the instructions, you can build a set of four patio chairs and a table for less than $100. Tutorial: oldworldgardenfarms

25. DIY Patio Table
Build a DIY patio table that can seat up to eight people. There's enough space for three standard chairs across the length of each side, with a bigger chair at each end. It's comfortable, stylish and fitting of any occasion. If you want to add a little style to your table, you have the option to paint or stain it, but it's all a matter of personal preference. You're building the entire table from scratch, but imagine showing off your handmade patio table to all your guests. Tutorial: yellowbrickhome

26. Five DIY Outdoor Tables
Use these plans to learn how to build five outdoor tables for your space. You can use wood to build a pedestal picnic table, while a polished concrete table or elegant dining table use both wood and concrete. If you're steering away from wood-based projects, you may enjoy building a tile top or faux marble table. Once you find a table that catches your interest, you can click on the appropriate link for the materials and instructions. Tutorial: familyhandyman

27. DIY Outdoor Art Table
You've found DIY outdoor table plans for building dining, coffee and end tables, but how would you like to build an outdoor art table? When you stack four wood pallets, you're building a table that's just the right height for your children. You can stack additional wood pallets, or remove pallets, to adjust the height. The result? A fun place to work on arts and crafts in the backyard, and you don't have to worry about making a mess inside the house. Tutorial: happinessishereblog

Conclusion
With such a wide selection of DIY outdoor table plans we have shared with you, finding a set of plans that work for you is going to be a breeze.