An outdoor deck not only adds beauty to your home and extends your living space, it also adds resale value. Outdoor decking can be a small or large area and the decking design can be simple or elaborate, just as long as it suits your taste and provides the additional outdoor space needed for entertaining, relaxing and/or gardening.
If you are considering adding a deck to your home, check out these 22 deck design ideas that will add fabulous outdoor living area and increase home value.
You may also like to check out: diy decks, floating deck plans and diy deck railing.
1- Hot Tub Deck
Relax in style with this deck that offers a hot tub, garden boxes, bench seating and counter k-stop space.

2- Rooftop Deck
This is a prize winner for small deck designs. A small area can be transformed into a cozy outdoor living space complete with seating, fireplace, eating and sleeping areas.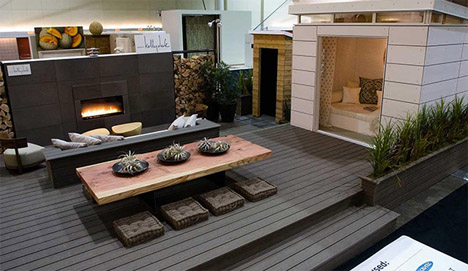 3- Deck With a View
If you have a view of the surrounding area from your home, this is one of the outdoor deck ideas that will provide living space while enhancing your scenic views.

4- Garden Decking Designs
Have a garden and deck too with this fabulous design.

5- Floral Seating
A long row of bench seating is backed by built-in planters that provide space for growing colorful flowers and give the feeling of sitting in nature while on the safety of your own backyard deck.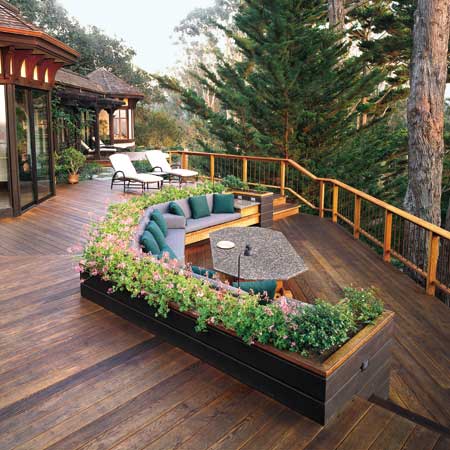 6- Garage Deck Idea
A deck, garage and enclosed storage space can all come from this unique design.

7- Organic Shape
If you prefer round shape and soft edges, then this outdoor deck design idea is a must-see. Organic shape provides space for seating, eating and warming by the fire pit.

8- Covered Deck Design Idea
Be protected from the elements and enjoy this comfortable covered deck year around.

9- Do it All
Cook, eat, sit, relax, watch the kids and enjoy the view from this two tiered large deck.

10- Pool Side
Relax by the pool with this two-level deck design idea.

11- Wood Layers
Wood upon wood, layer upon layer creates this organic shaped, multi-space deck that provides an elegant outdoor living space.

12- Pool Party
Throw a pool party in style with this large deck that gets your guest up above the pool action, yet keeps them close enough to participate.

13- Simple Deck Designs
Straight, clean lines and multi-levels creates an outdoor living space that is simple, functional and attractive.

14- Small and Bright
Lighting and a small fire pit makes this small deck a big success.

15- Simply Beautiful
This simple deck design extends the outdoor living space with just a few wooden boards and white gravel.

16- Small Backyard Deck
Extend the living area and trick the eye into thinking there's really more outdoor space with this unique corner design. Perfect for city dwellers with an enclosed backyard.

17- Covered Deck
This deck design moves the indoors outside while providing overhead shelter and two enclosed sides. The overhead beam also provides stable strength for suspending seating.

18- Kitchen Deck Idea
If you want to take the cooking outdoors with you, consider this outdoor kitchen deck that provides separate spaces for relaxing, eating and cooking.

19- Built-Ins
Day and nigh-time outdoor living can be enjoyed with this backyard deck filled with built-ins. Soak in the covered hot tub, eat at the built-in table and sit or lie down on the built-in bench seating while enjoying the built-in center fire pit. By incorporating built-ins into the design, the expense of buying furniture is eliminates and so is the need storage space for traditional deck furnishing during winter months.

20- Modern and Private
A built-in wood wall on one side of this deck design defines the space while providing privacy from neighbors. Sleek, modern style with reflect wall inserts and fire pit makes a relaxing outdoor space that can be used day or night.

21- Enclosed Deck Idea
Keep out the elements and bugs while enjoying the scenery with this enclosed deck design idea that also feature a full size fireplace. This elegant deck style is reminiscent of an old-style back porch.

22- Privacy Wall
Block the unwanted views by adding a privacy wall to one end of your deck with this design idea. The privacy wall blends with the design and adds an architectural element to the outdoor living space.