Adirondack chair plans are practical and comfortable to build for anyone . An Adirondack chair is a classic American favorite place to sit, they are the perfect chair to make your outdoor time enjoyable.
Most Adirondacks chairs are single; however, a two-seater chair is all the more special.
Choose from one of these 40 diy Adirondack chair plans that will lies not only within your budget but also make your garden, porch or deck a beautiful place to relax and enjoy in the summer with your friends and family members.
Other interesting and related articles: garden bench plans, diy outdoor table, picnic table plans, diy sofa table, diy coffee table, diy folding bench, outdoor furniture plans and diy hammock stand.
1: DIY Adirondack Chair For Deck
Adirondack chair can add class to your living, and just about everyone recognizes that. The chair looks great and adds comfort to your home, having one or two of these chairs somewhere in your outdoor living space is just the perfect treat you deserve.
Adirondack chairs are easy to build, and with the easy to follow plans, you can get started right away creating sturdy DIY Adirondack chairs to add class and comfort-ability to your home.
The plan is designed to create an Adirondack chair with a sloppy stand and straight arms. Just the perfect chair, you need to sit by the fireplace.
Also, you only need a few tools and materials to get started. There are also no particular carpentry skills require building this plan.

1: Build Lumber Deuce Adirondack Chair Within A Weak
If simplicity with classic appeal and functionality is your preference, you are definitely going to fall for this idea. Low height chairs with small table for decor, you can build these chairs within a week. Color them up with your favorite hues, stuff the table with flower vases, and brace the look of your garden.

2: Use Cedar Wood To Build Lawn Furniture
Cedar is finest type of wood to be used for outdoor furniture – this Adirondack chair plan can help you learn making gorgeous looking, comfortable, single chair and a bench. Within a few days, knowing the basic carpeting skills, you can get cost effective and the desired lawn furniture.

3: Use Recycled Pallet For Softwood Adirondack Chair
A classic type of Adirondack can be crafted with complex angles and curves, but since we are focusing on simple DIY Adirondack chair plan, so designing and carpeting element is on basic level. The cool thing about this plan is the usage of recycled wooden pallets, which are available for just $10 at garages or recycling centers. Once the chairs are completed, don't forget to stuff them with colored cushions and back pillows.

5: Enhance The Beauty Of Garden With Decking Lumber Chair
This gorgeous white decking lumber weather resistant chair is going to enhance the beauty of your garden. Over the weekend if you have extra 5 or 6 hours, consider investing time and energy into this fulfilled activity. You simply don't need anything to make it more comfortable, the design of the chair makes it perfect choice to relax and read during pleasant weather.

6: Download Free Adirondack Chair Plan
If you want to make sure that your family members gather each day on dinner together or hi-tea, you must think of having Adirondack chairs for them. Place them in your garden or backyard where you guys can enjoy sunset and enjoy food during pleasant weather hours. Before considering such a change, make sure you download free Adirondack chair plans from this site so that you have clear idea about construction and materials involved.

7: Adirondack Chair and Table
Follow this Adirondack chair plan to construct classic looking diy Adirondack chairs and table for your garden space. Using the cedar wood, you can get flat backed, super comfortable and gorgeous looking chairs, along with a small table where you can place food or books.

8: Chair Duo
This Duo settee plan contains contoured seats with flat backs so that you can enjoy prolong hours in your garden space. The center point makes it perfect choice for placing fruit bowl, drinks or books. It is perfectly designed to provide you the time of your life in peace.

9: DIY Adirondack Chair For Beginner
Follow this plan to understand the nitty-gritty of the project. It starts with explaining the component details of the chair and how it would be constructed to obtain the final look. The materials, expertise, cutting and assembling, everything is explained in detail.

10: Deck Board Chairs
Simple to make, effective and long lasting, this Adirondack chair plan is going to make your life much easier and overall, it would be a fulfilled experience. The materials used include pine and deck boards; follow this step by step guide to know each single detail about the tools, materials and techniques involved in making these gorgeous looking chairs.

Simple to follow and easy to make DIY plans can bring colors to your boring life. Enjoy doing such activities so that you can save money and surge the appeal of your house.
11: Up-Cycled Adirondack Chairs
This is the perfect Adirondack furniture to enable you comfortably relax outside.
This Adirondack chair plan is designed to create a sturdy and beautiful chair, with a sloppy stand that allows you rest your back entirely. The arms can be made flat so that you can relax your arms while on it. You need to draft out the size you intend to create before you start to build.

12: Giant Adirondack Chair Plan
Ever thought of a giant Adirondack chair that two or more persons can sit on? Well, it's a lovely idea, and the chair is sure to get a lot of attention from passersby and friends.
Get this giant superheroes chair in your yard.  If you need something a little bit unique to awe your visitors, then this DIY wood Adirondack chair plan would be what you need. I love this chair because of its farcical nature; due to its massive size, it makes an adult look like a kid.
Don't mind the size; it's amongst the less demanding DIY Adirondack chair plans you can build. It's fun sitting on the edge, with your legs dangling down and you just looking tiny on the big chair.

13: Build an Adirondack Chair Out of Skis
You can build a DIY ski chair with this easy to follow DIY plan. These Adirondack chairs are famous in ski resorts and are very comfortable to sit and cool off.
This plan shows you how to build the chair with step by step guide. You can always buy an Adirondack chair, but nothing beats making it on your own. With a few hours work, you can bring an old ski back to life.

14: Adirondack Bar Height Chair
Everyone loves a comfortable outdoor chair, to perch and cool off, especially in the summer.
This is a fun project; you are going to love, it involves a fun spin with an Adirondack chair. The plan is designed to create a sturdy and super-comfy giant Adirondack chair, ideal for your patio. This plan doesn't require any unique carpentry skills; you need to get some tools and source for the materials to get started.

15: Ultimate Adirondack Chair Plan
If you want to build a uniquely designed chair, then you need to check out this plan.
The plan comes with an adequately explained video, and you can use it to build just about any design of Adirondack chair you have in mind. You just have to tweak the size and structure and build it as you deem fit. The dimension is made to be readily flexible, from the leg, arms height etc.
The original plan is designed to make a seven wood piece back and styled arm chair, which is then finished with wood spray.

16: DIY Adirondack Chair Tow Truck
Have you ever thought about building a little Adirondack chair for your kid?  Then look no further, follow this Adirondack chair plan to achieve that quickly.
The plan is designed to build children character Adirondack chair with a truck-like design, that would provide your child same comfort you get in an adult wood Adirondack chairs.
This is the ideal family DIY project, and you can get the kid involved while making the chair. You would have lots of fun, and your kids would remember and cherish it for the rest of their life.

17: Classic Adirondack Chair With Footrest
This Adirondack chair plan is created to make it easier for you to easily start and complete the project. Anyone can get it done in a couple of days; you don't need to have expert carpentry skill.
The design is that of the conventional Adirondack chair. However, its made to give you supreme comfort. The chair is extremely sturdy and well balanced. It comes with a footrest to place your legs.

18: Child Size Adirondack Chairs
Do you know that you can create a child size Adirondack chair from adult Adirondack chair plans?
Since the original plan would be too large for the little ones, you can tweak it, by reducing it in all dimensions, from size to height, width etc.
This plan comes with a fantastic design; it has the traditional curved top and includes picket fence back design. You can replicate these patterns in the small sized version.

19: DIY Adirondack Chair For Summer
Adirondack chairs are trendy due to the comfort and flexible nature.
Nothing makes summer more fun quite like lounging in an Adirondack chair in the yard, with a book in hand and a glass of lemonade.
Ordering an Adirondack chair from the showrooms can be quite expensive, but building it the DIY way is far cheaper and more advantageous as it allows you to build the exact design, size and height you like. This is one of the most straightforward Adirondack chair plans that you can follow to build a good chair for your outdoor relaxation.

20: DIY Side By Side Patio Chair
The best way to get a well designed and sturdy chair is to build it yourself diligently.
This side by side patio chair is the ideal relaxation seat you need in your backyard. You can share some shade with snacks and beverage with a friend. The design is inspired by the redwood patio side by side chairs set popular in the 50s. It's a two-sitter straight DIY Adirondack Chair, with three arms, rests, a wide center armrest where you can place things and two arms at each side.
The skill level for this plan is said to be intermediate, and it has an estimated completion time of about 5 hours.

21: Adirondack Chaise Lounge
This is the perfect Adirondack lounge chair set you can build for relaxation in your backyard. You can also add an umbrella handle to act as shade during sunshine.
Even a first- timer can build this Adirondack lounge chair within a day with materials costing below $100. The plan would guide you on how to make Adirondack chair. You can also add cushions to the chairs to make them more comfortable.

22: DIY Adirondack Loveseat
This plan involves making a two-seater loveseat that can be placed on the patio or in the house.
The exciting fact about Adirondack chair plans like this one, is that you can quickly change the structure and customize it the way you want it.
This plan has been used to create numerous designs; you can change the arms designs and even the back. The outcome would be very comfortable and provide the perfect rest place for you and your loved one.

23: DIY Adirondack Chair With Feet-stand
Do you need a chair with a classic look, rigid build and super comfortable to sit on? Then this Adirondack plan would help you build one with ease.
The construction of this DIY Adirondack chair is laid out on the plan, you have to follow it one step at a time, and you would be amazed by the outcome.
The design is a traditional slanted Adirondack chair, with full armrests and a cushion to comfortably place your legs.

24: Comfy Pallet Adirondack Chair
A good chair should be comfortable to sit and relax, and Adirondack chairs provide lots of that. Buying great Adirondack chairs can be expensive. However, you can build cheap Adirondack chairs by yourself following a DIY plan.
This plan involves making a wooden Adirondack chair using pallets. The design is a traditional sloppy chair with straight armrest and back.

25: DIY Muskoka Chair
Sitting on an Adirondack chair stirs up the memories of long summer nights and lazy days, and this Muskoka chair plan would make you more comfortable, due to the curved front design that makes placing your leg easier. It also has a stylish armrest and the traditional slanted back.
The plan is easy to build; you just need to follow the template and add a few pieces of wood together to make yours.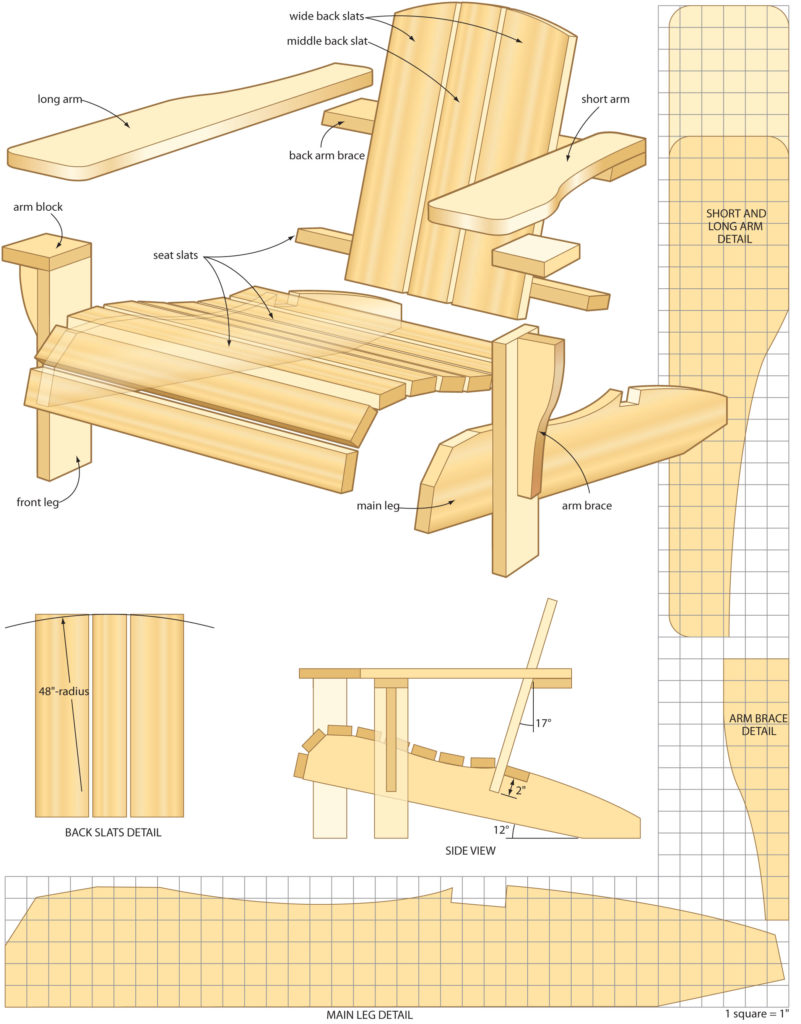 26: Adirondack Rocking Chair
The wide arms of the Adirondack chair make it inviting and been a two-seater makes it something special, as you can Share the experience with friends.
This plan involves building a simple two-sitter rocking chair. The original design is slightly slanted, with the standard rocking chair base, straight arms and an m-shaped back.

27: Patio Adirondack Chairs
A DIY Adirondack furniture is always an excellent weekend project to embark on to add more comfort to your patio.
You can build this diy patio Adirondack chair with little know-how, following this step by step guide, with a few necessary tools and materials.This plan design come with some unique features like a full armrest, rounded backside and angled support that gives it a reclined-look.
The plan is well detailed and will help you all the way in building your chair.

28: Scrap DIY Adirondack Chair
Nothing beats spending time lazing on the deck; you can make a rustic Adirondack chair with a simple wooden wedge.
This free Adirondack chair plan involves building a low to the ground, laid-back  chair; that is perfect for your patio or cabin deck. The original design features a short arm and a straight back.
This would count amongst the most straightforward DIY Adirondack chair plans you can build, and it can be completed in a day.

29: Ultimate Adirondack Chair For Options
If you still haven't chosen a DIY Adirondack project to do, then this classic straight arms chair with a stylish leg and segmented back would be ideal for you.
The plan would help you to make each part of the chair, and you can then assemble each piece after making them individually.
If you are tired of making the same design of the Adirondack chair, then it's time to try something different with this plan.

30: Love-Seat For Your Backyard
A two-seater Adirondack love-seat is just the perfect chair to add character to your backyard and enable you to spend special moments with loved ones,
If you have necessary woodworking skills and some standard tools, you might be able to create this Adirondack loveseat in just a day.
As a beginner, you can also build one for yourself following the Adirondack chair plan, which has diagrams to make it easier for you.

31: Adirondack Beach Chair
Ever wanted a camping chair or one to sit on the beach? Now you can get one or more with just a few hours work.
This plan involves building two side beach armless wood Adirondack chairs that are curved to conform to your body and help you relax. You need some tools, cheap woods and other materials.
Just imagine how comfortable it would have this chair on your next camping trip, relaxing in the open with family and friends.

32: Muskoka Rocking Chair
If you are looking to build a classic DIY Adirondack chair, then you should consider this extraordinary rocking Muskoka chair made from composite wood. The plan comes with unique templates for each part of the chair. This would not only help with the precision of your measurement, but you can efficiently use the model over and over again to build more chairs, as family and friends begin asking for their chairs.

33: Adirondack Deck Chair
Anyone who sits on an Adirondack chair for the first time will fall in love with it, due to the exceptional comfort it provides.
If you desire to build a wood Adirondack chair, then this step by step plan on how to build an Adirondack chair will make it a comfortable and fun-filled experience.
The plan is designed to build a traditional deck chair; you only need a few pieces of wood and essential tools to get it done.

34: Mountain Chaise Borderline
You can build sturdy and adequately designed Adirondack furniture by just committing some time, effort and money for a few materials.
This plan requires just the basic woodwork skill to build. The design is a long slanted foot chair with straight armrest. The back of the original plan is quite shorter, but you can modify it to suit your need.

35: DIY Adirondack Chair For Your Backyard
While there is cheap plastic variety out there, the wood Adirondack chairs variety has more class and offers more comfort.
This project is perfect for both beginners and experienced DIY'ers. It's the perfect chair for getting some rest in your backyard or deck and a fun project you can start and complete within a few days. You can make a couple, for other members of your family.

36: Wooden Pallet Adirondack Chair
This plan is designed to build a matching loveseat perfect for outdoor comfort. It's mainly customized for easy assemblage that even a novice can complete. Also, it only requires some inexpensive supplies and easily sourced tools.
The Adirondack chair plan is designed to have a nice curved recess to conform to your body; you can place your drink or snack on the full arms. Also since this chair is sloppy like the traditional Adirondack chair, anyone can help themselves up.

37: How To Build Adirondack Chair and Love Seat
No self-respecting summer sitting-area should be without an Adirondack chair. This plan involves making an Adirondack chair and matching loveseat, designed to add comfort to your outdoor life.
You will only need a few tools and necessary supplies for this project, and it can be completed in a few days. Make each part following the template and assemble them after that.

38: Recycle Lumber To Make Adirondack Chair
You might have wooden slats in your backyard or garage; how about reusing them for crafting these relaxing chairs? Follow the detailed 40 plus step guide on making simplest type of chair for outdoor setting.

39: Easy To Make Adirondack Chair
Lumber is mostly used for crafting such chairs – although there may be time and energy required to construct such a chair, but it won't be much hassle any way. You just need to be clear on the measurements required to assemble the various parts of the wooden slats joined together to achieve the complete look.
Download andiron chair plans  at Diy Garden Plans

40: Kid's DIY Adirondack Chair
As responsible guardians you should invest time in making your kid's life better. They should have the habit of enjoying the nature, so let them work in the garden space or enjoy their meals. Construct simplest type of diy wooden chair with the help of this Adirondack Chair plans which would not cost you more than $50. Any pressure treated wood, cedar or pine would fulfill the purpose.

Having an Adirondack chairs add so much comfort to your outdoor relaxation.We have listed some Adirondack chair plans you can embark on. Go through the list, pick the one that suits you and start working on it. However, don't forget to also make for the little ones.